I learnt my husband's secretary was my co-wife at his funeral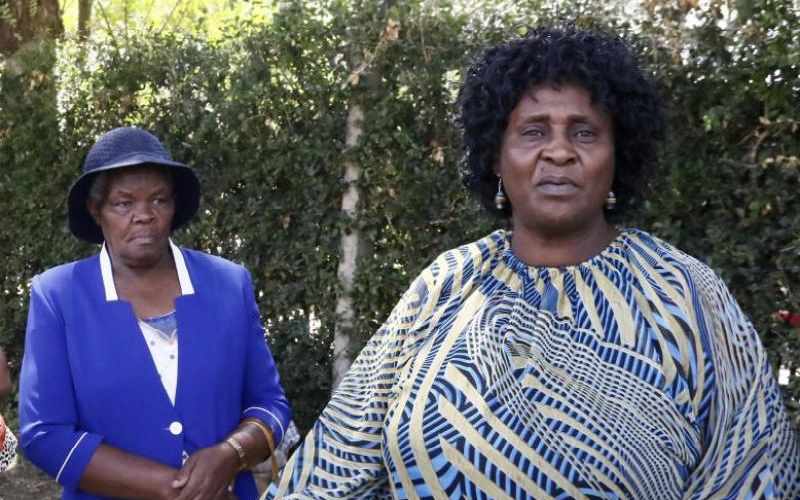 A woman claiming to be a widow of Washington Olweny, the former director of Evans Sunrise Hospital in Nakuru, has detailed in court how she learnt that her husband's secretary was her co-wife.
Norah Atieno, who is seeking control of the Sh200 million estate belonging to the late Olweny, denied knowing that Anne Wanjiru was married to her husband.
Atieno claimed that she only knew Wanjiru as Olweny's secretary, and not as her alleged co-wife, at least not until his burial when she saw Wanjiru's name listed as a third wife in the eulogy.
In the eulogy seen by The Standard, Atieno was listed as Olweny's second wife, Wanjiru as his third, and Phelisia Akoth documented as the first wife.
Atieno and Wanjiru have both defended their marriage to Olweny after Akoth moved to court to block the two from the deceased's properties.
However, on Friday, the battle to control Olweny's property turned into an every woman for herself clash.
In her testimony, Atieno told the court that she only came to know about Wanjiru as a third wife after Olweny died on November 28, 2016, after he got sick.
"Wanjiru was included in the burial. However, I am not aware of the facts of the marriage of Wanjiru to my late husband," she told the court, adding that she had never suspected that Wanjiru and Olweny had a relationship beyond her working for him.
Atieno further added that she and Olweny had five children during their marriage.
"I went to Olweny's house in 1992 with three children who were minors by then. I later got two children with the deceased," she testified.
Atieno also refuted a claim by Akoth that she was never married to the deceased, saying she and Olweny lived together in the same compound for six years.
"The deceased took me to his house in 1998. We shared the same compound with Akoth at our home in Sikinga Ondiek in Ugenya until 2004, when I was moved to my own compound just opposite Akoth's house," she testified.
Atieno added that Akoth's children and hers not only knew each other, but some of them also studied in the same institutions in primary and secondary schools.
Atieno further testified that she entered a customary marriage with Olweny on February 3, 1993, and they lived together thereafter.
Dowry ceremonies
She said during two ceremonies in Ugenya and Nakuru, Olweny gave 12 cows worth Sh12,000 each as dowry to her family, as well as Sh180,000 in cash.
The two ceremonies allegedly happened on February 2 and April 10, both in 1993.
Atieno produced identity cards for her five children bearing Olweny's name, as well as an affidavit she swore with Olweny to prove their marriage before a magistrate's court in Kitale on August 30, 1993.
She testified that she not only supervised the construction of Evans Sunrise Hospital between 1996 and 1997, but also bought ballast for the construction.
"We accumulated wealth with the deceased; we have over 200-acre land in Turbo where I do farming. We also have more parcels in Muhoroni, Miwani, Siaya and vast of properties in Nakuru and Nairobi," she told the court.
The court will on March 15 rule if Atieno will be allowed to produce pictures to prove her marriage to Olweny.
She told the court that she had pictures showing her daughters' marriage ceremonies and graduation, and her children's pictures from when they were minors to their being adults, of which Olweny is a part of.