Police reveal new ways that drug traffickers use to beat the system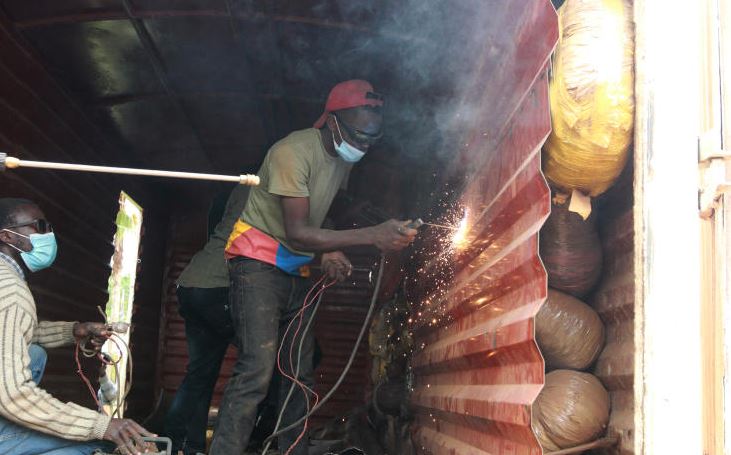 Police officers have smashed a transnational drug trafficking racket operating between Ethiopia's Shashamane area and Kenya.
Sleuths have now identified the Moyale-Isiolo highway as the new bhang trafficking route.
Bhang smuggled from Ethiopia is transported to Kenya through porous border. Drug lords are now evading their traditional corridors in effort to beat police surveillance.
Previously, traffickers of bhang were known to smuggle narcotics into the country through the porous Kenya-Tanzania border.
The Kenya-Uganda borders in Malaba is also another drug trafficking corridor.
Besides changing the trafficking route, the dealers have also devised new ways of concealing hard drugs.
New trick
For instance, dealers are stashing hard drugs in false compartments in vehicles which are sealed by welding. This makes it hard for the police, even using narcotic trained dogs, to sniff the contraband.
On reaching their destination, the compartments are ripped and the drugs removed.
Other methods that the crafty drug traffickers have been using is concealing the drugs in fuel tankers and water browsers, according to police investigations.
A water bowser from Moyale to Nairobi was last week impounded by the police who found 166 kilogrammes of bhang hidden in a false bottom.
The criminals had welded a new compartment on the body of the lorry where they stuffed drugs before placing the water tanks.
Yesterday, anti-narcotic deputy boss Janet Shako revealed that traffickers of bhang had found a new market in northern Kenya, with drugs being supplied from Shashamane, Ethiopia.
Shako yesterday led anti-narcotic investigators in an operation to offload close to 20 kilogrammes of bhang found concealed in two lorries.
The vehicles were impounded by the police in Isiolo town on Friday night.
Yesterday, investigators and journalists witnessed as welders stripped compartments in the two lorries to recover bhang.
Investigators estimate that the consignment could be worth over Sh20 million.
Shako said anti-narcotic investigators had increased surveillance after it emerged that money derived from sale of hard drugs was being used to fund terrorism.
She said a multi-agency team had been deployed on all major highways.
"The Isiolo-Moyale route has become a major transportation route but our hawk-eyed agencies have put in place stringent surveillance measures," Shako said.
Four men and a woman were arrested by the police during the operation.