Help me find my child, Kayole father pleads over missing son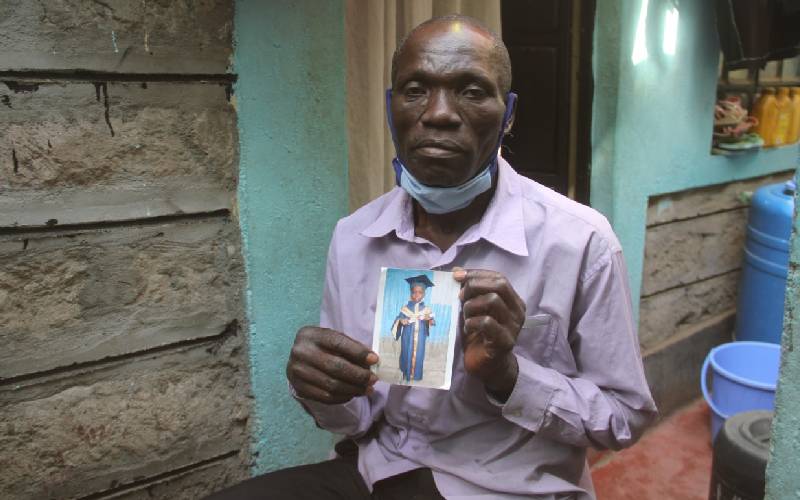 A Kayole man is living in distress after his son who is set to sit his KCPE exams next year walked out of the house never to return.
Mr Joseph Ouma's demeanour is that of a confident and cool man but behind the cool demeanour, he hides something, the grief of losing a son and not knowing where he is for the last three weeks and counting.
September 22, 2020, started like any other day for Ouma who works as a security firm supervisor. He left for work and left instructions to his 12-year-old son Hemington Omondi.
After a long day at work, the father of four came back in the evening only to find his neighbour arguing with his son over Sh300 that she claimed he had taken from her house.
"When I opened the gate, I found one of our neighbours holding his hand asking for money," he says. Ouma inquired what was going, "Your child has stolen Sh300 from my house," the neighbour told him.
To solve the dispute Ouma urged the son to tell him the truth but at first, he denied ever taking money from her.
"I asked him twice he denied taking the money, so I asked the neighbour to accompany us to our house so that we can sort it out from there," he says.
After much talking, Omondi finally confessed to having taken the money and that he had left it in a nearby shop. Ouma instructed him to get the money. The two sat waiting as Omondi who was dressed in a blue jumper and black pants walked out to get the money. This would be the last time he was ever seen.
Since then Omondi began a frantic search for his son without luck. "There is no relative who lives around here where he would have gone besides, I have asked all of them and he has not been spotted," he says.
The search has been extended to his close friends but they all said they have not seen him since. "The only relative he knows is my cousin who lives in Soweto and he hasn't been there," Ouma says.
Tomorrow Omondi would have been in class with his fellow candidates at the Education Center New Hope in Kayole but his action to walk away into the unknown has left his father in a bad state.
"I have not been sleeping or eating well since he went missing," Ouma says.
Ouma recounted how he opted to work at night at his workplace to take care of him when the mother died when he was still an infant.
"He was my hope, he wanted to become a pilot when he grows up and had promised to get me a car," Ouma says.
Catherine Awino Oduor, the headteacher at Education Center New Hope describes Hemstone Omondi as a good student who has been at the school since pre-school.
Omondi is a sponsored student who depends on aid from Australia to pay his fees. "He a good and well-mannered boy, since I came here, I have never had any indiscipline issues with him," says Awino.
Omondi had told his dad that he wanted to become a pilot when he grows up and to his teachers, he wanted to become a doctor.
When Ouma informed Awino that his son is missing, they thought maybe he had gone to one of his schoolmates' home. "We sent out text messages to all the parents of the students in his class and the replies came negative," says Awino.
The last time Awino saw Omondi he had come to pick assignments over the holiday before schools were reopened. He is not the only one missing from his class. "So far we have 21 candidates, only 19 have reported the other two are upcountry and will join the rest next week and now Hemstone Omondi," says Awino
After his search turned fruitless, Ouma reported the matter at the Soweto Police Station and it was booked under OB number 25/25/09/2020.
As clocks wind up days, Joseph Ouma's only hope is that his son Hemstone Omondi will walk back home the same way he walked away.