How the present Church lost voice in speaking about reforms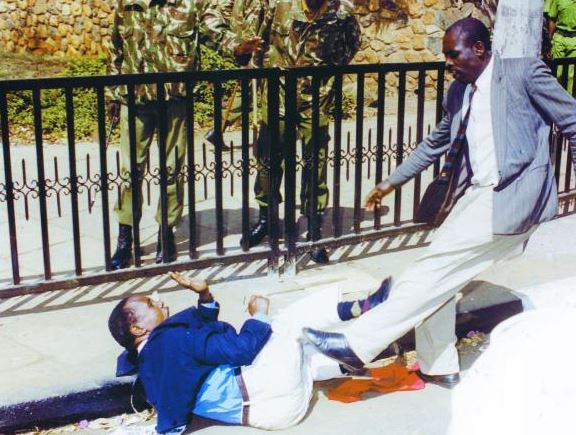 The image of retired Reverend Timothy Njoya lying helpless on the ground (pictured), hands stretched to shield himself from the batons as goons rained blows remains immortalised in the history of the country.
It is a reminder of the whips, tears and blood it took to get a new Constitution. Njoya had been cornered for his involvement in agitating for public participation in amendment of the Constitution.
"As leaders of the church, we had chosen to trade our lives for a new Constitution and reforms. We were ready to die. We knew the risks, but we dared…" Njoya said in a past interview.
Safe space
They fought for it on the pulpit, media and in street marches marked by powerful speeches where they told congregants that the only way the country could get liberation is through a new constitution.
So powerful were their voices that some congregants attended church services not for soul nourishment, but to feel the wave of liberation that was being trumpeted in church.
"The church provided a safe place where we could listen to and engage in hushed talks about the things we needed to do to get a new Constitution and freedom," says Yusuf Magak who says they would hop from church to another to listen to what preachers had to say regarding the political landscape.
"I was staying in Makongeni in the mid 1990s. We went to Presbyterian, Catholic, Anglican…any church where we knew the controversial leaders would be preaching. We would form groups to analyse what the preachers had said. The energy in church was different," he says.
The clergy was revered. The religious leaders oozed such authority that they would shape political conversations and decisions in the country.
They were beaten, defrocked, humiliated, imprisoned, banned from travelling.
Public perception
When Bishop Okullo openly said it was a mistake to make Kenya a de jure one-party State and this decision should be reversed through a new Constitution, he was told to stick to preaching the word.
"The debate has just started. The church must point out what is wrong and right. It is our role," he responded.
As if overnight, everything changed and the fire fizzled out with the emergence of new church leaders.
Former Chief Justice Willy Mutunga says the new breed of leadership focuses on prosperity and have been divided along tribal lines and political allegiance.
"The leadership is now full of con-men. There is a dangerous cocktail of corruption and ethnicity that makes them keep quiet when they are expected to condemn things like corruption. They are no longer taken seriously," he says. He adds that the church and State seem to have gotten into a silent agreement where the church is not taxed, and they in keep quiet on issues they should openly condemn.
Towards the 2010 referendum when clergy rallied for a vote against the Constitution, it was becoming apparent that they were losing their space in public perception.
The Church had argued that the new Constitution was pro-abortion, citing Article 26 (4) that allowed for abortion when there is medical emergency. They also said the constitution was introducing Sharia Law and an Islamic dominance.
Despite their numerous advertisements, rallies and conferences that attempted to sway people against the Constitution, they were not able to enjoy the success that those before them had garnered.
"The church's voice was irrelevant. They were still stuck in days when they obsessed about abstinence yet the world was changing. People wanted change, including how issues of sexuality were being handled," says Mercy Nduku, a social worker and pro-choice campaigner.