Why members of public feel left behind as courts adapt to Covid-19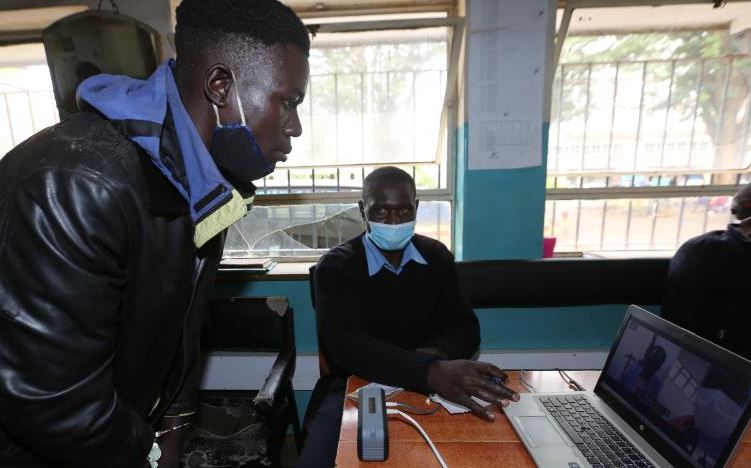 When open courts were suspended by Chief Justice David Maraga in April, most Kenyans were uncertain about the fate of pending cases.
Eldoret Law Courts have remained closed to the public and conduct criminal and civil matters via video to curb the spread of coronavirus.
At the Eldoret Central Police Station, suspects facing various criminal charges have been appearing via video link as magistrates preside the cases from their chambers.
With the help of officials from the Office of Director of Public Prosecutions, police lineup suspects in a small room with a laptop transmitting proceedings as the magistrate reads the charges.
The suspects plead to the charges and get mention dates for their cases, as kin who would otherwise jam courtrooms peep through the window.
John Wekesa says his brother, Richard Obadiah, who is facing defilement charges, did not know what was going on since following proceedings via video link was a new thing to him as he does not even know how to use a computer.
Cannot access
"This is a new thing but many people just stare at the computer wondering what is going on. We cannot access the courtroom like in the past and not seeing the judge face to face feels like justice is so far from us," said Wekesa.
Jonah Chumo who was following up on his cousin Paul Mutai who had applied for bond after he was charged with robbery with violence complained that the space in the police station was small and cannot accommodate many people.
"I waited for hours not knowing what was going on in the courtroom. It even rained and I was forced to shelter at a hotel in town before I was instructed to pay the cash bail at the court. I think the courts have bigger space to accommodate more people compared to the police station that only has a small room," said Chumo.
Marion Welela who is facing charges for selling illicit alcohol said the virtual proceedings served to curb congestion in courts but worsened the situation in police stations.
"While we wait outside or peep through the windows, the suspects are inside but no social distance is observed. We are worried that others even lack masks. We might get justice and Covid-19 as well," she said.
Occasionally, network challenges slow down the hearing forcing suspects to wait longer in the makeshift courtroom and sometimes others are taken back to the cells as they wait for internet to be restored.
The limited space cannot allow the public to follow the proceedings without flouting the social distancing rules.
Law Society of Kenya North Rift Chair Joshua Maritim said challenges of the virtual court system should be ironed out to keep the wheels of justice turning.
"There is a real challenge with this new technology and even access to the technology itself. There is no doubt that with the technology, justice is delivered, but one party should not view it as a selective process. Justice should not only be done but it should be seen to be done," said Maritim.
He further stated that despite calls to scale up hearing of matters, the Judiciary has had to weigh between exposure of the people through open courts and getting justice in good time.
Maritim added that unlike Iten and Kapsabet Law Courts that resumed open courts, Eldoret Law Courts had been reluctant until early this month due to the small courtrooms.
Chief Magistrate Linus Kassan, however, is hopeful that despite the challenges of virtual court sessions, the Judiciary can work even better if the people embrace the change.
"If Kenyans embrace this new way of serving justice, then nothing will prevent justice from being delivered, in fact in a faster and better way," said Kassan.
He told Sunday Standard that the law courts have handled 1,081 new cases since April while the High Courts have handled 3,168 cases, an increase compared to the pre-Covid-19 times.
Kassan added that cases can now be filed from any place in the country, through e-filing thus saving time and costs. The Chief Magistrate said he has prioritised hearing and delivering judgement of older cases since resumption of open courts this month.