'Lockdown is turning me into an alcoholic'
COUNTIES
By Jael Mboga | Jun 16th 2020 | 4 min read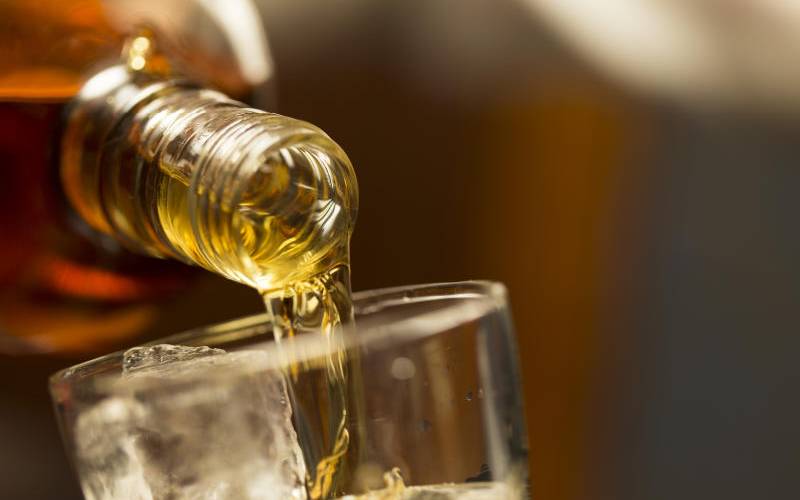 When the curfew and lockdown were announced, Grace Anyango (not her real name) did not think much of it.
She says the part that mildly excited her was the advice that employees work from home.
It was a new realm she and the majority of Kenyans had not been accustomed to. But she says she was excited.
"I didn't have to deal with traffic anymore or wake up so early to be in the office on time.
"If I had to start work at 8am, I'd wake up at 7.45am and just reach for my laptop and I'd be ready to type away."
But three months into it, Anyango is afraid she may have more of a problem to deal with other than the occassional laziness of waking up at 7.45am and not earlier.
Part of the restrictions imposed by the national government to curb coronavirus spread was the ban on social gatherings as well as closure of bars and restaurants.
However, many outlets are still allowed to sell takeaways.
Some online shops go as far as delivering food and alcohol to the customers' doorstep.
At the beginning of the pandemic, many countries thought the best way to keep the number of transmissions low was to impose a total national lockdown.
Every time the President or the Health ministry officials held a press conference, Kenyans bit their nails, glued in front of the screens and ears close to the radio, waiting to hear if there would be a total lockdown.
It never came. At least not yet.
Though it was never announced, as a precautionary measure against a looming lockdown, the majority of Kenyans stocked their houses with supplies that ranged from dry foods to non-food items.
Others, like Anyango, stocked more than that. She stocked alcohol.
"Staying indoors all the time gets to you sometimes. You are living a life you weren't used to. You never do the things you used to. Simple routines have now been changed. Nothing is the same anymore," she told Standard Digital.
In the face of so much change, and even though she did not know it, Anyango was slowly turning to alcohol for companionship.
The woman in her early thirties who lives alone in Nairobi says when she first started depending on alcohol more than she would wish, she did not think much of it.
At first, it was half a glass of wine to help her sleep.
Sleepless Nights
"Why did you need help falling asleep?" I ask.
Anyango says according to the government's directive, she is supposed to stay home and stay safe.
According to her, the tag line is everywhere -- on TV, on social media, people's lips.
She took it literally. She says in the three months, she only left her house once a week to buy essentials she couldn't order online like vegetables. Everything else was ordered and delivered, including the alcohol.
Since she had been drinking and sleeping all day, it was hard to fall asleep at night.
Anyango started drinking while doing anything, including cooking, cleaning the house or talking on the phone.
She says she started getting worried when she reached for alcohol the moment she woke up.
"Others look for tea or coffee. I look for the booze."
But her unseemly approach to alcohol consumption is not her only concern.
Alcohol use, especially heavy use, weakens the immune system and thus reduces the ability to cope with infectious diseases, a dangerous trend amid coronavirus.
Heavy use of alcohol increases the risk of acute respiratory distress syndrome (ARDS), one of the most severe complications of Covid-19.
Part of the World Health Organisation guidelines to reduce coronavirus infections state that alcohol is not a necessary part of one's diet and should not be a priority.
"Avoid stockpiling alcohol at home, as this will potentially increase your alcohol consumption and the consumption of others in your household."
It further adds, "You might think that alcohol helps you to cope with stress, but it is not in fact a good coping mechanism, as it is known to increase the symptoms of panic and anxiety disorders, depression and other mental disorders...."
Anyango's situation is further worsened by the restrictions and partial lockdown, which frustrate any effort to seek help from support groups.
Until then, she says she will seek online interventions for alcohol use disorders by professionals and find a self-support system, which may include not spending most of her money on stocking alcohol at home.