Kibra residents receive Covid-19 donations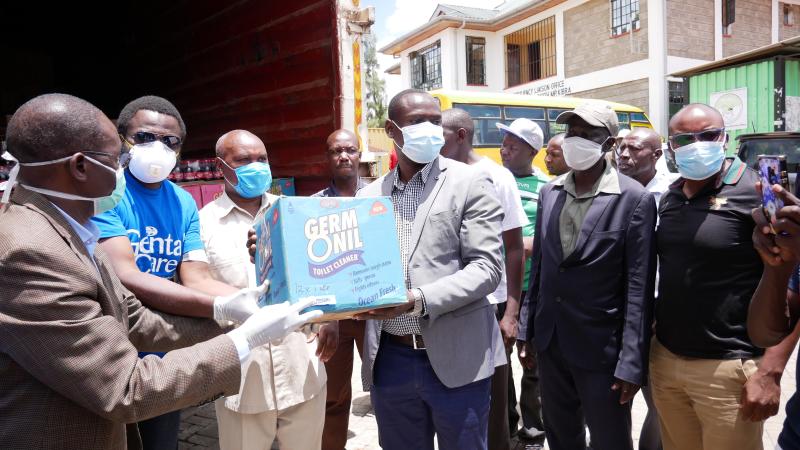 Bidco Africa's philanthropy returned to Kibra slums today as the manufacturer donated a consignment of goods worth Sh1.5 million.
A similar worth of goods had been donated by Bidco just weeks ago as efforts to curb spread of coronavirus gain even higher momentum.
Goods donated today included soaps, edible oils, detergents, edible fats and 40 handwashing units.
Phanicey Charity Foundation, who mapped out the sprawling slum to ensure donations reached all affected families, was on hand to receive the goods, as were officials from the area administration office.
"These are unusual times that no one saw coming and there are many people who wake up daily not knowing how they will survive till sunset. We may not give to everyone who is in need out there but every donation to some persons in need gives hope to the recipient," said John Lawrence, BIDCO's Head of Corporate PR and Communications.
Head of Phanicey said that the organisation was ensuring that all the affected children in neighbouring estates were identified to enable them benefit from the donations.
"We already have a team of volunteers already doing the sensitizations and more are willing to join and carry out the exercise in partnership with the government structures and reporting lines," said Bright Kyadiva - Phanicey's Founder and Executive Director.
Bidco,which has been supplying aid since the novel coronavirus hit Kenya, is upbeat that the Covid-19 menace will be eliminated through collective efforts and by cultivating hope among Kenyans.
"Our message as BIDCO Africa is to give hope in the midst of COVID-19 Pandemic. We have endured tough times as a people since our independence in 1963 but at no time did we ever give up. In a similar spirit, we will individually and collectively rise and fly our flag. Together we will flatten the curve and overcome Coronavirus," added Mr John.