Bus company cancels trips over Covid-19 fears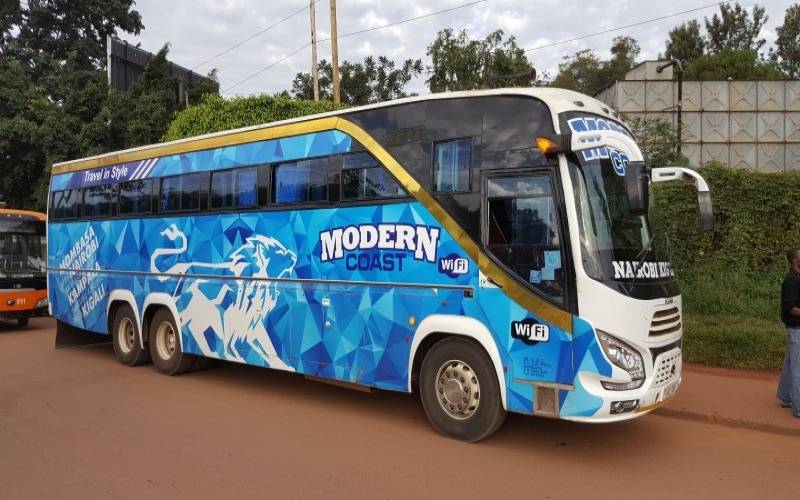 Bus company Modern Coast Express Limited on Thursday suspended all services from Kenya to Tanzania, Uganda, and Rwanda until further notice to avoid the spread of the highly-contagious coronavirus.
In a statement, the company said it had also halted services from the three countries back to Kenya with immediate effect, until further notice.
"We have suspended all buses going to Uganda, Tanzania, and Rwanda with effect from 19.03.2020," read part of the statement.
"The closure of the routes mentioned above shall be in place until further communication is provided, depending on the health and safety measures as guided by the Kenyan government and Ministry of Health on the coronavirus (Covid-19).
The transport company has also asked for any affected persons to visit their offices for clarity
"All the affected passengers have been asked to contact the call centre on +254709897000 or visit any of the company branches for a refund or to rebook their travel," the statement continued.
The company, however, said that they are complying with measures set out by the government to ensure the safety of their passengers like providing hand sanitisers to their clients before boarding the vehicles, cleaning the surfaces of the buses and also training their staff on how to curb the spread of the virus.
The move by the service provider comes after the government of Kenya, announced the suspension of all travelers from countries that have reported any cases of coronavirus.
In Uganda, no case has been confirmed yet, although some of its border countries have reported cases, Tanzania has reported six cases so far.
In Rwanda, the cases have so far risen to 11, a move that saw its government suspend all arriving and departing commercial passenger flights for 30 days which is set to begin midnight on Friday, in a bid to curb the rapid spread of the coronavirus outbreak in the country.
Kenya has not recorded any new cases of Covid-19. So far only seven patients have tested positive.