Death row convict returns home a catechist 21 years later on his mother's birthday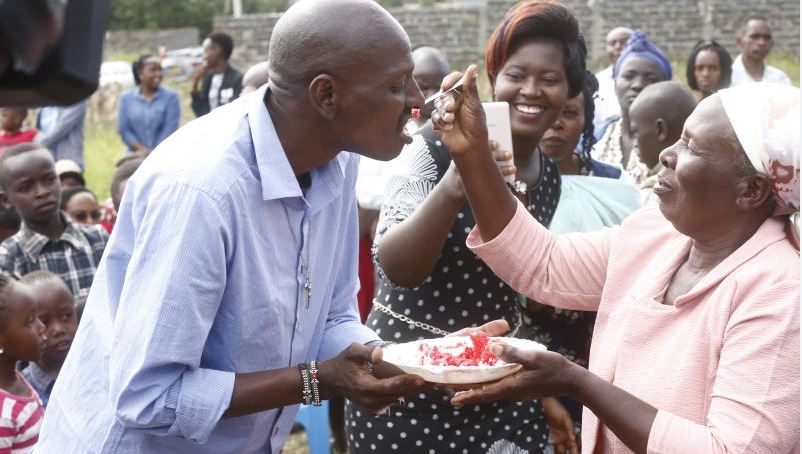 A convict who survived years with a death sentence hanging over his head has finally been set free, 21 years later.
The conversion of Joel Kabari to Christianity while in prison, to make amends for his misdeeds with his Maker, paid off as he finally regained his liberty last week.
The story of losing his freedom began when he was involved in robbery with violence in Nakuru town at the age of 25.
He spent 11 years in jail awaiting his date with the hangman after being convicted in 1998. The sentence was later reviewed to life imprisonment 2009.
While in prison, he became a catechist, a role that finally opened his door to freedom.
Kabari was lucky to have had an impressive behavioural change record, which saw him be put in charge of other inmates, having enrolled and completed training as a Catholic catechist.
It was song and dance on Saturday as officers from the Kenya Prisons and clerics from the Catholic Church officially handed back Kabari, 46, to his family.
A convoy of vehicles from Kenya Prisons snaked through the rough dusty road of Ndimu village in Lanet escorting Kabari back home.
For Kabari, the area was very different from what he knew as his home village after serving time in Kamiti Maximum Prison, Naivasha Maximum Prison and the Nakuru GK Prison.
Children he left as toddlers were now adults. Many of them could not recognise him, with their little knowledge of the man limited to the tales they were told by their parents.
He recalled events that led to his 21-years behind bars.
"We were three of us. We attacked a Nakuru businessman David Kahiga who ran an alcohol depot in Nakuru town. We robbed him of some cash. I was arrested the same day. My friends were arrested days later. I regret having done so," said Kabari.
In 2000, the three were found guilty of the offence and were handed a death sentence, which was the minimum for the crime at that time.
"One of them appealed and succeeded. He was handed a shorter sentence and was released years ago. My other friend and I were left waiting for the hangman. We were moved to Kamiti Maximum Prison," he said.
As at 2009, there were over 4,000 convicts in the country's prisons who had been handed death sentence.
The number had been growing since 1974 as the State could not get a new hangman following the retirement of Michael Kirugumi wa Njoka, the country's last and longest serving hangman.
The thousands, Kabari says, will forever be grateful to former President Mwai Kibaki who reduced their sentences from death to life imprisonment in August 2009.
Kirugumi died two months later aged 86.
But this was not the last government decision to put a smile on his face.
The Supreme Court in December 2018 did away with the death sentence and allowed at least 400 convicts to apply for re-sentencing starting this year.
The court placed conditions for re-sentencing, among them the rehabilitation success of an inmate based on reports from the prison management.
"He became a serious man of God. Through him, he helped in the transformation of many inmates who have since been baptised. He also led the inmates in the construction of a first church within the Naivasha Prison," said Nakuru GK Prison Superintendent George Odera.
On December 19, this year, Justice Joel Ngugi, who went through reports from the prisons and a statement from the complainant, ruled in favour of Kabari and ordered his release back into society.
A Holy Mass to celebrate his freedom was presided over by Father Paul Miring'u. It coincided with his mother's, Hannah Njeri, 69th birthday.
Njeri was emotional as she hugged her only son for the first time in 21 years as a free man.
A mother's joy
"I couldn't get a better birthday gift than holding my son in my hands again... We are ready to help him restart his life," said Njeri.
Father Miring'u urged the family and the community around him to establish a business based on his carpentry skills that he acquired while in prison.
"The offerings that have been given out by the people in this mass, I give to you as a way of helping you begin your life. We shall be there for you as a church and we hope the society to emulate the same," said Father Miring'u.
Kabari said he had no plans of getting married but plans to start a business and pursue his divine calling.
The family had bad news for him as they showed him two graves of his immediate relatives who passed on while he was in prison.
"Our dad passed away in 2017 while our firstborn sister died in 2010. We only told Kabari by word of mouth that they were no more during visits," said Ruth Kabura, one of his sisters.