Storyteller's view of Olympics race full of joys and struggles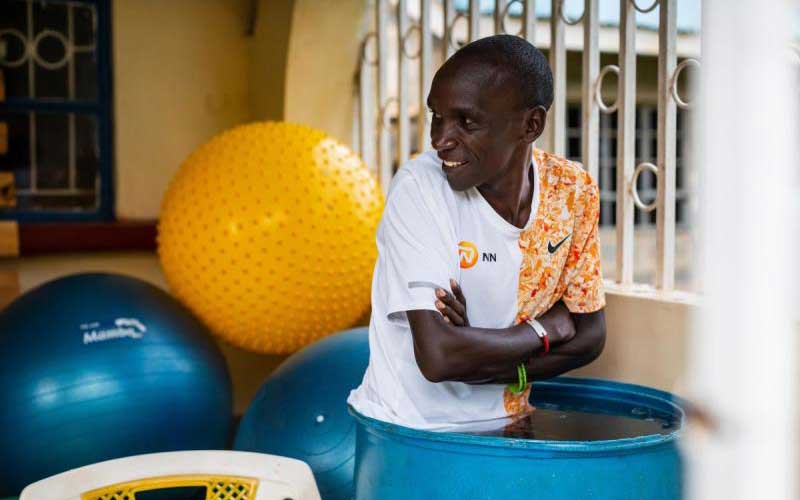 It is a simple narrative of optimism, pride and triumph over colonial-laced stereotypes. And it coincides with the much anticipated attempt by Kenyan athlete Eliud Kipchoge to run a marathon in under two hours.
In Because I Always Feel like Running, Ogutu Muraya weaves a thrilling tale with a cathartic effect in his spoken word performance.
Ogutu, a writer and storyteller, tells of historic sporting events where Kenya's long and middle distance runners have demonstrated their prowess while rewriting the history of the former British colony.
The venue is the Kenya National Theatre (KNT) in Nairobi, where a coincidence of names makes the performance more chilling as Ogutu narrates the 1960s experience of the legendary two-time Olympic gold medalist Kipchoge Keino.
The setting in the 1960s coincides with the quest for independence in Kenya and the post-colonial struggles in Africa. The attainment of independence had been perceived as far-fetched, with doubts on whether natives, read Africans, had the capacity to lead.
Writer Joseph Conrad in Heart of Darkness depicted the continent as a place riddled with barbaric cultures far removed from civilisation.
Record breaker
A similar tale is shared by Karen Blixen while writing about her experience in Kenya in Out of Africa.
In Because I Always Feel like Running, Ogutu, in a low melancholic voice, paints an image of Keino retreating from the front line as he faces imminent defeat. It ends with a loss to the decorated Jim Ryun of the US. Kipchoge's loss is symbolic of Africa's struggle for independence, nation-building and creation of an identity; tough and nearly impossible.
Typical of the narratives of America's greatness, Ogutu captures the discouraging observations from foreign commentators as he paints an image of unconquerable Ryun in juxtaposition with Kenya's struggling Keino during the 1968 Summer Olympic Games in Mexico City.
Lights off and the narrative starts with some optimism from 'commentator Ogutu decorating Ryun as an athlete in good shape ready to dominate over Keino. "There is no way Keino can compete against the great American Jim Ryun. There he goes, Ryun, winning gold medal…" Ogutu says as he assumes the role of a commentator. It is a sad ending to the audience and their disappointment is written all over their faces.
Silence reigns in the main auditorium before lights are switched on. Ogutu tells of the disappointing news that Keino has been advised to stop running after developing health complications. The painful gall stones. He undergoes medication and is advised to take a bed rest.
The following morning, the stadium is full and Keino is nowhere to be seen. "It seems he heeded doctor's advice of taking rest or waiting for his usual way of arriving late to the field," the commentator says. Meanwhile, Ryun stands in confidence looking at the cheering crowd. The commentator speaks of the possible record breaking by the all-time favourite Ryun. Lights on and Muraya reveals that Keino had been left behind in the athletes' camp by a bus. He decides to run to the stadium. "Look who is here, Keino has just arrived and it seems he is ready for the competition," the commentator says as lights go off. It is a race like no other and Keino begins in high gear, keeping pace with other athletes despite fears over his poor health. The audience become tensely quiet except for a short-lived cry from a child in the hall.
Keino takes a leap and speeds as Ryun struggles to catch up with his fast pace. The finishing line is close and Keino increases his speed, opening a wide gap between himself and Ryun.
The commentator expresses shock at the turn of events, which ends with Keino winning the 1500 metres gold medal and making history by defeating Ryun by a gap of 20 metres.
Ogutu captures how Kenya, through its athletics prowess, has spoken to the world of its unrelenting spirit, that of resilience. Despite hiccups faced by Kenya and other African countries, there is a chance of reclaiming itself.