Exhibitions seek to fight food insecurity, climate change and reduce wastage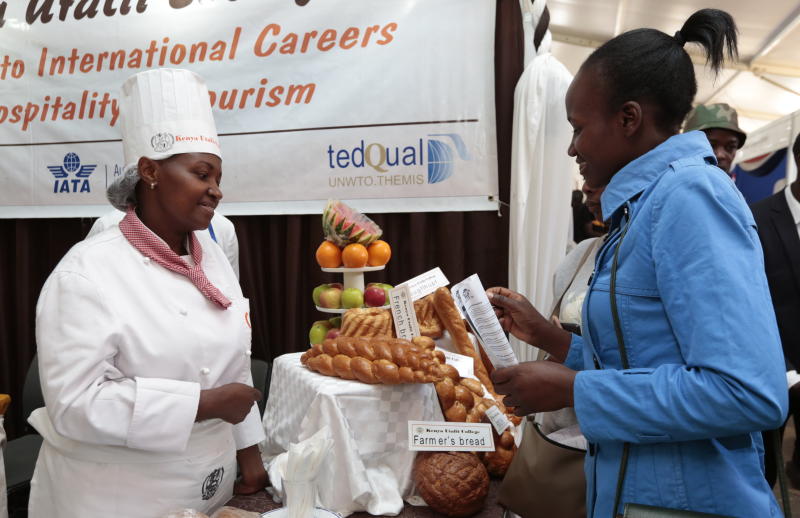 Innovations on fighting climate change and waste reduction dominated a three-day showcase of skills by young innovators that ends today.
Dubbed "Hands on the Future," the exhibitions at KICC sought to promote the pursuit of technical and vocational skills as students and instructors from various Technical and Vocational Education and Training (TVET) institutions and various stakeholders demonstrated their capabilities.
The Standard Group PLC is one of the partners in the initiative.
Many inventions that sent curious attendants trooping to stalls revolved around the use of renewable energy, use of organic products, environmental conservation and curbing wastage.
And in line with the extended ban on logging for one more year by the ministry of environment, many innovators demonstrated how they have adjusted to the need to conserve trees and reduce climate change and promoting food security.
Last year on November, Environment Cabinet Secretary Keriako Tobiko announced the extension in a move he explained as aimed at allowing the degenerated water towers to restore.
A metallic swing table that could be folded into a shelf fascinated visitors including secondary school students who attended the event. The innovation by students of Matuu Technical Training Institute in Machakos County demonstrated the value of space and multitasking.
"We encourage the use of metallic materials and board from recycled to protect our forests from destruction. We need to be custodians of environmental protection," explained Dennis Wambua, a student at the institution who was exhibiting.
Similarly, Kenya Technical Trainers College (KTTC) utilized renewable energy with their portable solar cooker that was created in protest against the use of firewood in cooking during the day to spare trees.
"The technology uses glasses and mirrors to cook. Light is reflected away but heat is retained for cooking. The mirrors converge heat and drains the energy to cooking pot," explained exhibitor and student Fortunas Gisemba.
With the same renewable energy, KTTC showcased vegetable solar dryer which also addresses food insecurity by reducing wastage. The innovation is designed to dry vegetables chopped into small sizes without losing nutrients and original colours.
"During rainy season, there is an oversupply of vegetables in the market that usually goes into waste. With this technology, you can add value by preserving and using them in future," said Mercy Cherotich, an exhibitor and diploma student in general agriculture.
Solar energy was also shown to be essential in the purification of salty water by innovators from Don Bosco Technical institute in their solar desalination module.
A solar panel is locally made from a combination of glass, metal and piece of black fabric. Water is channeled through the solar panel where salty water is heated and turns into vapour, evaporates and collects at a platform before leaving through an exit pipe. Salt remains and drains into another layer where they are used for other purposes.
"We realized that many people and institutions end up abandoning borehole water because of its saltiness. Now we can step in and ensure that you have what you need using renewable energy," said Deogratias Inyasi.
Inyasi explained that one solar panel can generate over 5 litres per day adding that maximum efficiency depends on the number of panels used and the demand for pure water.
"We are further researching on how to do it better than it is at the moment," stated Inyasi.
Students from PC Kinyanjui Technical Training Institute illustrated its recycling skills where they use egg shells and banana peels to make organic fertilizer. Grinded eggs shells can also serve as food supplement.
"The waste materials are dried and crushed to make fertilizer. Egg shells are rich in calcium while banana manure has magnesium, phosphorus and nitrogen. The two can be mixed to get composite manure," revealed Kelvin Otieno, applied biology student at the institute.
Also, Rift Valley Institute of Science and Technology (RVIST) excited attendants with their creation of natural bathing soap made from a mixture of sweet potatoes, aloe vera, bicarbonate of soda and salt.
They also showed naturally made disinfectants consisting of sodium sulphate, carotene, salts, lemon and enriched with pine perfume.
The main focus of the exhibitions was enhancing the ability of youth to use their hands in order to improve their standing in the job market.
Imelda Mutegi, a Chef de partie at Kenya Utalii College, said that a short course at the school created fully formed students who could delve in to entrepreneurship.
"We are very well fit because we teach hands on skills. After a short one month course students can even open a cake baking business," she said.
The exhibition was launched on Friday by Education Cabinet Secretary Amb Amina Mohamed and her Gender and Youth Affairs Counterpart Prof Margaret Kobia on behalf of Deputy President William Ruto who was the chief guest but was out of the country at the time.