From birthday parties to manicure, a dog's luxurious life you will envy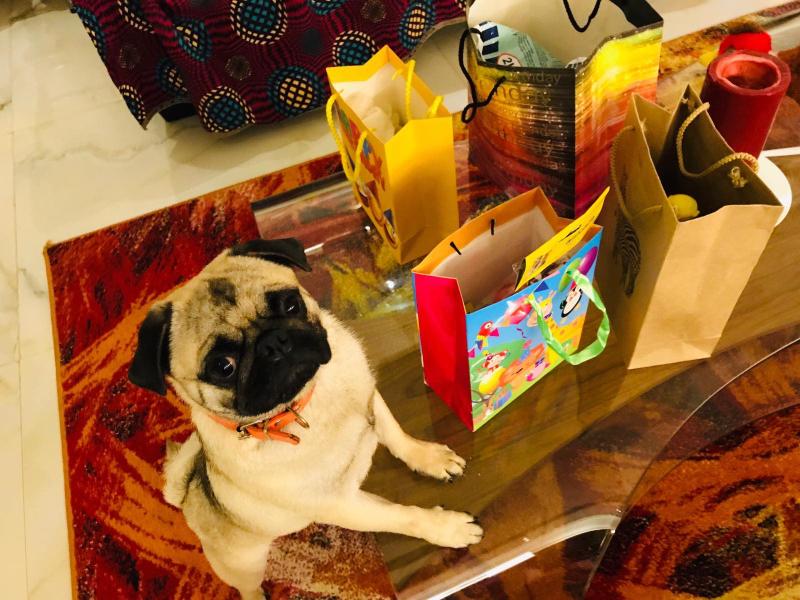 The invitation card was brief and to the point. Bruce was turning one year, and there was a party by the poolside to celebrate the milestone.
"Come join us as we celebrate his big day…" read part of the invite.
A cake had been baked with Bruce's face on it, and tables set with food and drinks. The itinerary had several activities, including playing with Bruce and singing a birthday song.
Some invited guests confirmed attendance, while others openly told off Philip and his son who were inviting them for the party at their Nairobi's Westlands home.
"One of the people I invited told me blankly: my son wants to come to Bruce's party, but I had not realised that Bruce is a dog and therefore, I cannot allow time to be wasted," says Phillip.
Bruce is a bulldog. They bought him for Sh150,000, and he has a budget for food and other luxuries; such as birthdays and international travels. His doggy passport has traveled many countries.
Philip says in one instance, he spent Sh200,000 moving his dog across the globe, and has no regrets.
"I love dogs, and I can do anything for them," he says.
He says he gets a lot of questions when he buys prime cut meats for his canine friend, in a culture that believes dogs should be fed on leftovers and bones.
His story is a representation of a trend once thought as a reserve of the Western world of people spending obscenely large amounts of money to pamper their pets. The wave has caught Kenyan pet owners.
Obese docile dogs
Past images of skinny barking dogs, complete with a "Mbwa kali" sign are rapidly being replaced by obese docile dogs that sometimes come in clothing to match the owner's attire as they stroll along posh estates, where most of them are housed.
Pet grooming shops that do animal manicures and acupuncture are slowly springing up in high-end estates.
Dr Gabriel Ouma, a veterinary surgeon at Small Five Vet Clinic in Nairobi says this trend is a welcome relief from the animal cruelty that previously existed when pet owners did not appreciate the extra care that animals deserve.
Dr Ouma say he grew up in Eastlands and watched as people pelted dogs without care. Seeing pet owners walking with their animal's to his clinic for extra care such as tooth cleaning excites him. The latest addition is an ambulance that rushes distressed animals that need urgent care to his clinic.
He admits there have been challenges. Traffic officers still stop him and giggle when they notice that the patient that was causing him to speed is an animal. Last year, he was arrested while trying to save a cat that needed immediate surgery.
"We still have a long way to go before people start taking animal care seriously, but at least we are making progress," he says.
The animal grooming section has a spa complemented with massages and animal cologne. He gets about four animals in a day, and says clients have to book three days in advance, as he is always overwhelmed by how many people want their animals to be groomed.
Cathy Kiriga, a cat owner does not mind spending money on her feline friend. Her cat Gorgeous is currently admitted at a vet's clinic, after falling sick a few days ago. She pays for boarding, consultation and medical fee and says she is willing to do it until her Gorgeous is discharged.
For extra comfort, she bought a hot water bottle to keep her cats warm in their crate as they sleep.
Vivian Muia, a dog owner says people have called her crazy because she holds conversations with her dogs and sacrifices a lot to give them luxury treatment.
"If people ask me to choose between them and my dog, I always choose my dogs," she says.
She recalls how she quickly ended a date that was going well until the man made a negative comment about dogs. She broke it off immediately.
Love for animals
Dr Diana Onyango, Executive officer, Kenya Society for the Protection & Care of Animals (KSPCA) says having pets is like having children; and pet owners must adhere to the rights and freedoms of the animal, including freedom from hunger, discomfort, pain injury and disease.
She says pampering animals is not wrong, but cautions people against doing extra stuff like dyeing the fur that could injure the animal.
Sheikha Dhiyebi from the Coast says her love for animals and the sacrifices she makes always clashes with the prevalent belief in the region that cats and stray animals are demonic.
"Black cats are killed and used for rituals. People are hesitant to pick cats from the streets but I realised if you groom a stray cat and put photos online they become interested in adopting," she says.
She is founder of "pawspace", an online directory to help people find vets using their geolocation.
Even though they get sneers and jeers when they publicly show their affection to their fur babies, the pet owners say they are not about to stop.
Shreya Chakrabarti, a member of Nairobi Dog Lovers group on Facebook says the love the animals give is unconditional, so they in turn appreciate them.
"It is an unconditional kind of love. The kind that is excited to see you even though you were only in the shower for 15 minutes. The kind that knows when you are upset without understanding why, and lays its head on your lap so you know you are not alone.
The kind that will annoy you by barking at 4am because there is a threat outside the gate it needs to protect you from.
The kind that will wait patiently (or anxiously) for you when you leave the house because you are its whole life," she says, commenting on why they are not about to stop the extra things they do to care for their animals.