Looters of NYS money will pay the price, President Uhuru assures
COUNTIES
By PSCU | November 17th 2018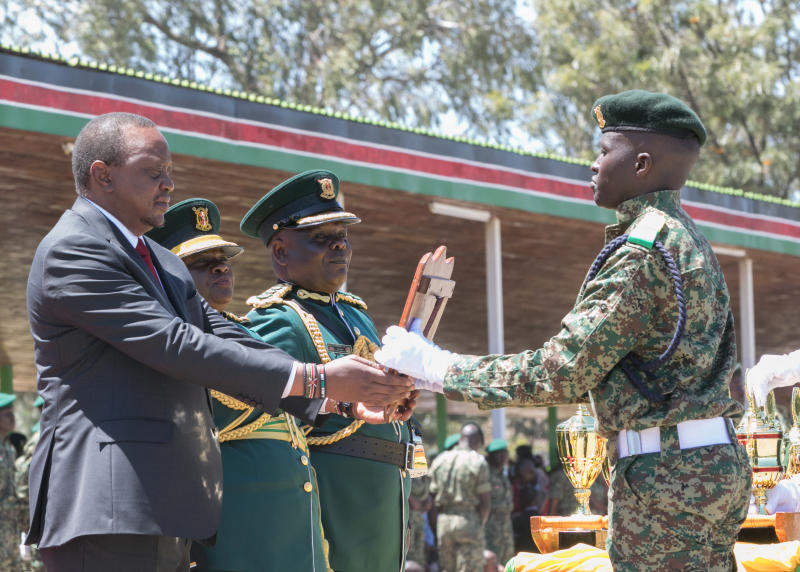 President Uhuru Kenyatta has said the government is determined to recover all the money looted from the National Youth Service (NYS).
He said the government can no longer sit back helplessly as greedy individuals loot and divert to personal use millions of taxpayers' money.
"We shall ensure all those who have looted resources meant for the youth pay the price and the money recovered," said the President.
President Kenyatta was speaking at the NYS Training College in Gilgil, Nakuru County, where he presided over the passing out parade of over 16,400 recruits, the biggest ever contingent in a single intake.
He called for prudent use of resources allocated to the paramilitary training institution, whose recruits provide auxiliary security services to the police in addition to undertaking other national development duties.
NYS Director General Matilda Sakwa promised to contain graft at the institution, which has in recent years lost huge sums of money to looters entrusted with its management.
Big Four agenda
President Kenyatta said the NYS will play a major role towards the success of the Big Four agenda, especially in the pillars of manufacturing and food security.
Consequently, he directed those charged with the management of the 54-year-old organisation to hasten its commercialisation so that it is strategically repositioned and prepared for the implementation of his legacy project. By commercialising the NYS, said the President, it will enable the organisation to train market ready graduates with capacity to create thousands of jobs.
He said the institution has the most critical factor in production – energetic, intelligent, young men and women, ready to work.
"To meet the demands of the Big Four agenda, skilled men and women, especially in the technical competencies, are absolutely vital," he said.
The President said the NYS Bill 2018, currently before the National Assembly, will introduce a raft of measures aimed at creating stronger structures for oversight.
He asked Parliament to fast track the approval of the Bill and hand it to him for assent.