Sh23 billion travels dent Uhuru's bid to cut costs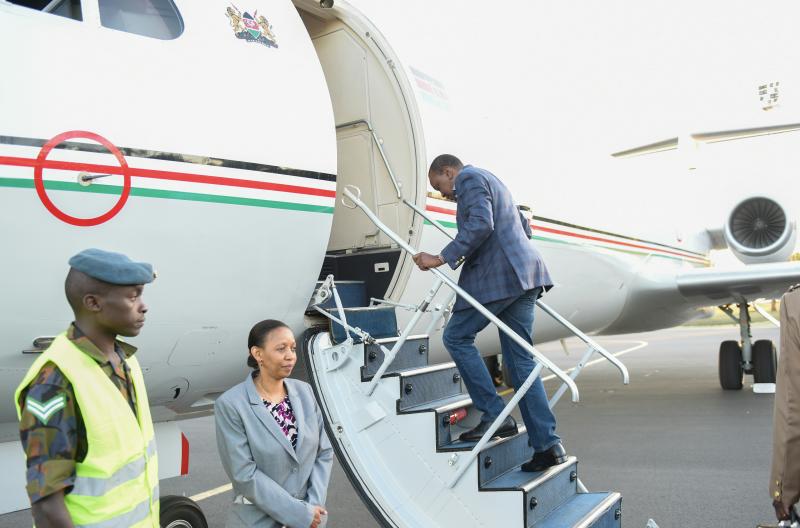 In an ironic twist to the austerity anthem of the Jubilee administration, national and county governments splashed Sh23 billion in domestic and foreign travels last year.
The national government spent Sh12.2 billion on domestic and international travels while the county governments gobbled up Sh11.36 billion.
In his first term, President Uhuru Kenyatta vouched for austerity measures several times to curb wastage and save funds for development.
Two months ago, he revisited the same when assenting to the eight per cent VAT on petroleum products.
Usually, travel costs are the first victims of such pronouncements alongside other non-essential budget vote-heads like hospitality.
The revelation on the spending are contained in the Office of the Controller of Budget Annual National Government Budget Implementation Review Report for the financial year 2017/18.
Of the national government amount, Sh8.6 billion was spent on domestic travels and Sh3.6 billion on foreign trips.
Significant reduction
About Sh4.8 billion was lost in hospitality and another Sh6 billion on rentals and rates for non-residential buildings.
Notably though, this is a significant reduction from 2016/17 when the same government spent Sh15.6 billion on domestic and international travels and Sh5.8 billion on hospitality.
It is however understood that being an election year, 2017/18 entailed less international travels, especially among the top cream of executive officials.
On the counties, the amount included Sh9.86 billion on domestic travels and Sh1.5 billion on foreign trips, a decrease of 6.5 per cent compared to Sh12.15 billion incurred in 2016/17.
In the September 14 memorandum the President sent to the National Assembly, his appeal was passionate.
"Therefore I have further proposed wide ranging cuts in spending as well as austerity measures across all arms of government," said President Kenyatta.
The Saturday Standard has since established that the Ministry of Foreign Affairs and International Trade by virtue of its mandate leads in so far as foreign travel expenditure is concerned, followed closely the Office of the President.
According to a December 2014 circular issued by the Salaries and Remuneration Commission (SRC) on allowances, top government officials under the F4 category earn a daily subsistence allowance that varies depending on the country or city they travel to.
For instance, Switzerland and Japan are among countries with the highest per diem of 1,111 dollars which translates to a daily allowance of about Sh111,100.
This essentially means if a Cabinet Secretary, their Principal Secretary and Chief Administrative Secretary spend five days in one of these countries they pocket Sh555,500 each.
United Arab Emirates has a per diem of 944 dollars or Sh94,400. Germany earns one a daily allowance of Sh92,200, the United Kingdom Sh84,800 and the US Sh72,400.
The privileges also come with domestic travels, yet they are assigned official drivers, security and personal assistants all paid by government.