President Uhuru's Mashujaa Day speech in full
COUNTIES
By PSCU | October 20th 2018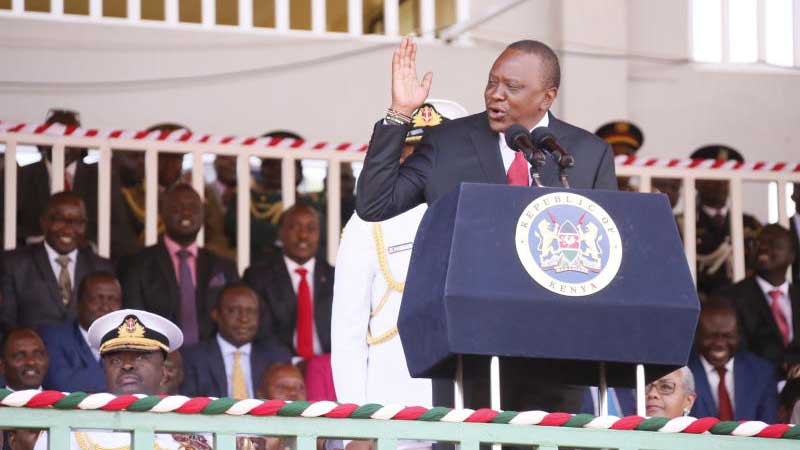 Your Excellency Hage Geingob, President of the Republic of Namibia,
Your Excellency, Monica Geingob, First Lady of the Republic of Namibia,
Distinguished Ladies and Gentlemen,
My fellow Kenyans,
Let me begin by thanking my Brother President Geingob for visiting our country and taking time to celebrate "Mashujaa Day" with us. Welcome to Western Kenya.
It is my great pleasure to be with you today as we mark Mashujaa Day, a National Day to reflect upon, appreciate and celebrate Kenya's sung and unsung heroes and heroines.
I am also delighted to deliver my 6th Mashujaa Day Address at this state-of-the-art venue in Kakamega County. Bukhungu Stadium was recently renovated by the County Government of Kakamega to the standards we are enjoying today. It is slated for expansion, and is a proud testimony of the benefits of devolution.
Mashujaa Day has been with us since the dawn of our Republic. It is a day to remember, reflect upon and celebrate all examples of Kenyan heroism, great and small, well known or unknown by all except the few who witness it.
To those men and women whose efforts and sacrifices gifted us independence from colonial rule and imperialism, and those who advanced the cause of democracy, and those who uphold the rule of law, on behalf of the entire Nation I express our eternal gratitude.
Fellow Kenyans,
Kenyan heroes whose acts of sacrifice, service and generosity for the sake of others, remind us again and again what is best in our nation and humanity. Our heroes come from all occupations and from every part of our country, but among the greatest of our heroes and heroines are those who run towards danger while most of us flee it: our men and women in uniform.
The Kenya Defence Forces are serving us bravely in Somalia as part of an African Union force that is fighting terrorists to bring peace to our region. We recognize the hardships of war, and the sacrifices, in blood and life, that they have made; we thank them for their service.
We are staying the course in Somalia alongside our region, and the International Community, because we know that as long as Somalia is under assault from terrorists, Kenya will not be safe.
We celebrate the men and women of the National Police Service, who often undertake their duty at great personal risk. Among them are brave officers who are protecting villages and border towns from brutal criminality.
We thank them and recognize that we must improve their conditions of service if our gratitude as a nation is to take concrete shape. It is for this reason that my Administration has undertaken the boldest police reforms in a generation.
We thank the game rangers of the Kenya Wildlife Service, who, day and night, risk their lives to protect the beautiful and often endangered animals that live in our national parks and game reserves.
For the men and women lured into terrorism against our people and our nation, I advise them to read the history of Kenyans to understand that Kenya cannot be defeated because its children fought hard for our freedom, and we will never allow it to be destroyed by any person or group.
I join other Kenyans in thanking the men and women who are preventing and reversing radicalization.
We recognise that they come from every walk of life: some from the security services, others in civil society, and most are friends and relatives of those targeted. Preventing and reporting radicalisation is an act of love for the individual targeted, our communities and our nation.
Sustained prevention will require us to work together as a Nation. I, therefore, urge every county to formulate strategies, launch and implement a County Action Plan to Prevent and Counter Violent Extremism so that we can all join hands in protecting our great Nation.
My Fellow Kenyans,
We celebrate Kenyans who lift the banner of our nation high. Our record-shattering athletes like Eliud Kipchoge, demonstrate our talents and confidence.
Our scientists and innovators such as the medical team that separated the conjoined twins, Blessing and Favour, at Kenyatta National Hospital. Our young computer specialists who have the courage to bring to life new technologies. Our entrepreneurs who bravely embark on delivering new services to Kenyans and the world.
We also celebrate the millions of Kenyan workers who everyday strive to faithfully perform their responsibilities and provide for their families.
We recognize our teachers who are passionate about developing our young minds and impart good values; our farmers who toil on the land to produce food to feed our nation; our doctors and nurses who are at their duty stations daily and work hard and honestly to earn their living, to mention but a few.
Now more than ever we need to be everyday heroes – "Pia wewe waweza kuwa shujaa". The power to do good and contribute to the transformation of our country lies with each and every Kenyan.
My Fellow Kenyans,
I am often asked why at every gathering and in every speech I give I always talk about the need to fight corruption and impunity. I do this because corruption and impunity undermine our unity, prosperity and happiness.
Every country that has developed into prosperity has had a dedicated and effective public service that is trusted by its citizens. This public service has helped build and regulate new markets that attract investment and create jobs. It requires public servants who are innovative and honest; not those who use their positions to enrich themselves or favour certain groups in their service provision.
My Administration is taking measures to bring accountability to the Public Service. These include the fresh vetting of all senior Accountants and Procurement Officers, and enhanced lifestyle audits. We have also provided resources to the investigatory agencies that are working to bring cases against the corrupt in order to deter these crimes.
To consolidate the gains we are making, the E.A.C.C. should promulgate regulations and guidelines to enable all investigative agencies to access Wealth Declarations of all State and Public Officers. Further, both the Directorate of Criminal Investigations (DCI) and the Ethics and Anticorruption Commission (EACC) will be streamlined so that they can complement each other.
I have also directed actions that will reduce wastage of public funds and make government departments more accountable and efficient. I am aware that every taxpayer's shilling is hard earned, and that it must be translated to services that make a positive impact in the lives of our people.
I want everyone in Kenya to know that no matter your standing in society, we are all equal before the law. Cases against corrupt acts are being built against persons who may have thought themselves untouchable.
The ongoing prosecutions will not be limited to just senior public servants who betrayed their Oaths of Office, but, also, their accomplices in the private sector, including those professionals who aid in the laundering of stolen public funds.
My Fellow Kenyans,
We must accept corruption is lethal and, as such, we must do all within our power to eliminate it.
I am deeply concerned about the number of serious road accidents, including the one that recently happened here in Fort Ternan, Kericho County killing more than 50 people; just because of the greed of a few of our service men. I expect the National Police Service to take every measure to combat the culture of bribery that allows cars that are not roadworthy or are being driven recklessly, to remain on the road.
Going forward, I direct the Ministry of Interior, together with the police leadership, to take every step to reverse this situation, especially in taking advantage of the new police reforms to deliver a noticeable improvement in the regulation of traffic.
Equally important, passengers and drivers must be more responsive to safety. If you are in a matatu being driven recklessly, speak up as a group and refuse your lives and those of other road-users, to be endangered.
Fellow Kenyans,
It would not be right for me to fail to applaud all honest and hardworking Public Officers and Police Officers. There are many of you within the ranks of Government. On behalf of the People of Kenya, I thank you for remaining resolute. This day celebrates you, too, as our heroes.
Ladies and Gentlemen,
I ask you all, in the love of our great Nation, to join me in fighting corruption and impunity. Shame the corrupt, and refuse to honour them. Teach your children to protect their reputation and that of their family by growing to be honest adults.
My Fellow Kenyans,
I know that many Kenyans are going through tough times in terms of livelihood. I am committed to ensuring that these difficult times come to an end as we work hard together, to structure our economy so that it grows strongly in a way that improves the lives of Kenyans.
Fellow Kenyans,
When I was seeking your mandate for the second term, Kenyans put it clearly to me what challenges they were facing that needed to be prioritized.
They said they required a decent roof over their head, food on their table, access to affordable healthcare and jobs for the youth. The "Big Four" agenda is designed against this backdrop and is being implemented to make a real difference to lives of our people.
We aim to deliver 500,000 affordable housing units by 2022; universal healthcare for all; food and nutritional security; and sharply grow the manufacturing sector and value addition of our agricultural products.
What this means is that carpenters and builders will get a lot more work; more farmers will prosper; jobs will be created in factories; and these in turn will create even more work for other Kenyans.
Jobs will be created and livelihoods improved by the direct flights between Kenya and the United States that will begin in a week's time. I am, in this regard, proud of the work my team has done to meet the high security standards these direct flight require.
Now there will be more tourists, more investment, and a greater flow of goods. Most Kenyans may never take the flight but millions of us will have more money in our pockets because of the opportunities arising from that connectivity.
We will also do better in supporting our farmers whose hard work is the backbone of our country's economy. We will reduce costs of production and ensure they receive timely payments.
Here in Western, my Administration has consistently focused on supporting sugar farming and production. It is not acceptable that cane factories have been collecting cane from farmers and not paying for it while we know very well demand for sugar has been on the rise. As a government that cares, I direct the Ministry of Agriculture and the National Treasury, to immediately put in place a framework to audit and pay sugar cane farmers the 2.6 billion Kenya shillings, the outstanding payment owed to them by public sugar factories.
On the part of the sugarcane farmers, I encourage you all to sell your produce to the factories that are well-run and pay on time: selling to the informal markets cuts your incomes and delays the development of a proper sugar industry. That said, factories which failed to pay farmers punctually now need to meet their obligations by paying farmers promptly and directly, not through millers.
I need not tell you how important sugarcane is for the farmers and families of this region; nor that there have recently been unacceptable delays in payment to farmers who have laboured long and hard. That's why I instructed that a taskforce be established, chaired by the Cabinet Secretary for Agriculture, Mwangi Kiunjuri, and Governor Wycliffe Oparanya, to report within the month with recommendations for restructuring the industry.
Furthermore, we cannot over-emphasise the importance of maize in our country, so we will make sure our farmers are paid. In this regard, I further direct that a second task-force be constituted, led by CS Kiunjuri and Governors Patrick Khaemba and Jackson Mandagor, to bring a lasting solution.
Cotton farming was once a major source of income and livelihood for many people in this region. As such, I have instructed the Ministries of Health, Agriculture and Trade, Industry and Cooperatives to work together and come up with a quick mechanism to revive the production of cotton – including the possibility of farming BT cotton.
Fellow Kenyans,
We must heal ourselves of the culture of permanent and negative politics that is corroding the unity of Kenyans and their hope. Every day, we are given reasons, trumpeted from media and political platforms, to doubt the goodness and direction of our nation. Thankfully, we are blessed with heroes among us who refuse to glorify hopelessness. They are driven by a hope that they can make a difference. They step up in that faith and by their action, make a great difference. If not in the life of the many, then in the existence of a single individual.
Hope is the never dry well from which we draw comfort as human beings and citizens. Building the Kenya we want is an unfinished work, full of challenges, but, with hope and confidence in our greatness, we will be able to tackle any challenge we face in building our Great Nation.
Kenya needs her children to love her and raise her up in their esteem, despite her shortcomings. Because we know Kenya is our only home, and that we received her from our parents and we must pass her on, in good shape, to our children.
Fellow Kenyans,
Let me conclude my remarks by underscoring the "POWER OF HOPE". Hope, dear Kenyans, is what allows us to capture greatness. Let us hope in each other's goodness and potential to be great so that our efforts may be joined in building a Nation worthy of our long journey, which has only just started. Kenyans, be brave in your life, act in ways that will make your children admire and esteem you. Let us lift up our Nation to the skies. That is the best way we can honour our men and women who paid dearly for the independence and freedom we enjoy today.
Finally, I wish you all Happy Mashujaa Day. May God Bless You and Our beautiful Country.