High-profile murders return to haunt former DCI Muhoro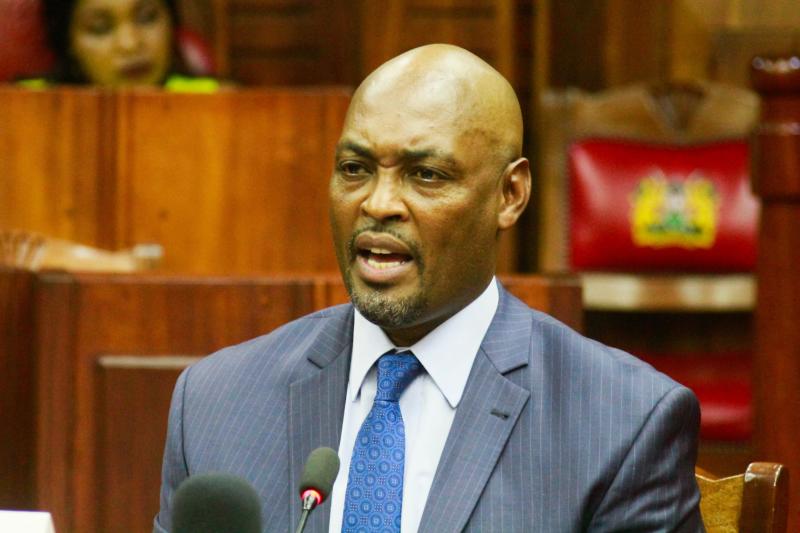 Extra-judicial killings and unsolved high-profile murders returned to haunt a former director of criminal investigations.
Ndegwa Muhoro was yesterday being vetted after being nominated by President Uhuru Kenyatta to be the country's ambassador in Malaysia.
Also vetted were former Salaries and Remuneration Commission (SRC) chairperson Sarah Serem, who was put to task for slashing MPs' salaries, and former State House spokesperson Manoah Esipisu, whose role in the funding of high-level State visits was scrutinised.
During his vetting by Parliament's Defence and Foreign Relations Committee, MPs took Mr Muhoro to task on why there were many high-profile killings and disappearances during his tenure.
He was also confronted with claims by Senior Counsel Ahmednasir Abdullahi that he was involved in a plot to kill the city lawyer in 2016.
Alleged threats
In a memorandum, Mr Abdullahi asked the committee not to approve Muhoro's nomination, citing alleged threats to his life. But in his defence, Muhoho described the claims as 'personal vendetta'.
"My conscience is clear. Why hasn't this person raised issues against me with the Ethics and Anti-Corruption Commission (EACC)? This is purely vendetta against me. I have filed several contempt of court applications against him," said Muhoho.
The former criminal investigations boss was at pains to explain to MPs why the murders of former Electoral and Boundaries Commission (IEBC) manager Chris Musando, Kabete MP George Muchai and businessman Jacob Juma remained unsolved.
Yatta MP Charles Kilonzo asked why the country had many cases of extra-judicial killings and forced disappearances on Muhoro's watch.
"Mungiki leaders disappeared during your tenure. You say you have a very strong Christian background, how did all this happen if you believe in the rule of law?" asked the MP.
Muhoro said it was unfair to blame him for the forced disappearances.
"Mr Chair, we have been accused of using excessive force and mysterious disappearances. This is interesting. We took people to court, they were freed and they revenged. The blame fell on us," he said.
On the issue of unsolved murders, Muhoho said they were not peculiar to Kenya and blamed them on the investigative capacity of police.
Inquest files
"It takes evidence, not just intelligence, to solve such cases, and it is not just in Kenya," he said.
"For any incident of disappearance or extra-judicial killing, an inquest file is opened so that those afraid of giving information to police have an opportunity to tell their story," he said.
The committee, chaired by Kajiado South MP Kato ole Metito, also asked Muhoro to respond to claims that he used his office and his friends to grab private property in the city and other parts of the country.
Ms Serem defended the commission's decision to cut the salaries of State officers, including MPs.
Serem, who has been nominated by Uhuru to be Kenya's High Commissioner to China, was hard-pressed to respond to claims by MPs that she had a low opinion of elected leaders.
She told the MPs that the decision to cut their salaries was collective and that it was for the good of the country, which was struggling under the burden of a huge wage bill amounting to 52 per cent of the country's revenue.
"Reducing salaries of public services is the role of the entire commission. The image of one Sarah Serem came because I was just a spokesperson," she said.
No apologies
However, she said she had no apologies for the decision.
"The structure of remuneration was huge and unsustainable because our wage bill was beyond 52 per cent and that is why the role of SRC was to ensure sustainability. To do this we had to put in place strategic measures to bring it down," she said.
Former State House spokesperson Manoah Esipisu, nominated for High Commissioner to the United Kingdom, also defended himself from the MPs' claims that he arm-twisted principal secretaries to contribute millions of shillings to finance State visits.
The MPs asked why PSs were made to contribute to fund such visits as that of former US President Barack Obama and Pope Francis, which were budgeted for by the Government.
Mr Esipisu denied the claims, saying such visits were managed by ministerial committees.
He also denied claims that he was unfriendly to people who visited State House during his tenure, arguing that he would not have been successful in his role if the claims were true.