From graft probe to intelligence, the spymaster is back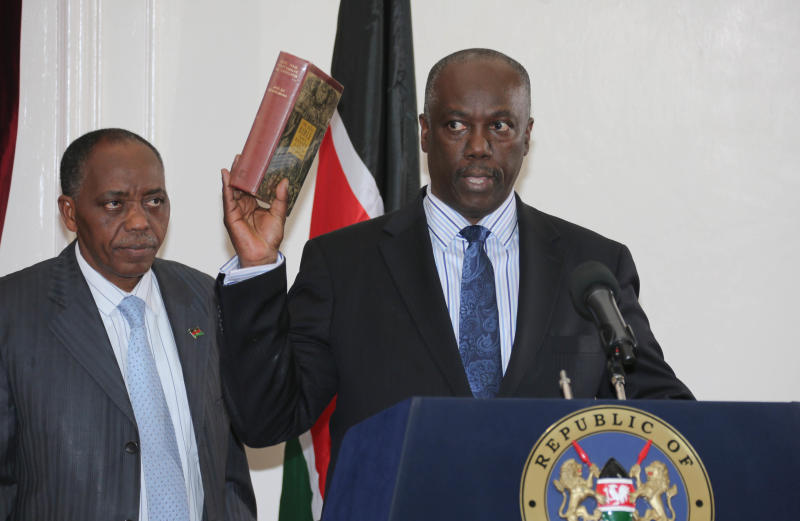 Make no mistakes, the spies are back. And with a bang.
They are watching over every mischief. And more interestingly, corruption has now become their pet topic.
From an obscure and somewhat ineffective organisation, the National Intelligence Service (NIS) has been thrust into the limelight by its latest proactive and near visible operations.
Investigations by Sunday Standard have revealed that although there is no statutory changes to their roles, the spy agency has re-established itself and its presence is being felt more than it has in the last two decades.
It has more man power, huge budgetary allocation, more training and modern state of the art gadgets that can allow them access to emails, calls and text messages.
At the heart of the latest powerful demeanor is the responsibility of fighting graft that President Uhuru Kenyatta has put in its shoulders.
Additional funding
On Friday, the President asked NIS officers to investigate corruption cases in the country.
But unknown to many is that even before President Kenyatta gave the directive, the spies had swung to action. Currently, the government is holding tonnes of information in documents and files that implicate 'the who-is-who' in government.
To show the seriousness Uhuru has put on the NIS in his war on corruption, National Treasury Cabinet Secretary Henry Rotich, in his budget, gave the agency an additional Sh1.7 billion on top of their Sh29 billion they received last year.
According to the budget estimates for 2018/19, all the Sh30.7 billion allocated to NIS will go into its recurrent expenditure.
This, according to a source, is meant to help the spies intensify their activity, especially in the war against graft that Uhuru seems to have bestowed on them.
The allocation is the single largest for a government agency after that of Teachers Service Commission (TSC).
On top of the additional budget is the recruitment of an extra 3,000 officers that were recently enrolled as detectives in what could have pushed the force to 10,000 spies.
Several of these officers are disguised as employees in government offices and key institutions from where they gather tonnes of documents, listen to several conversations and churn out reports that are then fed to relevant authorities.
In returns from the investments in monetary and human capital, President Kenyatta now depends on detailed reports in what could help him win the war on graft.
To buttress the seriousness of the matter, NIS Director General General Philip Kameru has become a frequent visitor to State House, armed with detailed reports.
And as part of enhancing itself, the agency has send several officers for more training in Israel, the US and other countries.
The latest recruitment has enabled the officers scattered across the country to access several information from several departments.
"We have an officer or a number in nearly all the departments in government and their agencies," said a source.
The re-emergence of a bolder detective team is reminiscent of former President Daniel arap Moi's era. Kenya's second President relied on the defunct Special Branch for intelligence to run the country.
The Special Branch was first formed in 1952 by the British government under the police to spy on Mau Mau.
In 1986, it was transformed into the Directorate of Security Intelligence (DSI) under Wilson Boinnet.
Boinett was appointed as NSIS Director in January 19, 1999 and served for seven years. Maj-Gen Gichangi took over on January 19, 2006 until 2014.
A retired senior NIS officer who served during the former President Mwai Kibaki period confided that Uhuru had taken over the habits of Mzee Moi in the consumption of detectives reports.
"He is following in the footsteps of former President Moi, where all intelligence we gave was acted on," said the officer.
Unlike Uhuru and Moi, says another retired spy, Kibaki was not a very keen consumer of intelligence.
Uhuru's close working relationship with Major General Kameru, who was plucked from Military Intelligence where he served as director, is credited for the recent purge on corruption.
Three weeks ago, embattled Youth Affairs PS Lilian Mbogo-Omollo accused the NIS of trying to fix her in the corruption allegations she is facing.
Ms Omollo, in a memo to Cabinet Secretary Margaret Kobia, accused the NIS director of exaggerating the figures.
Ms Omollo and 40 others are facing a myriad charges in court.
Fresh vetting
In another well-coordinated move, the appointment of Noordin Haji as Director of Public Prosecution (DPP) is another pointer to Uhuru's new found trust on NIS.
Haji worked with NIS for a several years and was deputy director when he left to take up the DPP appointment.
The decision by Uhuru to send packing accounting and procurement officers and order for their fresh vetting is said to have been prompted by a report by NIS on the rot at these departments.
According to former Mukurwe-ini MP Kabando wa Kabando, the President is determined to set a new path for Kenya devoid of corruption with help from the NIS.
"The use of intelligence to the fight on graft is very effective and will ensure that there will be no corruption in the near future. Whatever it takes, I believe the President will go the whole hog," said Mr Kabando.