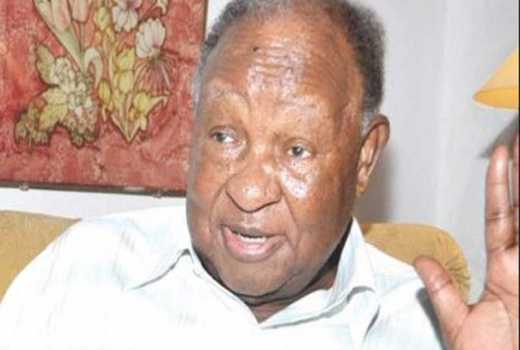 Second liberation hero Kenneth Matiba who has been ailing since 1991 when he left detention where he allegedly suffered a poisoning died yesterday after a three-week hospitalization at the Karen Hospital.
His family confirmed the former politician who left politics after a bout of misfortunes and ill health had died yesterday evening.
Ivy Matiba-Chege his second born daughter and third born in the family confirmed that the 85-year-old politician died last evening a Karen hospital where he was admitted at the Intensive Care Unit (ICU) for the past three weeks.
"It is true he has passed on this evening," Ivy told The Standard last night.
Matiba has been in and out of hospital with close family members saying he was going through medical checkups every month and has had a personal physician at arm's length.
In an interview a few years ago, his wife Edith told a local newspaper of her shock when after initial treatment on living detention, a doctor confessed to her that Matiba would never regain his former health after the alleged poisoning caused him a debilitating stroke.
In the last few years, he had been confined to a wheelchair his image too painful for a man who was known for climbing mountains.
"He was taken ill three weeks ago and has been recuperating at the ICU before his health deteriorated yesterday. Doctors tried their best but he lost the fight," a family member in Murang'a told The Standard.
Born at Kiangima in Kahuhia area of Murang'a County in 1932, the former opposition leader, cabinet minister, longest serving Kiharu MP since independence is seen by many as the epitome of ambition that could have inspired an economic revolution in Kenya.
In 1992, the son of a primary school teacher and a housewife almost won the presidency in the first multiparty elections after the repeal of Section 2A of the Constitution that had made Kenya a dejure one party state for 10 years between 1982 and 1991.
He had amassed 1.4 million votes to the incumbent Daniel Arap Moi's 1.9 million votes while two other main contenders Mwai Kibaki and Jaramogi Odinga Oginga had just over 1 million and 800,000 votes in one of Kenya's most hotly contested presidential election.
Observes agreed that the opposition lost the race to Moi then because of the division and two of the four main contestants; Matiba and Odinga faded away shortly thereafter with the latter dying in 1994 while Matiba progressively left the political scene dogged by the bad fortunes of his investments, political hard tackles by the Kanu regime and failing health.
During his hey days, Matiba had investments in one of the leading hotel chains – The Alliance Hotels which had an imprint in the South Coast and Mt Kenya, high end Hillcrest Schools - comprising a preparatory, junior and senior schools, media – Kalamka Ltd (later The People Limited) which published the People, farming at his Kiambu home and a substantial holding in Wangu Investment which owns the expansive Wangu Embori Farm in Timau, Meru and in the Nairobi Securities Exchange (NSE) listed Carbacid Limited where he was the principal shareholder.
But his investments had a bad hit when he was detained and took a further nosedive when he used substantial personal resources to launch his unsuccessful 1992 presidential bid.
Apart from losing his bid to capture the Presidency in the 1992 elections, Matiba also lost grip of his vast business empire, lost close friends and his health became a concern.
He had an overbearing presence in his companies and they suffered badly when he was detained with his educated but humble wife Edith and the well-bred children badly unprepared fill up the vacuum.
By the time Matiba died yesterday, all that remained of his former gigantic financial kingdom was the lost dreams; the schools and Carbacid stake sold to investment companies, People Ltd offloaded to the Kenyatta family and the beach hotels closed and falling into ruins. Only the Narumoru River Lodge remained as a going concern while Wangu Embori the farm he bought with peasants from his home village continued to be a pride of his former prowess.
Kenneth Matiba who breathed last yesterday evening will go down the annals as one of the leading lights in the fight for democratization in the country.
Despite being a man of immense wealth, Matiba gallantly and selflessly fought for good governance and his death, confirmed by her daughter Ivy Matiba, brings down the curtains on an illustrious political journey that had a toll on his health.
Matiba has been out of the public limelight for years as his health took a beating and has been recuperating in his homes in Nairobi and Mombasa.
During his stay at home, Matiba hosted political dignitaries including President Uhuru Kenyatta and Opposition leader Raila Odinga.
The doyen of opposition politics in the country will, however, go down the grave without necessarily enjoying the full benefits of the liberation having endured bad health during his stint in detention.
He was awarded Sh504 million for his detention last August but it is not clear whether the state had paid by the time of his demise.
Justice Isaac Lenaola who gave the award observed that the money would not restore his health but should act as a reminder of the dark days of the political era.
Since his incarceration during the struggle for multi-partism in the late 80s and early 90s Matiba's life has not been same again.
As his autobiography Aiming High (The Story of my Life) published in 200 is titled, Matiba dared to dream leaving the civil service with the first decade of independence where he had risen to become a Permanent Secretary to try his hand in corporate management becoming the Managing Director of Kenya Breweries at a tender age.
When he decided to plunge in politics, he confirmed he was a man who did not believe in doing the job by shortcuts and some of his development footprints include the Murang'a College of Technology (now the Murang'a University) and the Level Four hospital in the village - Muriranja's Hospital.
The governor of Murang'a who hails from near the Muriranja's Hospital was yesterday evening among the first leaders to send a condolence message to the family.
In a short but emotional message, Wa Iria said: "Hon. Matiba was without a shadow of doubt a national icon. He was epitome of leadership. He was revolution He was a legend. He was courage. His history is a data bank of feats. We can't enumerate. But we will give thanks for his time. "
Matiba was the firstborn of Alliance educated Stanley Njindo Matiba one of the first few boys to be admitted to Alliance High School in 1929.
"His (Matiba's father) school number when he entered alliance was 77 and I followed his footsteps 22 years later when I was admitted there in 1951," he writes in Aiming High.
One of his father's teachers had been James Stephen Smith who would later teach Matiba during his schooling there. Importantly Smith's son Stephen Grey Smith would many years later be Matiba's business partner in Alliance Hotels which they co-founded.
Matiba was a man who formed strong friendships and that close to the Kenyatta family that President Uhuru Kenyatta recuperated at his home after his initiation, according to Matiba's account in his autobiography.
But his connection with the Kenyatta family was deeper with his wife Edith being a daughter of one of the Church of Scotland Mission's first convert - the Rev Musa Gitau who had converted and baptised Jomo Kenyatta.
His name Matiba was rare even in his homeland and he explained that he got it from one of his ancestors who was circumcised at a time there was widespread use of a traditional brew called matiba.
He lives behind his wife Edith, three daughters Susan Wanjiru, Ivy Wambui, and Julie Mwihaki and two sons Raymond and Gitau.
He is likely to be buried at his home in Riara Ridge near the Nazareth Hospital in Kiambu or at his ancestral home at Embassy Village outside Murang'a town.