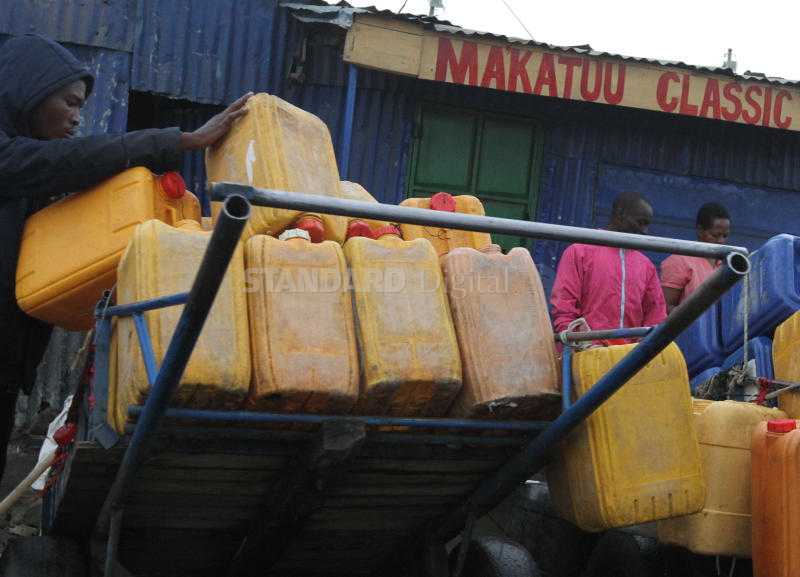 If you live or work in Nairobi, you will have to put up with continued water rationing.
A severe shortage in water catchment areas such as the Aberdares, Mt Kenya and Kikuyu, which provide water to Ndakaini Dam that supplies the capital, is to blame for the situation.
Nairobi City Water and Sewerage Company (NCWSC) Managing Director Nahashon Muguna told the County Assembly Water and Sanitation Committee that unless the catchments received more water, rationing in the city would go on.
"The whole of Eastlands receives water only on one or two days in a week. The most affected areas are South B, Langata, Nairobi West and South C," said Mr Muguna.
He said the situation had been compounded by a stalled project meant to sink at least 40 boreholes across the county at a cost of Sh200 million.
The boreholes were meant to complement the short rains, consequently cushioning residents against the effects of the shortage.
The Ministry of Water had hinted at sinking at least one borehole in each of the 85 wards.
Muguna pointed out that delays by City Hall in releasing Sh50 million towards the project had complicated the project.
"We agreed the national government would give Sh100 million while NCWSC would give Sh50 million. This has been done. City Hall is yet to give the remaining Sh50 million," said Muguna.
Currently, Nairobi receives 466,000 cubic metres of water, which is 50 per cent of the daily demand. Currently, the capital is not depending on Ndakaini Dam but River Chania for its daily water needs.
In areas such as Kasarani, Kayole, Donholm, Nyayo High Rise, Madaraka, Westlands, Buru Buru, Uhuru Gardens, Umoja and Jamhuri, residents have routinely complained about water scarcity.
The committee heard on Tuesday that City Hall owed NCWSC Sh210 million. Muguna said the money owed was meant to pay contractors and members of staff. Part of the money was also for clearing pending bills.
"As a company, we also have pending bills and contractors to pay. This debt by the county is a major setback in our operations," said Muguna.
Money owed
Water and Environment Executive Larry Wambua committed to ensure that they paid all the money the county government owed NCWSC.
He also expressed hope that once the Northern Water Collector Tunnel in Murang'a County was complete, it would supply approximately 140,000 cubic metres of water per day.
The tunnel is being built at a cost of Sh6.8 billion and is expected to boost water supply to Nairobi by 140 million litres.
It is believed the tunnel will provide a permanent solution to the water shortage residents have faced for years. Two other dams under construction in Kiambu County are also expected to ease the water rationing.
The tunnel is a Vision 2030 project intended to ensure that water services in Nairobi, Kiambu and Murang'a counties are improved.