The hard task of searching for a job amid scams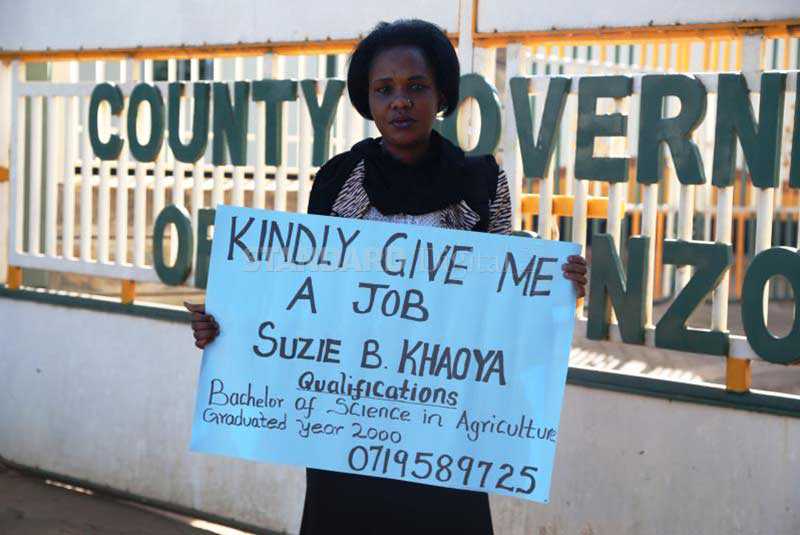 When Jude Omollo saw the call for young graduates seeking employment on a local newspaper two years ago, he was elated. It came when he was almost slipping into depression; having looked for a job for three years.
East Africa Sub-Saharan Africa Safe Promotion (EASSASP) - a recruiting organisation -- was inviting applicants for what it termed as "the biggest career drive in the country".
They purported to be doing it under the Ministry of Devolution. Omollo applied. In a few days, he received confirmation of successful shortlisting. He was then invited at the Safaricom Kasarani stadium for the first meet up.
"I was excited. Finally, things were beginning to look up," says Omollo, recalling the painful journey he has taken in pursuit of employment.
At Kasarani, he met thousands of other applicants. They were told to part with between Sh300 and Sh700 as processing fee. "I had travelled all the way from Muhoroni, and I was too desperate to question anything," he says.
The same day, news started floating that the job could be a scam.
Even though the then EASSASP Chief Executive Officer Julius Kithome defended the organisation saying they were licenced by the government to do mass recruitment, two years later, Omollo says no applicant ever got the plum jobs the firm promised.
His story confirms the frustrations many people looking for jobs, especially young graduates, have to endure to secure employment.
A recent report by United Nations; Human Development Index (HDI) 2017 gives the unemployment rate at 39.1 per cent, casting a gloomy reality on many graduates.
Con games
Job seekers told Sunday Standard that their road to finding employment has been marked by con games, exploitation and in their desperation, they have had to clutch at anything that comes their way.
When Claudia Jematia, 27, came back home from studying abroad, she was hopeful that her qualifications would help her secure the first job that would get her started on her career ladder.
Despite obtaining two masters degrees -- one in advanced security and digital forensics from the UK and the other in cyber security -- that came with an international certification and an undergraduate degree in information technology, Claudia could still not get a job in her field of study.
So she made a placard detailing her qualifications with her contact details prominently displayed and stood at a busy intersection.
The words "kindly give me a job" were printed in caps at the top of the placard with her phone numbers at the bottom.
"I did not stand in the intersection for more than 30 minutes but the next day, the post went viral and I received more than a thousand calls and messages," she recalls.
Two weeks later, she went on a series of interviews that secured her the first job. Her desperate measure had borne fruit.
In the months that followed, almost a dozen other job seekers took to the streets at different spots around the city with placards bearing their qualifications and contacts, hoping to attract the attention of prospective employers.
As the number of graduates leaving higher institutions of learning to join the country's labour force increases, it is becoming clearer that the days university graduates would be assured a job immediately after graduating by virtue of their academic papers are long gone.
"My motivation was to put my CV out there because I figured sometimes job applicants do not get called back for interviews even after applying because their CVs get crammed in a floor somewhere and they don't know anyone inside to 'push' for them," she explained.
Mary Njoki Mwau, a diploma holder, shared on a social media page how she saw a post on OLX seeking young women to work in a company. She reached out and was told she qualified, but needed to send Sh1,000 for uniforms. She did, only for the poster to switch off his phone.
"I had a baby and was desperate for any decent job. I had searched for too long," she says.
Rael Rotich, the National Employment Authority (NEA) Acting Director General, says they are aware of the struggles unemployed Kenyans go through, and have set up a data information system that allows interaction between potential employees and employers.
Technical courses
"The system also provides information on the skills they need to be marketable," she says.
Rotich said the authority has a Sh5 billion skills upgrading programme for youth, supported by World Bank, that will ensure more are absorbed into income generating activities.
Perminus Wainaina, CEO and managing partner at Corporate Staffing Services, a human resource firm based in Nairobi, says the government should focus on technical courses, as the job market is flooded by fresh graduates who studied disciplines with limited opportunities.
"We once had an opening for a plumbing technician. It took us six months to fill it because Kenyans ran away from technical courses," he says.
Robi Koki, a lecturer who supervises internships at United States International University (USIU-Africa) says a new form of exploitation for graduates is 'indefinite internships' that dangle the promise for a job to the interns, while using them for free labour.
"The fear of moving into nothingness motivates them to stay. Employers take advantage of the desperation," she says.