Kenya launches the first generic ARVs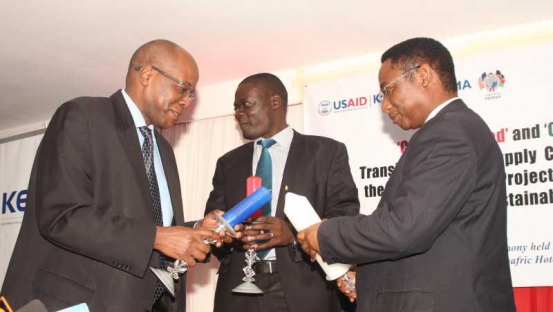 HIV patients who suffer severe side effects and face therapy resistance will now be able to switch to a more convenient drug regimen.
The development comes after Kenya became the first country to introduce the generic anti-retroviral therapy (ART) drug Dolutegravir (DTG) on Wednesday that will be available for free in Government clinics.
According to National Aids and STIs Control Programme (Nascop) head Martin Sirengo, DTG has very few side effects compared to the current regimen available in Kenya.
He said HIV patients could take one pill a day, and the body was less likely to develop resistance.
"As we launch the DTG, the Ministry of Health recommends it initially for people who are unable to tolerate the side effects of Efavirenz, patients failing on second line, and as a first-line drug for HIV-infected people who inject drugs," said Dr Sirengo.
He added that the drug would only be made available to 27,000 patients in Kenya, with the backing of Nascop and international drug-purchasing facility Unitaid.
Transition period
"They have donated 148,000 packs, which costs about Sh60 million, and that is why we are able to provide the drug in a transition period of about 18 months," he said.
Sirengo said the Government had laid out expansion programmes that would see those on DTG not return to their previous therapy.
"We plan to not only bring others on board but continue with the ones we have because we do not want people to take a cocktail of drugs," he said.
In his speech, Director of Medical Services Jackson Kioko said DTG had a higher viral load resistance and worked by slowing the spread of HIV in the body.
Quality improvement
Dr Kioko said the ministry would focus on quality improvement and introduction of innovative products that offered point-of-care solutions as well as safer and more efficacious medicine.
The drug comes as good news for patients who have developed resistance to other treatments.
"I had little appetite and my body was completely worn out but now my appetite has improved and my body is working well," said a patient during the drug launch.
She said her viral load - the amount of HIV in the blood - had fallen ten-fold from 450,000 to 40,000 since she started taking DTG pills.
The drug comes as a 50mg tablet that is not recommended for pregnant women and children who weigh less than 40kg.
Why counties hold the future of real estate
When we started selling land to potential homeowners in 2010, we didn't imagine our business would take us to so many parts of the country. We started with six acres in Konza, which we sub-divided and sold to individuals.