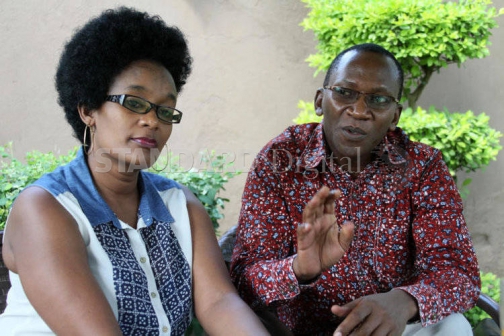 In August last year, Peter Solomon Gichira stirred from his sleep and made a declaration to his wife: He was going to run for the biggest office in the country – the Presidency.
"I was surprised when he told me his plans, but I told him we will discuss it when we wake up," says his wife Miriam Ndunge.
That night, he spent hours scribbling his grand plans for the country. Before then, he had never participated in national politics.
His announcement, his wife says, lacked the foundation popular presidential aspirants had.
He however had so much conviction in his voice, that she made a decision to support him, regardless of the direction his ambitions will take them.
Gichira, 46, says it had taken him soul searching, research and a leap of faith to decide to run for the presidency.
His desire to take up leadership is rooted in his experience growing up in Machakos town with his single mother and four brothers.
"My childhood was tough. I have had the desire to change lives of people going through what I went through," he says.
He adds that before he put his foot into the political waters, he didn't anticipate it to be a journey fraught with struggles and making many appearances in court. His troubles started when he submitted his application to the Registrar of Political Parties.
Pending court case
"They would send me confirmation messages that I am running for MCA. It is like nobody took me vying for presidency seriously," says Gichira.
He also claims his symbol; that of a jembe, spanner and shield was rejected with claims that it already belongs to another aspirant.
However, Lucy Ndung'u, Registrar of Political Parties says they received more than 4,000 applications, and the error could have been made during entry of the forms.
"There is no malice. We were clearing manually, and we looked into every complaint made," she says.
Jembe symbol
Gichira says he is determined to make it to the top, regardless of the obstacles he is facing, including a pending court case where he was charged with attempted suicide. "I know Kenyans are yearning for a change in leadership, and I am that change," he says. His friends and people close to him however dismiss his bid for the presidency saying he is too ambitious and 'insane'.
"Most Kenyans wouldn't even recognise him if they saw him on the streets. He should have started small," says one of his friends. Gichira notes that he has had attacks from people on social media and other platforms who call him 'a lunatic'.
"Wait till they hear my manifesto and plans, they will think I am mad, but I am doing it for the poor," he says.
Gichira went to Kabaa High School before proceeding to the University of Nairobi. He once served as the Secretary General of Arts Students Association at UoN.