Farming gamble that fuels food scarcity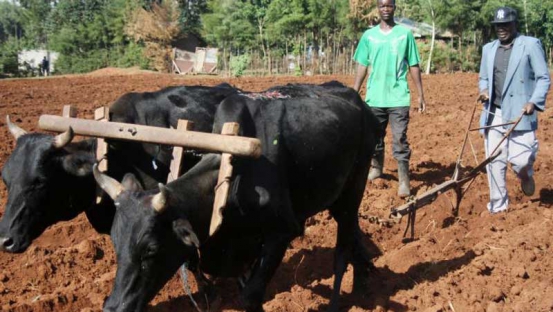 Martin Wepukhulu is a small-holder farmer in Trans Nzoia County, popularly described as Kenya's breadbasket. To produce a two-kilogramme tin of maize known as gorogoro here, he spends about Sh25 on land preparation, seeds and fertilisers on his one-acre farm.
Some 270 kilometre away in Turkana County, one of Kenya's poorest counties, is Loseny Nguono, a goat keeper, with two wives and 13 children. Turkana is one of the 23 counties affected by drought which has left close to 4 million people in danger of starvation.
Loseny receives Sh8,000 after every two months from the national government through the national safety net programme. He is willing to pay Martin a decent Sh70 for his gorogoro of maize. Unfortunately, neither Martin nor Loseny will get his wish. A reclusive government, ruthless cartels, dilapidated roads and marauding bandits conspire to ensure that while Martin sells his cereals at a low of Sh40, Loseny buys it at a high of Sh150.
The journey food takes from a farm in Trans Nzoia to Loseny's plate in Lokichar, Lodwar and beyond is a costly, turbulent and a treacherous affair that has enriched a few, impoverished hundreds of thousands and even left many dead.
Martin is convinced that both the national and county governments have abandoned him and many other small-holder farmers to the whims of avaricious cartels.
When we meet him at his farm in Misemwa village, he is watching on as two young men plough his field in readiness for planting. He had paid Sh800 for two draft oxen and the plough. The men would charge him Sh20 for every furrow made. By the time they are done, we count 80 furrows. He tells us he has bought seeds and fertiliser, and was only waiting for the rains to start then he would plant. The seeds cost Sh3,100 while fertiliser leaves him Sh7,800 poorer.
After a few months, the germinating crops would need weeding. He would pay Sh30 for every line worked on, leaving a hole of Sh2,400 in his bank account. In total, the old man would spend about Sh12,600 on his one-acre farm. After nine months, and with luck, he would harvest about 20 bags of maize. That would be around November, just when the festive season is beckoning. "Around this time, just after we have harvested, some people go around buying the newly harvested maize from farmers at Sh40 for a gorogoro," says Martin.
Fun-filled
And because the farmers are desperate to have a fun-filled Christmas, they dispose of their maize at throw-away prices. For Martin, selling a two-kilogramme tin at Sh40 would mean getting Sh1,800 for a 90 kilogramme bag of maize. In total, he would pocket about Sh36,000, which would mean a net annual income of Sh23,400 if he deducted the Sh12,600 expense. This works out to a monthly income of Sh1,950 - far below the official minimum wage of Sh12,000 per month.
By February this year, Martin, who does not have a granary, had sold all his stock of maize. And now, he is buying a gorogoro of maize at Sh100 from the brokers he sold to at Sh40. According to latest figures by the Kenya National Bureau of Statistics, in March, one kilogramme of loose maize grain was retailing at Sh52 - 25 per cent higher than it cost in the same period last year.
"Farming is like a gamble; there are times when the harvests are good and when they are dismal," he says. In Kitale town, is an old dysfunctional National Cereals and Produce Board (NCPB) with its rusty, huge dome-shaped silos. The silos were active in the 80s and 90s.
But the government let it run down, allowing proliferation of cartels who have since been preying on farmers' desperation. Before, Martin says farmers sold their harvests to the government through the NCPB, and they would in turn receive a decent return for their sweat.
This food would then be distributed to areas such as Lokichar at affordable prices, or in some cases for free as relief food. Today, the nearest NCPB depot is 23km away at Moi's Bridge in Uasin Gishu County.
Those supplying NCPB also ought to have at least 100 bags - an impossible feat for most farmers who own between one acre and five acres of land. According to Tegemeo Institute, there are about 3.5 million small-scale farmers owning less than 5 acres and who produce 75 per cent of the country's maize.
A government's subsidy programme that would have seen poor farmers receive fertiliser and seeds at a cheaper price, instead favours commercial farmers with deep pockets.
Moreover, the farmer needs a rubber-stamped letter from his area chief to take to the cereals board for certification. The board will then create for him an account number. "To avoid all that trouble, I buy seeds and fertiliser from a private wholesaler in town at Sh3,100 while at the NCPB it costs Sh1,900," says Martin.
Martin also remembers with nostalgia co-operatives that helped them against exploitation by the middle-men. Co-operatives with their financial muscles would have, with relative ease, taken their crops to such areas as Lokichar where they would have fetched better prices. They, too, are gone.
Today, there are reports that neither the government nor Martin has maize, a grain used to make Kenya's staple food ugali. The government has already set in place the process to import white-maize duty-free from Mexico even as inputs used to produce maize and wheat flour are zero-rated in what the government believes will bring down the cost of a two-kilogramme packet of unga to Sh115.
However, when we drive up to Lessos, a few steps from the derelict silos we find men busy offloading maize from trucks into these silos. There is a queue of trucks waiting. The same thing is repeated along the entire breadth of Lessos. The silos belong to brokers and most of the maize is acquired at a cheaper price from farmers such as Martin.
Cabinet Secretary for Agriculture Willy Bett says such people hold close to eight million bags of maize. "They are not releasing because they know if they continue holding onto it, they can get better prices," the CS says.