Corrupt senior officers still getting bribes, Kavuludi says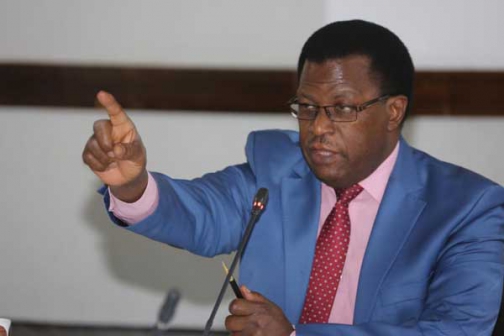 Corrupt officers in the Traffic Department are now using banking agents to send and receive money from the public and remit it to their seniors.
The National Police Service Commission (NPSC) yesterday said it is alarmed at the level of collusion between traffic police officers and breakdown operators in the country.
More alarming, NPSC has revealed that some senior officers who were already vetted are still receiving money from junior colleagues, money which is suspected to be proceeds of corrupt practices.
"Junior officers in the force are still remitting money to their seniors, sometimes up to Sh4,000 daily. This comes up when we look at Mpesa statements, and they are not little sums of money," said NPSC Chair Johnston Kavuludi.
He added: "Senior officers who were vetted and are still receiving money from their juniors will be called to explain why they are doing so."
Some 320 traffic police officers based in Central region are undergoing vetting by NPSC to gauge their suitability to serve in the police service.
Yesterday, NPSC said officers in the area had links to persons operating breakdown vehicles. "There are officers receiving large sums of money from owners of breakdown vehicles. This is obviously an inducement and a corrupt activity and thus unacceptable," NPSC's Ronald Musengi said.
In particular, the commission has raised the red flag at traffic officers stationed between Limuru and Naivasha, where it has emerged that an unnamed individual owns three lorries and five breakdown vehicles, and often sends money to the police.
The commission also noted that matatu operators are arrested but do not go to court. In one police station, only four cases out of 300 arrests made it to court, while the rest were released under unclear circumstances.
At the same time the commission has defended itself over the decision to bar the media from its proceedings. Mr Kavuludi said some of the matters to be discussed relate to national security and the forthcoming elections.