At 88, historian Bethwel Ogot not prepared to write his last word just yet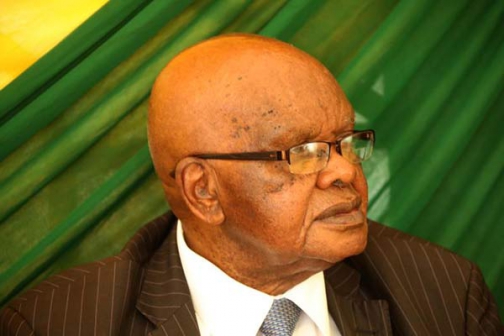 Dressed in his favourite black pinstripe suit, Prof Bethwel Allan Ogot is still an imposing figure, even though he walks with a slight limp as he conducts his guests around his magnificent library.
Over time, Prof Ogot has built a prized collection of books, archives and artifacts and he is pleased about it.
"This is an investment of my lifetime and I am quite proud it. Not everyone is allowed in here," he tells a group of eminent scholars from the University of Nairobi.
There are about 10,000 books in the two-room library and more are still on the way. "About half of these are still in Nairobi and another one third in Kisumu. The library will be complete when they arrive here," Ogot says about the books in his other homes.
The scholars are here to pay homage to a great son of Kenya. An author, historian and scholar. Prof Ogot is one of Africa's pre-eminent scholars and prolific authors. He was Kenya's first professor of history. At 88, he has authored 39 history books and is not about to stop. And this is what inspires his guests.
MEMORY LANE
The entourage includes the who's who in academia. Prof John Oyaro Oucho, a professor of population studies, leads the delegation that has Karatina University Governing Council Chairman and Professor of Environmental Law Charles Odidi Okidi, former PS and professor of geography and environmental studies George Okaye Khroda.
The others are political science scholar and former member of the Commission for the Implementation of the Constitution (CIC) Prof Peter Odiwuor Wanyande and Director of Institute for Development Studies Prof Winnie Mitullah.
The first stop for the visiting scholars was at the elaborately designed mausoleum where Ogot's wife Grace Emilly Akinyi Ogot, a former nurse turned author and politician, was buried last year. The artwork and photographs hanging on the walls of the mausoleum is testament to Ogot's deep love for his wife.
"I visit here every day. Sometimes, I take tea here as I read," he told the dons, many of whom were his history students.
While his peers have either died or retired, Prof Ogot is still quite agile and alert. He is currently working on his fortieth book, The History of Nairobi, a sequel to The History of Kisumu which he published recently.
He says he is still as "fit as a fiddle" and will never give up writing, mostly in his rural home in Yala, Siaya County where he now resides.
"I wake up at 6am every day, read newspapers, catch up with international news, have an African breakfast then head to the library," he says.
To speed up work on his books, Prof Ogot writes for at least two hours every day—he does not entertain any disruption at this time of the day.
"In the afternoon, I take a walk, then settle down in the living room to watch the English Premier League," says the former Chancellor of the Moi University.
He is a keen supporter of English Premier League club Manchester United and Gor Mahia, a local football club where he was the founding chairman in 1966. He also loves Lingala music and watching entertainment wrestling. "Prof is a good dancer, he used to dance a lot with Mama Grace," says a relative.
Prof Ogot often travels to Maseno University where he still serves as the Emeritus Professor of History. Once he is done writing the 500-page The History of Nairobi, Ogot will shift his focus to lighter narratives.
The visiting scholars, who refer to Ogot as "our father", listen attentively as he takes them down memory lane to his days as a young, cheerful and globetrotting historian.
He tells them about the road to Lancaster, where Kenya's first constitution was written, and why Kenya is turning into a cultural desert. He takes them through the migration journey of the Luo, a Nilotic community that is spread all over Africa—from Khartoum in the horn of Africa, to Uganda and Mwanza in Tanzania.
It is his comprehension of this community's migratory accounts that first earned Ogot scholarly acclaim.
"We came to pay homage to an eminent scholar who has made Joluo, Kenya and Africa proud as a reputable historian, a scholar who has also taught generations of students and published widely. Instead of emulating his contribution when he is gone, it is important to interact with him while he lives," said Prof Oucho.
Ogot is alarmed that Kenya is turning into a cultural desert, and laments that increasingly the elderly are forgetting their culture and have therefore nothing to pass on to the younger generation.
Today, he notes, young writers are not keen to tell their stories in local languages.
LOST CULTURE
His biggest disappointment is reserved for the Luo Council of Elders, and the infighting over who should be referred to by the title Ker (supreme leader).
He then notes that many cultural artefacts and symbolism — like the beaded cap worn by Kenya's first Vice President Jaramogi Oginga Odinga — have been lost.
"The cap was designed to promote the Luo identity and even former President Jomo Kenyatta loved it.
The scholars presented Ogot with a giant portrait of himself.
"When I die, this portrait must be placed inside my mausoleum if one is built for me," said Prof Ogot, to which one of his relatives, Mr Jasper Okelo, responds; this will be done.