Police disperse anti-corruption protesters using live bullets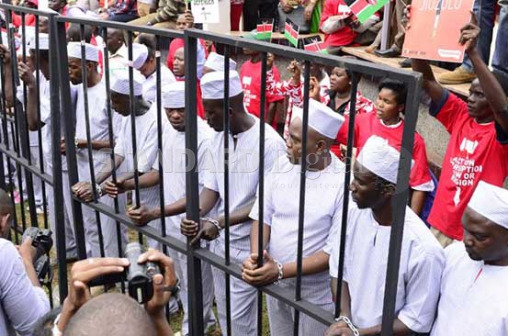 Police used live bullets and teargas to disperse anti-corruption protesters in Nairobi, yesterday.
About 13 people who were arrested during the protest were later released. No one was seriously injured during the confrontation.
The General Service Unit police officers had strategically been deployed near Uhuru Park entrances. They patiently waited for the protesters, dressed in red T-shirts, to gather and get a briefing on the issues before descending on them.
As soon as the march to Harambee House to submit a petition to President Uhuru Kenyatta condemning the increased cases of corruption in Government began, the officers lobbed teargas at the crowds.
Confusion hit the peaceful demonstrators including the public enjoying themselves at the park who began running in all directions seeking refuge with the officers in hot pursuit.
Kenya Human Rights Commission (KHRC) Deputy Executive Director Davis Malombe called on the President to swiftly deal with the concerns.
MASSIVE LOOTING
"We are tired of this massive looting of public resources. The President has many obligations and powers to deal with corruption contrary to his remarks during the summit in State House," said Mr Malombe.
In condemning the President's remarks that his hands are tied, activist Boniface Mwangi called for his resignation.
"If he cannot do his job, then he must resign. We have responsibility to fight for our country," said Mr Mwangi leading the protesters before they were chased from the park.
The petition signed by KHRC, Power 254, Inter-religious Council of Kenya, Transparency International, Katiba Institute, Sauti ya Wanjiku, Civil Society Reference Group and Transparency International Kenya calls for a raft of measures to be carried out by the President in accordance with the law.
It calls for immediate sacking of public officers adversely mentioned in corruption.