Talks will favour you, India assures Kenya as Prime Minister visits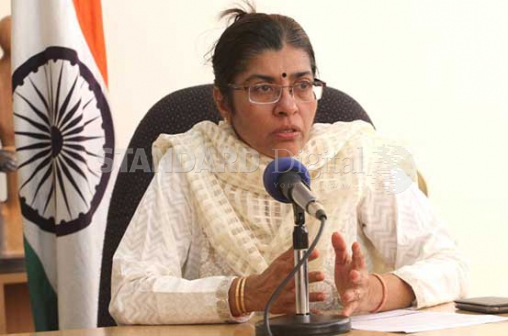 At least two multi-specialty state of the art hospitals will be constructed as part of a bilateral agreement between Kenya and India.
A bilateral meeting scheduled for Monday between President Uhuru Kenyatta and Indian Prime Minister Narendra Modi is also expected to culminate in half a dozen other substantial agreements in trade, education, health, defence and security.
In all these areas, Indian High Commissioner Suchitra Durai said health will be a major focus.
"In a year, we have about 5,000 Kenyans who travel to India for treatment in cases ranging from kidney and liver transplants, joint replacement and different strains of cancer," said Ms Durai.
Due to this, India has simplified its medical visa processing, for both the patient and a family member, which can be done in just a day.
Durai said India's exemplary medical skills, scale of economy and affordable medicine has made it the destination of choice to many Kenyans as it is possible to get treated for less than Sh100,000 ($1000) compared to thousands of dollars in other countries.
Largest partner
"But we are concerned about people having to leave their families for long periods, so we need to strengthen Kenya's health capacity through human resource and equipment, especially in cancer care," said Durai. Kenya's private sector is expected to play a major role in the bilateral talks as a business delegation of 80 will be accompanying PM Modi.
As Kenya's trade partnership with India is in favour of the latter, the High Commissioner assured Kenya that all agreements to be made on Monday will be in its favour.
"We are looking forward to discussing how to source more produce from Kenya like tea and soda ash," she said. India was Kenya's largest trading partner in 2014/15 at Sh430 billion ($4.3 billion) with Kenya trading Sh230 billion ($2.3 billion) during the same period.
Kenya's major imports from India include pharmaceuticals, steel, petroleum products and machinery.
"Last year, it might have been lower due to low commodity prices and the petroleum crisis. We are of disturbed though as it was a global trend," said Durai. Currently, Durai said, there are about 40 Indian companies operating in Kenya. They contribute some Sh350 billion ($3.5 billion) into the economy. "Consequently, they provide the largest number of jobs through direct foreign investments. This is the best Indian way of tapping and developing local talent," she said.
Hamilton fastest as Rosberg watches on
Rosberg's misfortune allowed the Red Bulls of Australian Daniel Ricciardo and Dutch teenager Max Verstappen to shine during a warm and sunny session at Silverstone as they took second and third places.