Church is always two years behind Kenyans, says Reverend Timothy Njoya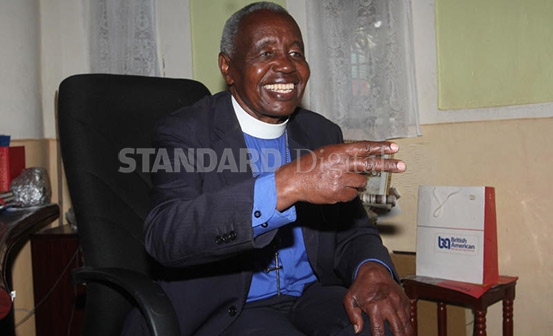 Kenya's political space is currently dominated by acrimonious exchanges between the Government and Opposition, on the disbandment or reconstitution of the Independent Electoral and Boundaries Commission (IEBC).
In this push and pull, the Coalition for Reforms and Democracy (CORD) has invoked its constitutional right to picket, a mode of non-violence protest made popular by civil society as well as the church in the early 90s that led eventually to the collapse of the Kanu regime. Just like during Kenya's second administration, the protests have been met by sheer force from the authorities.
Reverend Timothy Njoya knows such force. In 1997, Rev Njoya, a Presbyterian minister and political activist, was accosted and mercilessly battered by a plain clothes policeman in Nairobi during an anti-government protest. At least eight people, including a police officer, were killed during the emerging fracas.
But now, the man whose public life cuts across both church and civil society, says CORD's current protests are self-seeking and that the church, once the custodian of all that was good in society, a voice for the voiceless and defender of public interest has, yet again, come to the table a little too late.
"The church is always two years behind Kenyans. Whatever they are saying now, they ought to have said two years ago," Rev Njoya says of the church. "They opposed the Constitution and now they are talking about upholding it. It is not that they are not sharp, they just need more sharpening." Speaking to The Standard on Sunday from his office in Nairobi, Njoya criticised the motivation behind CORD's spirited effort to ouster the IEBC.
Fight for power
"We were giving our lives for a cause. That cause was to get a Constitution that would end the one party system that was there. What cause are they advocating for now," Njoya asks. He says that the Opposition is trading people's lives for power.
"They are telling people that if they do not get what they want we will have violence. In essence, they are telling us that if they do not get what they want, what happened in 2007 will happen again." He says, in principal that he is not against the Opposition demos.
"I have no condemnation for them. The need to fight for power but they need to do so on a level playing field... not by including innocent Kenyans who are not involved in their power plays," Njoya says.
The 75-year–old has been thrice defrocked by the church over his stances on an array of issues. He has however been readmitted back into his congregation. "It is not about who goes. It is about the system. I went through this in 1992 and 1997 with Raila's father and the Opposition at the time, which thought its sole reason for existence, was to get Moi out. I told them the question was not about Moi going... it was about having a system in place that will ensure a level playing field for all those involved," he says. "That is what CORD should be asking for. Not for the removal of office holders."
A section of lawmakers have asked the President to disband IEBC with disregard to what the Constitution says, citing previous occasions where the president has been seen to act in disregard of the Constitution. Njoya says two wrongs cannot make a right. "The argument of whether he has broken the law previously does not hold any water. It is like telling someone to cut off your right leg because he previously cut off your left one," Njoya says.
Despite his apparent disapproval of the manner in which CORD is conducting its protests, he agrees with the opposition on one thing. The brutality meted upon the protestors was uncalled for.
"A parent should not be brutal to his child. They should let the Opposition hold peaceful rallies and go home. It is in no one's place to beat another," he says. "This shows the levels of intolerance within the State too."
For him, the only solution to the current impasse is conversation. "The true mark of leadership is tolerance and ability to have a conversation with your political enemy. This cannot be solved by any other way and the conversation should not only include the political leadership but those that they accuse as well," he says. "The IEBC must come to the same platform and say what they want. A level playing field does not belong to one side only." But this conversation can only be held once both CORD and Jubilee set aside their baggage.
"They must first forgive each other of misdoings - real or perceived. President Uhuru Kenyatta and Raila should learn from Jesus because they are both leaders. They should both forgive their enemies for they know not what they are doing," he says. Njoya also takes issue with the role women have assigned themselves in what is shaping up to be possibly be Kenya's Waterloo moment before the next polls.
"Why are our women not talking? I do not want to call them stupid but they have been stupefied by politics. Yet they still march the streets, threatening violence if their end of the deal is not met. Forgetting they were the worst hit in 2007 violence," he says. According to the reverend, any woman who does not rule, or fears leadership is a sinner.
In the absence of tolerance, forgiveness or the participation of women, he says we are fast approaching a dark hole as a nation. "We might just obliterate ourselves," he says. The violence that was witnessed in 2007 might just come sooner than election time, because of underlying feelings of permanent exclusion from power, authority and development in some parts of the country.
"I always vote with the Luo because of my socialist background. If I were Luo I would feel permanently excluded from power, authority and development. I identify with the plight of the oppressed, perceived or otherwise. Not that other tribes have not been excluded, but the Luos are conscious of their exclusion," he says.
"If unfortunately 20 boys are killed during tomorrow's demonstration, it will be seen as 20 Luos killed. We will have commissions and Raila will compromise for a position in government to make peace," Njoya says.
Njoya however says the current situation is not irredeemable and that as a nation we have our fate in our hands. "We need to be thinkers. Why should I act like an illiterate and defend every government move no matter how irrational just because it is Kikuyu? Should the fact that I voted for Raila mean I have to be a sycophant and defend his every move? We should all begin here. Then perhaps we shall save not only ourselves, but our country too," he says.