Nairobi Senator Mike Sonko summoned in Sh29m Mombasa land fraud case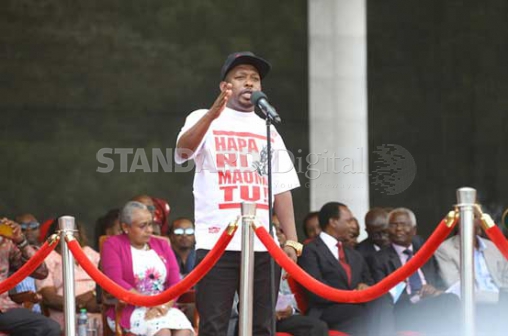 Two brothers and a State investigator claim Nairobi Senator Gideon Mbuvi Sonko was an agent in an illegal sale of a Sh29 million plot of land in Mombasa.
Consequently, Mombasa Chief Magistrate Julius Nang'ea has now summoned him to testify in a case in which Afzal Ahmedali Shah is charged with illegally selling the land and forging a title deed.
"To Hon Mike Mbuvi, Senator Nairobi. You are hereby commanded to attend this court on the 8th day of June 2016 as a witness in this case and remain in attendance until released by the court," reads the order issued on May 4.
The alleged fraud in Mombasa's Bamburi estate took place in 2009 before Sonko was elected Makadara Member of Parliament.
Fake title deed
Investigating officers claim the senator used the names Mike Munga and Mika Musa, as a land estate agent for Mr Shah to sell the land that belonged to Tecaflex Ltd to the two brothers Hittesh Pravin Dave and Rajesh Pravin Dave, flower farmers from Kajiado. Tecaflex bought the land from Bamburi Cement. Shah faces three counts of fraud, including making a fake title deed on August 19 2005 in Mombasa with intent to defraud. He is also charged with presenting a forged document to lawyer Kanaiyal Mohamnal Pandya at his office in Mombasa on July 27 2009. Shah is also charged with swindling the two brothers of Sh29 million between July 31 and September 17 2009.
According to Hittesh, they first met Sonko at the offices of AB Patel Advocates law firm in Mombasa, where Sonko introduced himself as Mike Musa and an agent of Shah. Hittesh has testified that while at the law firm, his lawyer Kanaiyal Mohamnal Pandya told him that an agent would be sent to take him to properties he could buy. The man arrived and drove the brothers to Nyali in his car.
Said Hittesh: "He was an African, in his 40s. He said he was called Mike Musa. He drove me in his car to Nyali. He showed me the house; I saw a sign board showing the house was for sale, but I did not like it. He told me there was another property in Bamburi."
Pandya testified that he dealt with an agent by the name Mike Munga during the deal. "I had known Mike Munga and he was the vendor's agent. I had dealt with him in one other transaction before. I am the one who called Hitesh in the presence of Mike Munga and told him about the property in Bamburi," said Pandya.
On Wednesday, the investigation officer in the case Millicent Ouko also told Chief Magistrate Nang'ea that Sonko had acted as an agent in the land transaction and is expected to appear in court to testify.
"I summon the remaining three witnesses to appear in court and testify in the matter before we conclude this matter," said Nang'ea.
State witness
State Prosecutor Lydia Kagori made a formal application for the senator to be summoned as a witness. "There were no such documents in the lands office indicating a transfer between Tecaflex and Shah. The original transfer is from Bamburi Cement Limited to Tekaflex, who are the real owners of the property," said Ouko.
She said Shah received cash in installments through his advocate's account at Habib Bank, and each copy of the cheque had a copy of the identity card of the accused and the bank statement from the bank indicated transfer of the said amount.
Shah is said to have received a first payment of Sh3 million, and another Sh15 million from Standard Chartered in Westlands. He also received a further Sh10 million from Victoria Bank and finally Sh1 million from I & M Bank.
Shah's lawyer Fredrick Mwawasi accused the land registry in Mombasa of manufacturing documents, leading to the mess.