Scores feared dead, many injured as flat collapses in Huruma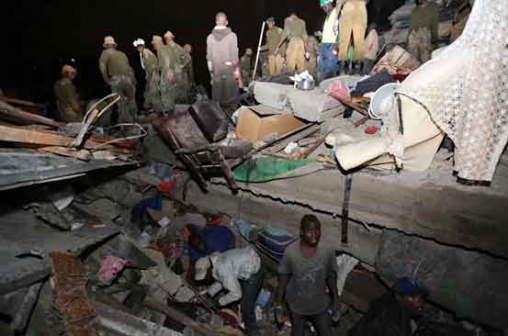 Scores of people are feared dead and many more were feared to have been trapped in a six-storey residential building at Huruma estate in Nairobi following heavy rains that caused havoc in Nairobi last night.
Kenya Red Cross workers who were among the first to arrive at the site, and residents who escaped said the building caved in at 9.15pm when many residents were in their houses because of the heavy rain.
Rescue workers had a difficult time as a charged crowd used bare hands and all tools available to remove the rubble to reach the survivors.
The rescue team said they had managed to get about 50 people out of the building by midnight, among them a baby who was the first to be pulled out.
The large crowds cheered when a second infant was rescued at about 12.20 am and every time another person was saved from suffocating from under the mounts of rocks.
Earlier, four injured people were rushed to hospital but the number of those trapped remains unknown.
Order was restored at about 11.30pm when hundrteds of National Youth Service (NYS) personnel arrived and took charge of the operations from the crowd.
There was hope for more people trapped inside the building after an unconscious but stable woman was carried on shoulders out of the building.
A man wearing sky-blue jeans and a navy blue T shirt was also heaved out of the rubble shortly afterwards.
Kenya Redcross officer Arnolda Shiundu said yesterday: "It was a complete collapse. The building came down like a park of cards but we will give a complete picture in a few hours."
So far, the 121st person has been pulled out of the rubble and the rescue efforts are still ongoing.