Why Obama is captivated by Kenyan heritage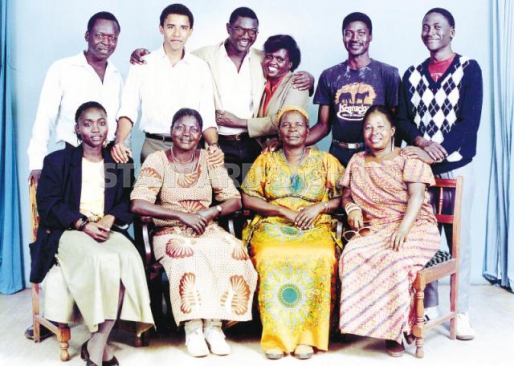 During one of his early visits, Barack Obama found himself huddled amid 15 or so people, in a congested sitting room in Nairobi's Kariokor Estate, "all of them smiling and waving like a crowd at a parade".
It is in this very room, over a luscious meal of goat curry, fried fish, collards and rice, that Aunt Jane, sister of Barack Obama Snr, made the prediction that her nephew would become a famous world leader.
"Ah, this is good, Barry," Jane said as she sucked on a bone from the curry. "Your father studied at this school, Harvard (just like yourself). You will make us all proud, just like him," writes Obama in his famous autobiography, Dreams From My Father.
And true to Aunt Jane's prophecy, Obama rose to become the first black president of the world's most powerful nation in just two decades.
In fact, he outdid their estimation by surpassing the standing of his late father — a top government economist in Kenya's Ministry of Finance.
Emotional odyssey
During the 1988 trip, he was quietly received by his half-sister, Dr Auma Obama, at the Jomo Kenyatta International Airport and driven to the noisy Kariokor Estate, on the edge of the city centre, for a welcome dinner party with cousins, uncles and aunties.
This time around, his reception is a matter far beyond a 15-people affair.
These and many other captivating episodes are captured in Obama's memoirs, first published in 1995. Dreams From My Father, like most literary works by African-Americans, focuses mainly on the theme of identity.
The text begins in November 1982 in New York, where Obama learns of his father's death in a car accident through Jane. This inspires an emotional odyssey to meet members of his extended family..
Ideally, a number of Obama's literary works, including his key historic speeches, explore the question of his cultural identity.
This is an obsession that takes him on a literary journey as far back as to the 1940s, where he traces the roots of the wider African black community.
This trend is evident in his second major book, The Audacity of Hope, which is more of a politician's views and critique of racism and the democratic process in America.
Looking back at the past decades, Obama writes: "I sometimes felt as if I were watching the psychodrama of the baby-boom generation — a tale rooted in old grudges and revenge plots hatched on a handful of college campuses long ago — played out on the national stage."
His criticism of this selfish political culture is consistent in the book. What troubles America, writes Obama, "is the gap between the magnitude of our challenges and the smallness of our politics". He has repeatedly said the same of Kenya.
In other words, while engaging in literary discourse on democracy, Obama sticks with the Kenyan example — actually his personal example. In his famous speech at the Democratic National Convention in 2004, for instance, Obama dedicated a good amount of time to his identity.
"My father was a foreign student, born and raised in a small village in Kenya. He grew up herding goats, went to school in a tin-roof shack. His father — my grandfather — was a cook, a domestic servant to the British," Obama pointed out in his keynote address at John Kerry's presidential campaign convention.
This beautiful piece of literature, one of the greatest ever delivered by Obama, was the trajectory that eventually propelled him to the White House. The contrast between the basic Kenyan life and the life in America, and the success story of Obama Senior at Harvard University, reflect on the ideal 'American dream'.
It is the same dream espoused by renowned human rights activist Martin Luther King Jnr, whose activities and literary works Obama admires and has emulated.
In Dreams From My Father, for instance, Obama hails King's ideologies as America's "magnificent dream". But he wonders how America "can proudly send men into space and still keep its black citizens in bondage". This line of thought is alive in King's key speeches, "I Have a Dream", "I've Been To The Mountain Top" and "Letter From Birmingham Jail".
In terms of style, King and Obama are similar. Their speeches are flowery, poetic and anchored on a catchy refrain. In his famed "I Have a Dream" speech of August 28, 1968, for instance, King "dreams" of a just and racial bias-free society had the punch line "I have a dream".
Obama spread the message of hope in his victory speech of November 4, 2008, in a similar manner. He spoke of future unity among the white, Hispanic, Asian, Native American, gay, straight, disabled and not disabled, with the catch phrase "Yes we can".
The attempt to reconcile historical ties to Africa has led some African- Americans, including King and Obama, to the continent for a sustained identity search. This effort is reflected in their literary works, including speeches.
Obama was always inquisitive about Kenya and any mention of the country would arouse great interest. As a young man, the US President recalls in Dreams From My Father how he went to a library one day to try to understand his father's homeland.
He managed to get a book on East Africa. He was specifically looking for the Luo tribe of Kenya but was disappointed that the book had just one paragraph about the Luo.
"The Luo raised cattle and lived in mud huts and ate corn meal and yams and something called millet. Their traditional costume was a leather thong across the crotch.
"I left the book open-faced on a table and walked out without thanking the librarian," he writes.
Much later, Obama recalls an incident narrated to him by his maternal grandfather, Gramps (Stanley Armour Dunham), involving his father (Obama Snr) and a white bar patron. Obama Snr and Gramps were enjoying an evening drink together.
"Everyone was in a festive mood, eating and drinking to the sounds of a slack-key guitar, when a white man abruptly announced to the bartender, loudly for everyone to hear, that he shouldn't have to drink good liquor 'next to a nigger'. The room fell quiet and people turned to my father, expecting a fight."
Instead, Obama writes, his father confronted the man and gave him a hard lecture "on the folly of bigotry, the promise of the American dream and the universal rights of man".
The humiliated aggressor bribed away his guilt by buying beer for the rest of the patrons.
Luckiest man
Much later, Obama would head "home" to Kenya to make contact with his kinsmen and women. After meeting Auma at the airport, he went to a nearby shopping centre, and in a conversation with a saleslady at the market, declared he was not an American but a Kenyan.
Obama's autobiography climaxes in the last two parts when his heritage journey takes him to K'ogelo Village. Here he meets his kinsmen and women and from tales about his father and grandfather, Obama is able to visualise his place within the community.
So fulfilling is the journey to Kenya that Obama confesses in the last lines of his book, "I felt like the luckiest man alive."
However, the first time Obama talks about his African identity, is in reference to Punahou Academy in Honolulu, where he had been enrolled. His teacher, Miss Hefty, called out his "funny" name to the amusement of the class.
Obama narrates in Dreams From My Father that the teacher asked about his father's nationality and whether he knew his tribe. Obama proudly responded, "Luo."
He then told his young classmates later the same day over lunch that his father was a prince back in Africa because his grandfather was a chief — sort of a king of the Luo tribe. Asked whether he would go back to Africa to become a prince, he said it was "a complicated affair".
Obama's tale was nonetheless prophetic. Except for the initial trips when he jetted into the country to meet family members, he has actually arrived as a prince of sorts — as senator of Illinois and now US president.
Kenya to produce shoes for US market
Kenya could start producing shoes for the United States market under the renewed quota-free and tax-free access to the multi-billion dollar footwear market.