KTN editors threatened over Saitoti expose
COUNTIES
By - | Apr 19th 2013 | 2 min read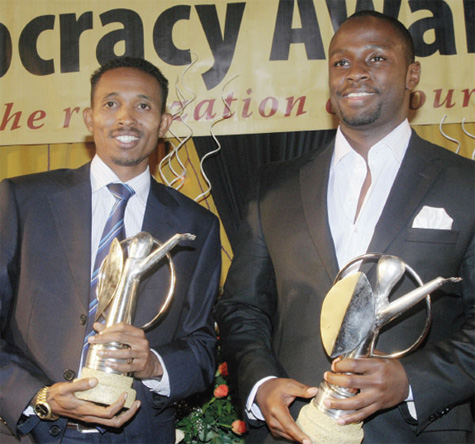 KTN investigative reporters Mohammed Ali (left) and John-Allan Namu.
By Standard Reporter
Celebrated KTN journalists John Allan Namu and Mohammed Ali have received death threats over George Saitoti death exposé that aired on the station two weeks ago.
Yesterday, the Standard Group management expressed concern over the threats that appeared aimed at intimidating its journalists.
Group Chief Executive Sam Shollei said the Group supports Press freedom and will not allow its journalists to be intimidated in the course of their duties. The exclusive stories dubbed Ghururi ya Saitoti and Death in Ten Minutes by Ali and Namu respectively showed that there could have been foul play in the death of then Internal Security minister George Saitoti.
"The threats are coming from Internal security. We have been informed that there is a police squad out to teach us a lesson. We were also informed to watch our backs, where we go and the routes we take because of the story," the journalists said.
Threats
Mr Shollei said the Group was informing the authorities of the threats for investigation and to assure its journalists of their security.
He said Standard Group will stand by its journalists, and will remain steadfast in discharging its duties as a media house, without fear or favour.
On June 10, a police helicopter carrying Saitoti, who had declared interest in vying for the presidency in the March 4 General Election, crashed in Kibiko area, Ngong.
Saitoti, together with his deputy Orwa Ojode, had been scheduled to preside over a harambee in Ndhiwa Constituency, Nyanza, on the fateful day. Two bodyguards and two pilots also died in the early morning crash.
According to the story, the commission set up to investigate the crash failed to address gaps that emerged during the proceedings, among them that Saitoti and Ojode could have been killed.
According to a post-mortem report, there were cherry-pink discolourations on their bodies, which could have suggested cyanide or carbon monoxide poisoning.
It is the fourth time that the journalists have received threats due to the stories they have meticulously researched aired in the past.
Rogue importers
They were first threatened in 2009 when they aired the Rogue Tracker, which ran on KTN Leo as Wizi wa Ngawira. They again received threats from rogue importers who felt threatened by the story, Port of Impunity or Zengwezengwe Baharini.
Namu also received threats after airing an exposé on Felicien Kabuga, In the Footsteps of Kabuga.
Similarly, Ali and his colleague Dennis Onsarigo were threatened after running Paruwanja ya Mihadarati or Untouchables in 2011.