The Counties come closer to you
Standard Group's "The County Weekly" was re-born Friday 2nd August as "The Counties" with a tag line "coming closer to you". It has an improved, rich and compelling content range tailored to be more relevant to the new devolved government units.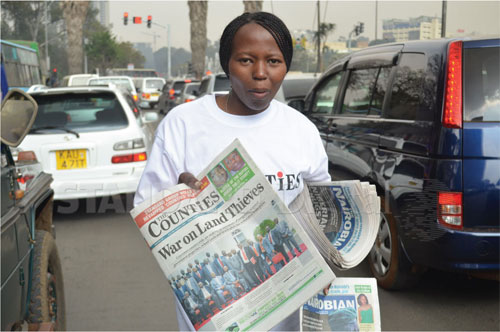 A vendor sells "The Counties" paper in Nairobi traffic
The counties has been undergoing review in order to measure up to the expectations of our readers and seize the business and other commercial opportunities coming from the 'devolved' system of government that led to the actualisation of the 47 semi-autonomous units in our country.
The paper now has new leader sections to accommodate the changes in Kenya's political system. The Editorial team has also carved out new development, education, health, agriculture and entrepreneurship as well as entertainment sections. The County Lifestyle takes over from the Kikwetu Magazine. Look out for the Counties every saturday!