Niko Fiti Caravan rolls out
Ksh. 21 million. That is the amount that will be rolled out for the Niko Fiti campaign the second time around. The aim is to have delivered 300 assistive devices by the end of the year. The 1st Niko Fiti Caravan was launched on 11th July at Kenya Re headquarters in Nairobi. This caravan is meant to cover Central Kenya as well as Upper Eastern Regions, it went through Ruiru, Embu, Meru, Karatina and Kirinyaga. The aim, of this second phase of the Niko Fiti Campaign, is to provide children and adults living with various forms of physical disability across the country with customised assistive devices. The caravan shall be carried out in three legs that shall tour the whole country providing relief to persons living with disability.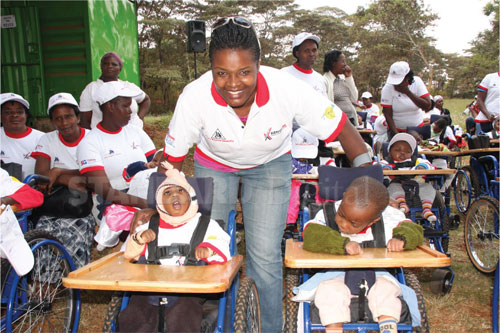 Niko Fiti Ambassador & Radio Maisha presenter Esther Ingolo poses with the children beneficiaries of assistive devices

APDK Founder and National Chairman Moody Awori appealed to the government to assist children struggling with any form of disability in their education quest. "Kenyan Children living with disabilities are not fully benefiting from the free primary education because they lack the physical assistive devices needed. This is an area the government needs to explore exhaustively because they are very expensive and most of these parents are from very poor backgrounds," said Dr Awori.
Niko Fiti began in 2011 and has made significant strides in de-stigmatising disability and enabling persons living with disability engage in daily, social and nation building activities. Niko Fiti is the flagship of Kenya Re in partnership with The Standard Group and the Association for the Physically Disabled of Kenya (APDK).