Standard Group launches Colour Kwa Face campaign
The Standard Group has partnered with Colour Kwa Face foundation, Nonini and Kenya Institute of Management to bring to light the plight of persons living with albinism through a campaigned dubbed 'Colour Kwa Face'. The campaign, which will culminate in a walk on the 17th of August, seeks to raise funds to purchase 100,000 sunscreen bottles that will be distributed to poor persons with albinism countrywide.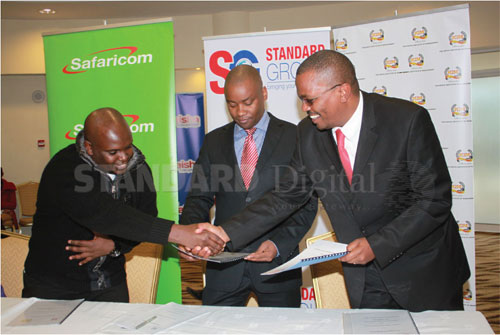 From Right -Kenya Institute of Management CEO David Muturi, Joe Munene Standard Group MD Broadcasting, and Nonini after signing a partnership agreement during the Colour kwa Face Launch held at Boma Hotel on 31st 2013

Albinism is a condition characterized by the complete or partial absence of melanin pigment in the skin, hair and eyes due to absence or defect of an enzyme involved in the production of melanin. Skin pigmentation is determined by the amount of melanin present: the more melanin the darker the skin. As we approach the hotter seasons of the year, persons with albinism with no means of acquiring sunscreen are at a risk of getting skin cancer caused by direct sunlight on their skin. During the hot seasons, this special group of people need to protect their skin against direct sunlight. Thus, during the day, they have to wear hats, sunglasses and most importantly, apply sunscreen lotion with a high Sun Protection Factor (SPF). Sunscreens lotions labeled SPF of 20 to 30 are ideal for this.
Persons with albinism in Africa are a besieged lot and many die of skin cancer as early as the age of 30. Recently, KTN ran a feature by Angel Katusia and Mashirima Kapombe titled "Prisoner of my skin" where these reporters highlighted the plight of Kenyans living with albinism who live in fear of their lives and those of their children because of the illegal trade of human body parts. It is believed in parts of Tanzania and the larger West Africa that body parts of people with albinism have a curing effect and often witchdoctors will ask their clients to pay large sums of money for "treatment" using these human parts. Watch the feature here http://bit.ly/14Yp0Gu
Because of this need for sunscreen, an awareness is being created through this campaign to educate the public on the predicaments of Persons Living with Albinism in Kenya especially as we approach the sunny months of the year. Standard Group is the sole media sponsor for the Colour kwa Face campaign that runs till 17th of August. Colour Kwa Face foundation has also partnered with Kenya Institute of Management, Safaricom and other organizations.