The Standard Features Inspiring Industry Leaders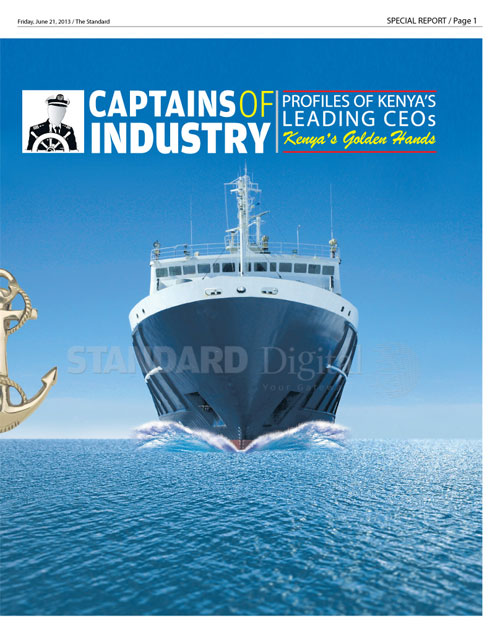 The 1st Issue of Captains of the Industry Pull out.
Joshua Oigara, Munir Ahmed, Tom Mulwa, Bob Collymore what do these people have in common? These are just some of the personalities featured in the first ever Captains of the Industry pullout by the Standard newspaper. This is an elaborate campaign carried out by the Standard in which the paper featured top CEOs of Kenya's industries both product and service sectors.
Mugo Kibati, Director General of Vision 2030 Secretariat, set the stage for the Standard reader with an article on leadership and vision linking it to the Singaporian experience. Mr. Kibati went on to illustrate how through the visionary strategies of Mr Lee Kuan Yew, Former Prime Minister of Singapore, Singapore would probably be a pale shadow of its current economic, political and social state. Managers from different companies such as Tom Omariba, MD MTN Business, Kenya, Joshua Oigara- MD KCB Group, Gideon Muriuki, MD Cooperative bank and some suprises from the public sector such as Dr. Enock Kinara, Postmaster General and CEO of the Postal Corporation, Sumaya Hassan-Athmani of National Oil Corporation of Kenya were among the people and corporations featured. It was a breath of fresh air to see public sector leaders in this piece because they are doing a great job reforming sectors that had been dismissed by Kenyans as lost causes and these great minds go unnoticed in the hue and cry of public complaints concerning certain sectors.
The feedback from the 1st issue on June 21st was overwhelming. Readers wrote to The Standard commending the team for the good job. Ibrahim Carreys wrote "The report was timely, The Standard has made a step in the right direction, this and more of these reports are what we contemporary readers and writers, would like to see in the future. To the Editors, Reporters and Expert writers who gave us the unmatched content, a big thumbs up."
Congratulations to the entire Standard team!!