Kenya At 50
The Standard Group has come up with an ingenious way of celebrating Kenya's Jubilee year. This is through an elaborate campaign dubbed Kenya at 50; this campaign celebrates Kenya's greats, history makers, stories that made headlines and much more. The Standard newspaper is embarking on a daily exploration of the news that happened 10 to 100 years ago and where these events took us in creating the fabric that is Kenya today. Since its launch, on June 1st i.e. Madaraka Day, the pullout has since looked back at our liberation from colonialism, the origin of the land issues that have plagued our country since independence, the fight for Mau Mau compensation, how the country drafted its first constitution and how far we have come in terms of law reforms, the Late President Kenyatta's first cabinet in comparison to the current one and preceding cabinets in Moi and Kibaki administration and many more interesting flashbacks.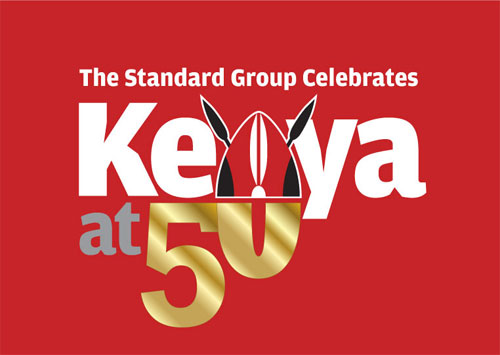 Kenya at 50 Campaign Logo
One interesting piece featured, was a story about the 1st election and how Africans were allowed to vote for 58 members of the legislative council. The next issue that same week carried an elaborate story about the late Dedan Kimathi and how he was captured and killed. In short, the feature celebrates Kenya's milestones since independence.
On June 6th Britain announced it will compensate more than 5,200 elderly Kenyans who were tortured and abused during the 1950s Mau Mau uprising against colonial rule. The news made headlines both here at home and all over the world. On June 12th, Kenya at 50 feature carried a piece " the brutal rule of colonialists in Kenya unveiled", this piece highlighted how giving the maumau a bad name was elaborate propaganda by the british government.
On 7th July, Kenya lost another one of its history makers, Chelagat Mutai. Chelagat is one of Kenya's first women MPs, she was first elected to parliament in 1974 when the Eldoret North seat was left vacant after William Saina, the MP at the time was imprisoned. She was highly critical of the government of the day and wrote articles to air her misgivings in Nairobi University's student magazine. The late Chelagat was elected and embarked on a campaign to resettle some of her landless constituents an act that landed her in jail after only 2 years as the Member of Parliament. She returned to parliament after her prison term in 1978. Chelagat was a trailblazer of women in politics specifically for the kalenjin community. Chelagat passed away after a long illness bravely borne at Kenyatta National Hospital. Standard newspaper featured her story on 9th & 10th July. Kipkoech Tanui, County Weekly Managing Editor wrote a glowing tribute to the Late Chelagat. Read it here http://bit.ly/12UI7Bx
Other stories you will find in the Kenya at 50 pullout are stories of Kenya's nationalists; men and women who fought for the people's rights during the colonial era. One such story is of Tom Mboya, that featured on July 3rd. Born in 1931 to one Leonard and Marciella Ndiege, Tom Mboya grew to become a prominent politician during Kenya's independence struggle. He stepped into politics when he accepted the post of treasurer in Mzee Kenyatta's party Kenya African Union. The story continues to highlight Mboya's life of politics upto the day he was assassinated. These and more captivating stories in every Kenya at 50 issue in the Standard.
Every Wednesday, the Standard features a pictorial of the "Changing Face of Kenya". 5th June carried a pictorial about Changing Face of Kenya's Elections, June 12th- the Changing Face of Kenya;Evolution of police uniforms and June 18th; the Changing Face of Kenya; Motor vehicles on Kenyan roads. These pictorials bring into perspective just how far we've come as a Nation. Quite insightful. It is quite an enlightening piece to read, a keep sake for the Jubilee year of Independence. Catch the Kenya at 50 news features on KTN every week and a monthly documentary from the talented KTN team. See Standard Brief videos for the same.