STANDARD team reaches Semis in ICJ Tournament

Standard Group went up to semifinals in this year's ICJ Uwazi football tournament in a neck and neck game against Nairobi Women's hospital team that saw Standard bow out to a 1-0 score. Standard Group dominated the group stages by defeating teams like Mahakama & Kituo cha Sheria. The team comprised of 10 employees from all departments within SGL, led by the Captain Isaac Obonyo, from KTN and Team Manager Robin Toskin from the Standard.
The Uwazi tournament was birthed in 2008 from the need to create awareness and advance the ICJ campaign on the need for a Freedom of Information law. This year, International Commission of Jurists- Kenya (ICJ-K) is supporting generally "effective devolution through access to information". Specifically, the tournament highlights the need for systems and processes under our Constitution to be transparent.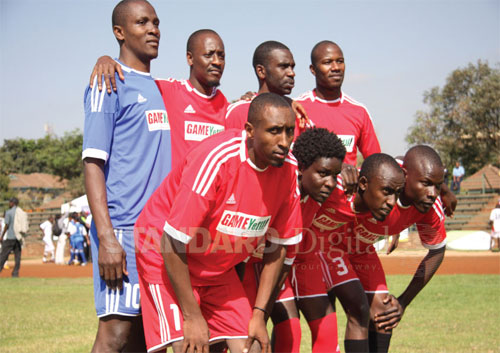 From top left Goalkeeper Oliver, Mwadime, Osir, Seth; Bottom left Aden, Rebeccah, Davis & Jeckoniah

The tournament was held on 8thJune 2013 at the Kenya School of Monetary Studies. It comprised teams drawn from various business and corporate organizations and brought together players from the banking, health and corporate sector. The uniqueness of the tournament is that a team comprised of five members each. These teams competed in group stages, quarter finals, semifinals & the final. Standard Group's team set up camp for a week at CID Sports grounds in South C. The team's captain, Isaac, intimated that they would like to form a consistent team of players who will be called upon to take part in various tournaments that come up throughout the year instead of constituting one as need arises. Standard Group staff are encouraged to enroll and be part of Standard Team & Cheer squad through him or team manager Toskin.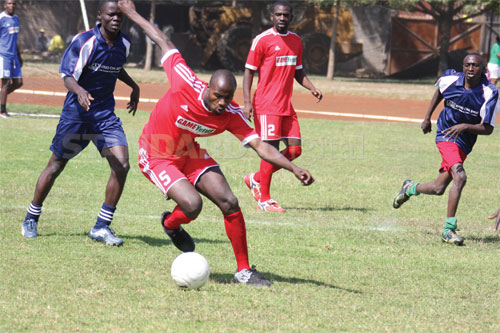 Seth Onserio of Radio Maisha dribbling ball past George Omollo of Kituo cha sheria during group stage of Uwazi Tournament

The Standard Group team reached the semis; they were defeated by Nairobi women's team 1-0. At the group stages, the Standard team played with Mahakama, Kituo cha Sheria and the Quarter final match against Royal Media's Citizen TV tossing them out on a penalty shootout in which the Standard team won 2-1. NIC bank were the winners of ICJ Tournament 2013. Some of the teams that took part last year were Standard Group, Royal Media Services, Nairobi Womens Hospital, NIC Bank among others.