Politicians beware: Voters are now wiser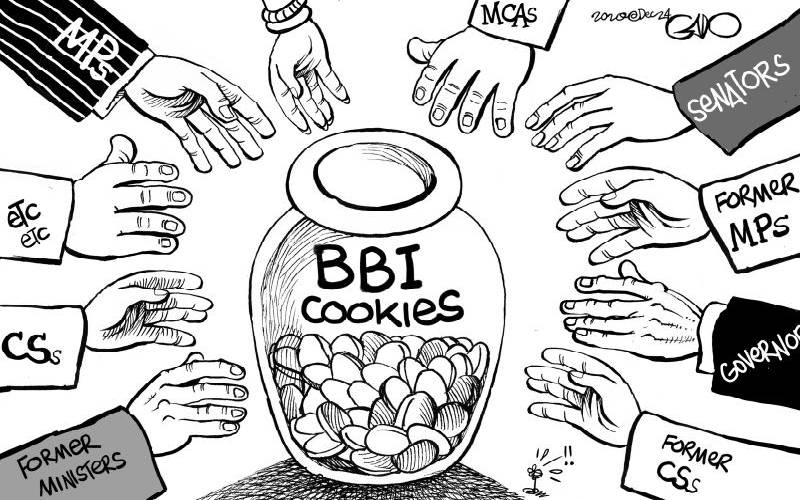 The Bible in Ecclesiastes 9:16 says, "The poor man's wisdom is despised and his words are not heard". This aphorism holds true when it comes to politics. And nowhere is it clearer than in Kenya where elective politics remains the preserve of the well-heeled.
Take for instance the Building Bridges Initiative (BBI). Despite protestations by some that the constitutional amendments it proposes are ill-timed and expensive, its proponents barrel down unmoved.
It is evident to the political elite that the value of the indigent lies only in their numerical strength and nothing else. A leading Jubilee Party official in an advisory to the president warns of the advantage of competitors in the forthcoming gubernatorial by-election in Nairobi.
He says of the competitors that "they are better at penetrating informal settlements," a tacit acknowledgement that it is indeed society's marginalised whose numbers determine electoral outcomes.
A social media commentator recently remarked wryly that slum dwellers are always the targets of political campaigns. The ubiquitous roadshow trucks complete with elderly politicians gyrating to loud music are absent in gated communities and the leafy suburbs. Clearly, the affluent do not easily fall for the hackneyed tricks of politicians. How do some unsavoury characters end up in prime political positions?
How did Kenya's premier county have at its helm a convicted felon and a jail-breaker? The answer to these questions may lie in the availability of vast resources.
Disrupt ideals
Take a quick survey and help us improve our website!
Take a survey
Money, it appears, is the powerful force that the wealthy use to tip the scales in their favour. Unfortunately, in so doing, they disrupt the ideals of the democratic process to the extent that those least endowed with leadership qualities make it to the helm.
A quote attributed to lawyer PLO Lumumba puts things in perspective; "I held 250 town hall meetings. I articulated solutions to our problems in my constituency.
My opponent did not campaign at all. He gathered money and showed up one day to the elections. He distributed money. He won. Africans are not moved by ideas. Their stomach leads them."
Yet the poor man's voice continues to be unheard beyond elective politics. His wisdom cannot be heard above the din of those who influence public policy. Proposed figures for usage of the expressway from Mlolongo to Nairobi's Westlands put it out of reach for many.
Higher fares
It is unlikely that public service operators will fork out the access fee. Even when they do, it will pass on to the poor in the form of higher fares. Tellingly, motorcycles and three-wheeled vehicles, modes of conveyance popular with society's underprivileged, are banned from the expressway.
Those hardest hit by the 10pm-4am nation-wide curfews are mostly residents of informal settlements. Under normal circumstances, these areas come to life after 7pm when hordes of walking labourers return after a day's work.
The "kadogo economy" thrives then, where sugar is sold by the spoonful, cooking oil in bottle-tops and maize meal in cups. The curfew has disrupted these just as it has night-travel for those who reside in the slums for work purposes, but travel upcountry monthly to be with their families.
It is emerging now that citizen frustrations are getting to their peak. Kenyans may no longer be content to be suborned by handouts that last a day when there are month-long needs to be met. Already, the pushback is causing upsets with some leaders calling for greater sensitivity to the masses.
A senior Jubilee leader has alerted the president that the BBI faces resistance in central Kenya. A nominated senator has shifted alliances as a result of what he says is, "listening to people at the grassroots, especially in Mt Kenya".
Perhaps this new dispensation of an enlightened mass will reject the notion of political parties as merely time-bound vehicles of convenience for the ruling elite. They will refuse to subscribe to movements with no ideology, whose sole purpose is to mobilise the poor into voting blocs.
My young lawyer friend, Chomba Mugo, has taken it upon himself to sensitise the masses within his sphere of influence, on the folly of cash-induced electoral choices. With others like him, there is yet hope for Kenya.
-Mr Khafafa is a public policy analyst