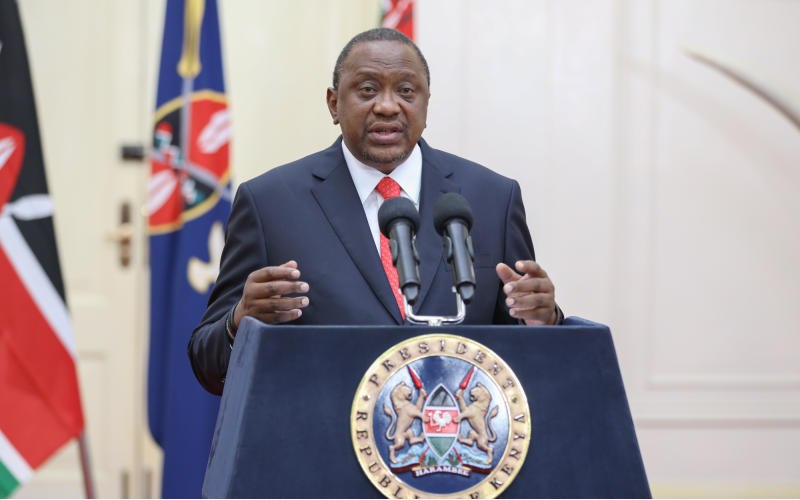 During his 13th national address on Covid-19, President Uhuru Kenyatta was not amused. The wanton irresponsibility by leaders as the world grapples with one of the worst disease outbreaks in a century irked him. The leaders are behaving like life has gone back to normal. Their behaviour is increasingly at odds with what one would expect of a leader in such times - gallivanting in disregard of the health protocols.
In their political rallies, and now scaled-down gatherings, thousands of Kenyans are getting exposed. These gatherings are fanning the monster. "We have failed Kenyans as leaders," the president admitted.
He railed at leaders for their doublespeak - often going against the grain. They were a letdown and the weakest link in the fight against Covid-19. His 7th state of the nation address was once again directed at leaders to lead the way in combating the pandemic.
The world is confronting a surge in Covid-19 cases and deaths. Countries are struggling with their most widespread wave of infections yet. Those in Europe as the Americas are witnessing sharp spikes in infections. They have reinstated lockdowns while others, mostly in Africa, Kenya included, are delicately balancing their acts – savings lives and livelihoods. Recovery for most sectors from the free-fall triggered by the pandemic will be long-lived.
All signs show we are well in the second wave. In England, a recent study was done showing that nearly 100,000 people were catching the virus everyday prompting the government to impose restrictions including closure of bars, restaurants and other social places.
Experts have warned of alarming infection rates, especially in Europe. This monster that is ravaging lives and livelihoods in more than 200 countries and territories worldwide has claimed over 1.3 million lives with 54 million infected. Some countries have been hit more than others. Every country is trying whatever mix of containment measures.
The past few weeks, Kenya has witnessed a sharp spike in cases. Healthcare workers bore the brunt of this virus. We are among 11 others in Africa cited as having spiraling numbers of new cases in the past few weeks. This is unlike the figures bandied by our neighbors where the new cases are lower and staying low. It is an inescapable reality that this virus has wreaked havoc across families and communities.
There are signs of pandemic fatigue, with people going about their daily lives. Those who cherish freedom at any slight chance continue unabated. We have lowered our guard – no masks, plenty of hugs and handshakes, no washing hands, or sanitising. We are flirting with a deadly enemy.
Before the President banned all public rallies, these gatherings (they continue, though) were fertile grounds for super spreaders. Then as now, it is causing alarm to health officials and fear in the counties of overstretched medical facilities. The period appeared a throwback to the pre-pandemic political events.
During the BBI report launch, the President called out the pretense that shadows the political leadership. Whereas he was referring to leaders perpetuating tribalism while posturing as national figures, it summed up what ails our collective national conscience.
It surmised the leadership morass afflicting us. They have a profound impact on current Covid-19 situation. Unfortunately, there is a wide gulf between what they say and what they mean. The political class has become impervious to reasoning, through their rallies, they continue to pursue selfish political interests in the disguise that they are advancing priorities for hoi polloi. They are the worst violators of public health measures.
The leaders have joined their counterparts elsewhere in Brazil and Nicaragua who have been blunt and blatant – discouraging their compatriots from following the strict pandemic response measures.
President-elect Joe Biden was appalled as the out-going President Donald Trump and his advisers attacked leaders of US states that have imposed new restrictions to contain rising coronavirus case numbers. "What the hell's the matter with these guys?" he said. "It's totally irresponsible.
As it is and going by the impact the first wave had on lives and livelihoods, we cannot afford seal offs and lock downs. We may resent the curfews, early-close times for bars and restaurants and other restrictions but the difference between destruction and development will be determined by how responsible we are – starting at the individual level. We risk being overwhelmed by overstretched health facilities, a deadlier hit on the economy and unprecedented loss of lives and livelihoods. Our leaders could do with a dose of measured reflection, lead by example lest they become authors of despair, desperation, and death.
-The writer is a senior accounts director at Apex Porter Novelli.