Why Mudavadi is fit to Challenge Ruto in 2022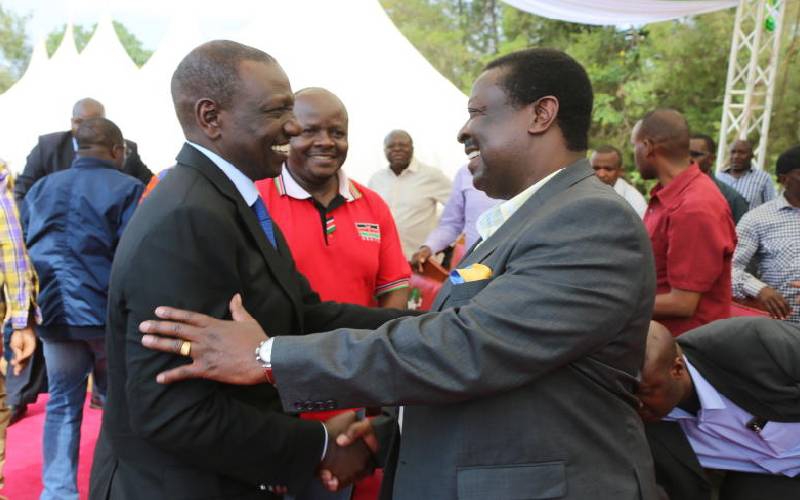 This week, the political seraph surprised me with an outlier Kenyan presidential hopeful — Wycliffe Musalia Mudavadi. On Sunday night, my soul was restless, and I could not find sleep. It was then that the seraph told me: "Come and see".
The seraph had anointing oil, ready to cherry-pick another person who could provide a '2002 Kibaki moment' in 2022. At the end of the Building Bridges Initiative (BBI) launch at Bomas of Kenya, he anointed Mudavadi.
I have never looked at Mudavadi that way, but I was reminded of a Xhosa proverb, that the sun never sets without fresh news. Let me explain how it came to pass.
By Kibaki moment, he meant suitability to be considered as neutral, sober and all-inclusive in all his political mannerisms — it also meant that Mudavadi's acceptability graphs now tower high in the country. In all these, the shortest-serving Kenyan vice president and Uhuru Kenyatta's 2002 presidential running mate scored a clean grade A. I was cowed!
I must mention en passé that Bishop Oginde was qualified as a legit chief priest whose Urim and Thummim are to be honoured by God in the land south of Cush.
But that's not why I am here. I am here to relate what conspired in the political heavens on Monday 26th of October — the day we all sat before our TV set screens to witness another tense moment.
The seraph said to me that the political heavens were in the process of sifting leaders who qualify to rise to the top seat in Kenya; they are Kalonzo Musyoka, Gideon Moi, Musalia Mudavadi, Alfred Mutua and of course William Ruto and Raila Odinga. They are all ripe for the office on the hill.
But the seraph told me that Bomas was not about Raila and Ruto. In any case, both performed well during the 'show'. It was about the other aspirants for the top seat. Gideon Moi was absent, and therefore the seraph was silent about him.
The seraph said the political heavens were unhappy with Kalonzo and Mutua for failing to meet the irreducible minima.
He said by Musyoka and Mutua choosing to gratify the crowd at Bomas, they already had their full reward. I wasn't surprised because, in this very column, I warned Kalonzo against playing safe.
I also advised Mutua to desist from undue political PR on serious matters — I guess they haven't appreciated the fact that better is an open rebuke than hidden love. But I continue to wish them well; second chances are given to all sons of men.
But the political seraph pointed out that Mudavadi, unlike the two Ukambani honchos, satisfied Chapter 23 verses 1-3 of Proverbs, that "when you sit down to eat with a ruler, consider carefully what is before you; and put a knife to your throat if you are a man given to appetite. Do not desire his delicacies, for they are deceptive food." He was pleased that when Mudavadi stood to speak before the president and the nation, he carefully considered what was before him.
He put a knife to his throat, desired not to please the crowd, avoided the deception of seeking anyone's approval and pursued a common good for both sides of the BBI divide. Thus, he was qualified and found worthy of a chance. I didn't understand how that alone qualified the leader of the Amani National Congress party, but the political seraph isn't a son of man to lie.
So, Mudavadi has been sifted like wheat and has been found worthy of a chance. He has been in governance since 1989 when he became MP for Sabatia Constituency.
He licked trials in his political journey and has grown to be resilient, consistently honest, open-minded, and neutral in his political dealings. He's no longer a light weight.
Being no longer a lightweight, here's a paragraph of his political vita. He almost beat Raila Odinga during the 2007 ODM presidential nominations. He later settled for Raila's running mate for 2007 elections and later became the first Deputy Prime Minister and Minister of Local Government during the 2008-2013 coalition government, above Uhuru Kenyatta.
He was vetted to be the Jubilee Coalition flag bearer in 2013, but the political heavens reportedly switched him with Uhuru Kenyatta. He later vainly contested for president in 2013 and came after Uhuru and Raila.
In 2017, he was NASA co-principal. Since the handshake, he was transfigured into a paragon of hope — a voice of many Kenyans on matters of national interest. He has been hewing his path as a presidential candidate for 2022. But can he finish the race well?
Will Kenyatta and Raila pick the former rugby player to be their presidential candidate in 2022? I am asking this question based on the knowledge that Raila has hinted several times that the 2022 race is not one of his foremost dreams. The political seraph wishes Mudavadi all the best.
Dr Ndonye is a Political Economist of Media and Communication