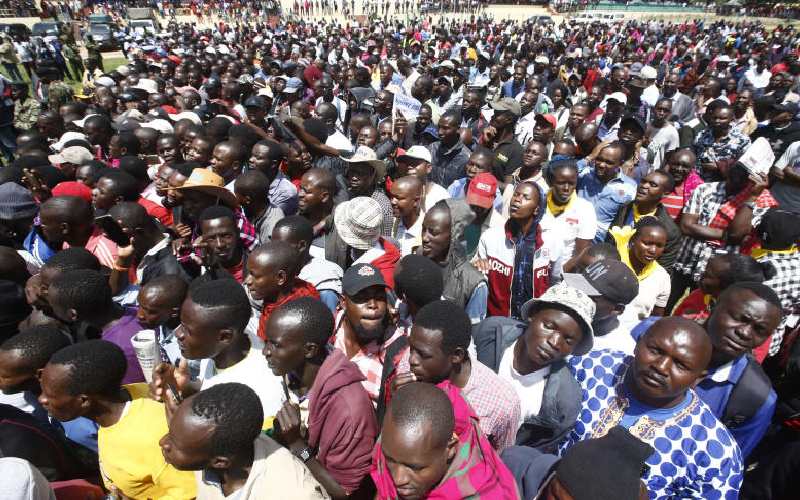 Media in Kenya have what it takes to shape priorities on which our otherwise issue-less political campaigns should hinge on. For beginners, political campaigns for 2022 General Election are a great thrill. They keep us glued to media news and features just for the fun, anger, disappointment, elation or a combination of some of these emotional outcomes.
We do not yet know whether Parliament will be dissolved soon following CJ David Maraga's recommendation or whether it will hang on until 2022. However, the framing of the campaign to date by the political actors is more dramatic than informative.
Read More
The basic framing of our political drama that doubles up as political campaign is 'us-versus' them. It is either ODM, which happens to be at the centre of political scripting regardless of party affiliation, hammering Jubilee or vice-versa. For every serious issue worth national discourse, some political grouping will spring up to trivialise it. If not, how have we, for instance, lost count of the many mega corruption scandals in the past three years alone?
Already, Jubilee with its competing siblings will square it out with ODM. This could change radically by 2022. Of course there are other entrants in the presidential aspirants list for 2022 so we expect a bit of minor characters changing, perhaps inconsequentially, the course of the political campaigns that influence or even confuse public understanding of what the real script is.
The one thing you are sure political campaigns are not about is meaningful discourse on national development. Our campaigns are hopelessly pegged on 'issues' yes, but not those on development.
At the moment, for example, we are dealing with the haves and have-nots as the main campaign agenda. Perhaps there is something in there that sounds quite bubbly without a tangible takeaway. Whether one is for Hustler nation or for the anti-dynasty narrative, from a developmental perspective they are both quite empty. They are simply political jabs that add no value to constructive issue-based discourse.
Issue-based political campaigns are deeper in meaning and transformative in outcome. For instance, had the government's Big Four agenda (housing, agriculture, infrastructure and health) been on course to be realised, it would have shaped the voters' understanding of issue-based politics. If the war on corruption was to be intensified at all levels beginning with the millionaire – and of late billionaire, the 2022 political campaigns would have been pitched very differently and most likely around issues.
More and more, I am beginning to be convinced that it is an injustice to arrest 'small people' caught swindling public funds or aiding corruption. This is partly because such people are victims of strong corruption networks and secondly, because they see that most of those who are in positions of power to access or influence the purpose of the funds get away with big chunks of illegal proceeds. They end up living better life than those who earn their sweat.
Worse, those who bring down the economy or sectors of development receive a higher public rating both at the grassroots and at the top than those who want to do the right thing. Consequently, the sense of ethical conduct is fading away giving rise to the jungle rule – survival for the fittest. Sadly, political campaigns sanitise such candidates and we too vote them in.
It will be unfortunate if we, the voters, let the political rustlers take away our right to good governance.
Specifically, let the media wake up. Those many analyses a few months to voting day including the presidential debates don't contribute to much voter knowledge. They may only influence swing voters of whom we can hardly arbitrarily estimate at five per cent in Kenya.
On the foregoing, here is one proposal for the media to consider in setting a political agenda. There are many government and non-government actors' documents articulating, in great depth, the priorities the national and the county governments should focus on. One such is Kenya's Vision 2030.
The media should embark on pushing for adoption of such agenda by the 'political rustlers.' The candidates would then be put to task to research more, develop strategies and outcome indicators to convince voters that they are worthy candidates. We undermine our very development by pulling in all directions without a founded basis. Besides, without issue-based political campaigns we continue to lose that elusive national spirit that is so critical in defining our international image.
- Dr Mokua teaches media and communication studies