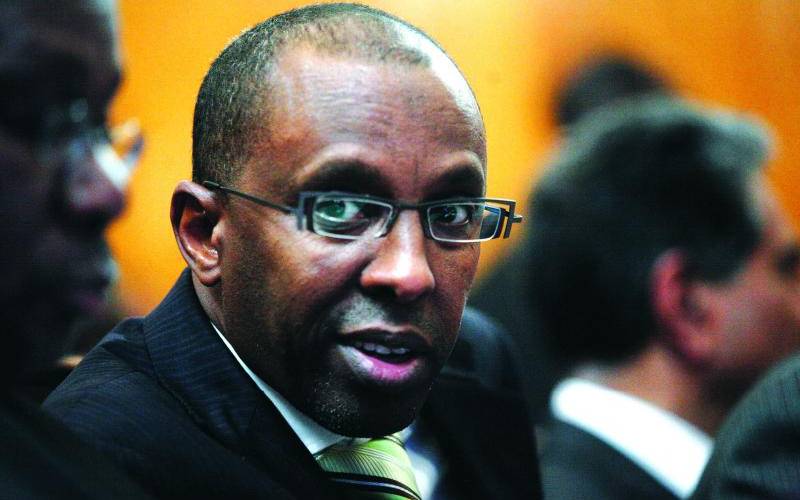 A social media campaign blitz by four prominent personalities from NEP burst the myth that middle-class Kenya is in deep slumber and won't do, and can't do anything unless, of course, it will deny them their weekend rendezvous of a good time with family, booze, women and cars.
As the debate on the division of revenue raged in Parliament, Abdikadir Mohamed, Mohamed Wehliye, Ahmednasir Abdullahi (pictured) and Billow Kerrow took to social media. Their social media walls were awash with explanations and permutations – poking holes - in the new formula with a good dose of history and civic education.
The four – and countless others - lived up to social media's "promise of more enlightened politics, as accurate information and effortless communication help good people drive out corruption, bigotry and lies," the way The Economist put it. They soaked up torrents of abuse as well.
For those who have despaired that the more things have changed, the more they have remained the same, these suited gentlemen provided a fresh breath of air. Who said that change could only be agitated on the streets by teargas-drenched, twig-carrying (at times stone-carrying) mobs? And that change could come through with little noise and aggression?
Read More
Our democracy's Achilles heel remains weak political parties and money. Those with money own the parties, can buy votes and peddle influence in the high offices thus corroding the democratic process. "Political parties," writes Edward Lucas in The World in 2050, "have become quasi-commercial institutions with strong patronage networks".
Abdikadir puts it more bluntly: "KE Political Parties are Special Purpose Vehicles with Anchor (Regional to be polite) shareholders and Financiers…" Wehliye and his friends used their sizeable social media reach to educate, cajole and coerce the people to see the folly in the new CRA formula away from the Senate floor. These keyboard warriors did the muckraking you would ordinarily see in the national dailies.
"This has nothing to do with tribes and ethnicities. This was always a war between the fiscal centralists and the fiscal decentralists… The centralists, since 2010 constitution moment, have been on the losing end," Tweeted Wehliye in response to Ahmednasir's "This resource sharing war in the Senate is, after all, a fight by ETHNIC GROUPS over the spoils of the State."
"If you don't want to spend money to develop the big ugly piece of land that you own & you don't like, then you might as well sell it!" Wehliye said. Their weeks' campaign turned on its head democracy's trap that power belongs to anyone who can harness the collective will of the citizens by directly appealing to their emotions rather than using evidence and facts to change their minds. By any means, all four are self-made men eating life with a big spoon.
In a historic 1969 speech, US President Richard Nixon exhorted "the great silent majority" of his country - which had stayed on the sidelines as protests about the Vietnam War raged on - to step forward and support. Either they had chosen to see and hear no evil but it looked as though their voices had gotten drowned in the din of noise from vocal minorities opposed to the war.
Rarely, if ever, does the silent majority engage in public discourse or such mundane civic duties like voting and agitating for change. Though feeling anxious, frustrated and hard done by stagnant politics, the silent majority has seemingly surrendered their fate to the overpowering political class often voted in by a minority.
Today, Kenya is worse off for lack of this voice. The working middle-class is removed, unmoved with little care of what happens around them. Yet a lot of them endure the most inconveniences: the high cost of living due to a mismanaged economy, and insecurity as crime and corruption choke their neighbourhoods.
Obviously, there are many more who would like to come out and openly agitate for change, but the risks of having their privileged status withdrawn dissuades most of them. And because Jubilee's Big Tent government has immobilised the Opposition parties in exchange for a political truce in the political arena, the country aches for this voice.
Though it is a long shot to imagine that swathes of the country could get easily intoxicated with the possibility of change and that people power - as we saw in 2002 - does not necessarily yield the desired results and burns out quite fast, it helps to try out something.
- Mr Kipkemboi is The Standard Associate Editor for Partnerships and Projects. [email protected]