Uhuru's painful punches and the 'bigger picture'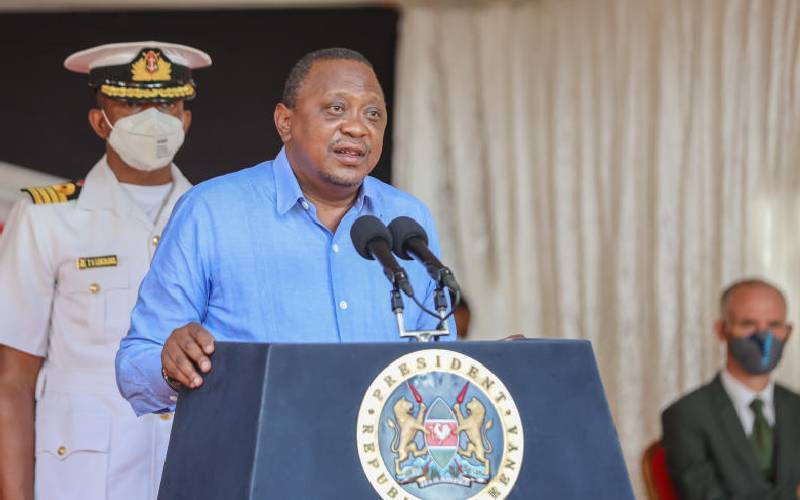 President Uhuru Kenyatta's Executive Order No. 1 of 2020 did not attempt to restructure the Judiciary. Nor did it purport to assign functions to either the Judicial Service Commission (JSC) or the Judiciary. As lawyer Kamotho Waiganjo pointed out in an opinion piece, "right from 2013, each successive Executive Order has included the Judiciary, constitutional commissions and independent organs and outlined their mandate and functions". Last week's order was therefore not a departure from precedent.
Why then did Chief Justice David Maraga feel constrained to issue a statement pointing out that "the manner in which the Judiciary operates cannot be the subject of an Executive Order made pursuant to Article 132(3)(b)"? Why has the editorial of one of our newspapers decried "a growing feeling that the current administration is steadily pushing the country back to the imperial presidency jettisoned under the 2010 Constitution?" Do these assertions have merit or are they merely punches of disgruntled elements, flailing about and hoping to hit something?
Kenyatta has lately taken on a new style of administration that comes across to some as hard-nosed and intolerant of dissent. Discarding his previous laid-back, folksy nature, he has startled friend and foe by cracking down on his perceived detractors. Starting from the Senate where a purge of elements allied to Deputy President William Ruto has been effected, he has trained his sights on the National Assembly. If word-on-the-street is to be believed, Cabinet secretaries are next in line as Kenyatta installs in strategic positions, only those who swear fealty to him.
The optics do not flatter the president. Certainly not where his deputy and erstwhile heir apparent are concerned. Pummeling one's opponent when they are on the ropes is considered bad form and yet that is what appears to be happening to the DP. Having capitulated to demands to stop early presidential campaigns disguised as supervision of development projects, the DP has had to endure the further humiliation of having his office stripped of all official functionality. It has been reduced to a department in the president's office. All illusions of shared power, dubbed the presidency, have been dispelled!
Former Mandera Senator Billow Kerrow captures the sentiments of many. In a tweet, he says "Parliament has been subdued wholly. Political parties have surrendered and embraced unflinching loyalty. Judiciary whimpers under the radar, dodging hostile 'acquisition'. It cannot be all about clipping the wings of an 'errant' assistant. It's a bigger picture…sounds ominous?"
Perhaps therein lies the answer: That the visceral reaction of Maraga and others is informed by fears of a 'bigger picture' entailing violations of fundamental aspects of democracy; that the ability to make informed choices may count for nothing where the Executive is determined to have their way; and that the anticipated referendum, which Kenyatta has intimated will be a 'constitutional moment' may not be a people-driven initiative but a top-down process dictated by the president and his new-found political ally Opposition leader Raila Odinga.
The way they have gone about re-organising their political parties may be a precursor of times to come where dissenters are boxed out.
Maraga's fears are not entirely unfounded. Seemingly tired of shadow-boxing, he has dropped his usual reticence and overtly blamed the Executive for "the near paralysis of court operations caused by the president's refusal to swear in 41 judges recommended by the JSC. In a hard-hitting statement, he says that "the president's disregard of court orders does not bode well for our constitutional democracy and is, potentially, a recipe for anarchy." He urges the president to "demonstrate faith and respect for the rule of law".
No one likes the playground bully who wins the fight by stacking up the odds against their opponent: Changing the rules of fair play or altogether discarding them to their advantage. And yet, that is the popular position of those who see the anticipated constitutional moment not, as touted, "to secure the country's growth and development" but to perpetuate the hold on power to those already in key leadership positions.
As the president, in his final term, fights to secure his legacy, he may be assailed by push back from two sources. The first, from a Judiciary which, after years of sustaining punches below the belt, has shown a proclivity for standing up to the Executive. The second, from the DP who, punch-drunk from a relentless onslaught, may recover in time to counter all efforts to preclude him from the presidency.
Mr Khafafa is a public policy analyst