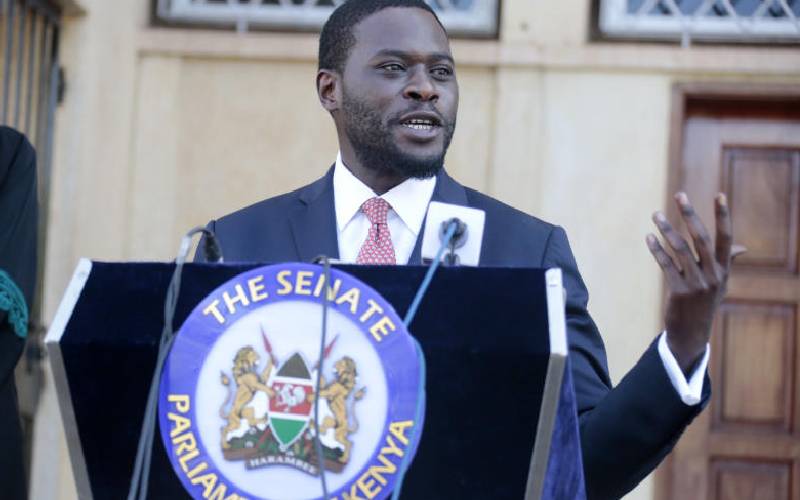 In dire times like this, it is useful to refocus from our difficult circumstances and celebrate people or occurrences that are uplifting. Today, my focus is Nairobi's young legislator Senator Sakaja Johnson (pictured). By all accounts, Sakaja is a brilliant politician. Like many, he came into high octave politics without the benefit of royal blood and no tall relative to hold his hand and introduce him to the right people. He walked into the Kibaki campaign purely by his credentials as a data cruncher and dynamic leader amongst his age group.
From then on, he worked on many assignments including some relating to the new Constitution, and the Kriegler and Waki Commissions. Many will not know but Clause 99(5) and (6) on population quota in the Constitution was written word for word by yours truly and Senator Sakaja in the Naivasha trenches. Story for another day. That he became the chair of the TNA party in 2003 and ended up in Parliament was a surprise only to those who did not know him. In the 11th Parliament, he was one of the few nominated MPs who left a mark, having sponsored several pro-youth bills including one on procurement preferences and on the National Employment Authority, an agency over which he would end up going to court when Mary Wambui, former Othaya MP was appointed Chair.
In elections 2017, many expected him to go for a seat in the county government, maybe seek to be Sonko's deputy. Unlike Polycarp Igathe, he must have known that no one can effectively deputise the Hennessy-gifting governor. He instead opted for what appeared a low key seat as senator. Having won the seat comfortably, many expected the youngster to fade in the "House of Wazees" or get so embroiled in Nairobi politics that he would lose the sobriety he is known for. Those who follow the Senate proceedings will know that the Nairobi Senator is one of the most versatile legislators, whether by virtue of bills presented or involvement in debate.
In the most recent debate on the impeachment of Kiambu's Governor Waititu, it was the Nairobi Senator's argument which won the day and ensured that the impeachment proceedings were determined by the whole House and not managed through a select committee, which would have led to suspicions of cabal capture.
Read More
Currently the senator has presented a Bill with far-reaching proposals on legislative interventions during this and other pandemics. One can disagree with some of the proposals in the Bill, for instance, one must interrogate the principle that stops a landlord from collecting rent during the pandemic but refuses a shopper to walk into a supermarket and collect goods for free due to the pandemic. There is however no doubt that unlike many in Parliament who have been treating us to TikTok or to entertainment around Jubilee's internal skirmishes, the Bill forces a conversation on ways in which we can legally handle unprecedented challenges of Covid-19. Its proposals to outlaw employee-firing but provide for unpaid leave presents a balancing act on an impossible employment situation.
More importantly, it moves us from the knee-jerk reactions that the government has sometimes been taking without the benefit of law. I have, for example encountered roadblocks on the highways with white -coated fellows taking people's temperatures and threatening to send one back if their temperatures are high without the benefit of legal support. Recently, a friend told me that their estate guards have been sending away visitors if they believe that the people already in the house exceeds a safe number. Ask them the basis of the edict and they will tell you it is for your own protection, the law be damned.
In Nairobi, the senator has been the adult in an otherwise raucous administration. He has neither gloated at Governor Sonko's misfortunes nor looked the other way as the Nairobi's fortunes plummeted. I recognise that politics, and indeed public affairs, are a marathon and it is too early to give lifetime awards, but thus far in his journey, the young senator is an inspiration to many of his generation.
- The writer is an Advocate of the High Court of Kenya