Women becoming the face of change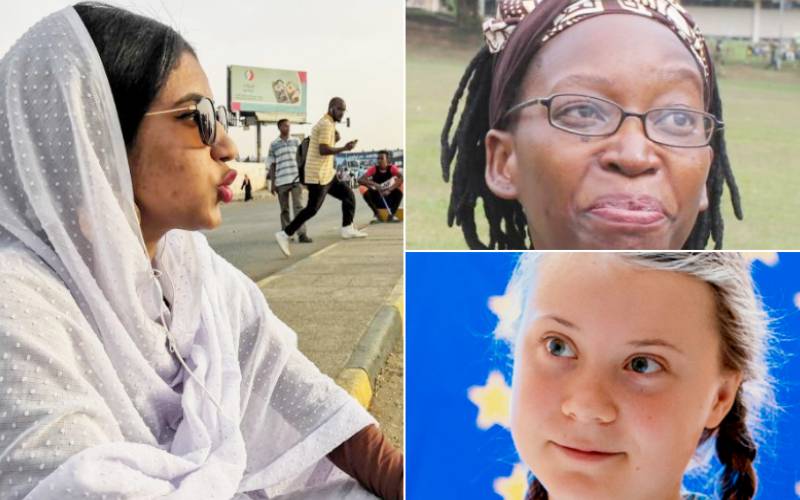 As the world marks the International Women's Day 2020, a lot still needs to be done in ensuring equality.
However, many women have become the face of change.
This
year's theme
is "I am Generation Equality: Realising Women's Rights".
The theme is aligned with UN Women's campaign which marks the 25th anniversary of the Beijing Declaration and Platform for Action.
Notable women who have shaped the equality discussions include Greta Thunberg, Sudan's Alaa Salah, Uganda's Stella Nyanzi and reigning Miss Universe Zozibini Tunzi.
Activist Thunberg has become the face of the movement to tackle the climate crisis.
Last week, she accused the European Union governments and institutions of only "pretending" to urgently tackle the problem.
The 17-year-old Swedish activist said by fixing its climate law around an emissions target three decades in the future, the EU is ignoring reality.
She began missing school in 2018 to sit outside the Swedish parliament in a solitary protest.
Back in Sudan, Salah became the image that symbolised the country's call for change against former President Omar al-Bashir.
She was part of the protests that brought to an end Bashir's almost three-decade rule.
Salah rose to prominence after a video of her addressing protesters from a car roof at the beginning of April went viral.
When she climbed on the car she was reciting a poem by Sudanese poet Azhari Mohamed Ali, entitled "The bullet doesn't kill. What kills is the silence of people".
What made Salah's role even more conspicuous was the fact that for a long time women in Sudan were not involved in the anti-Bashir protests.
Salah, however, did not do it alone. She was part of more female volunteers who actively participated in pushing for change.
But while some like Salah took on strongmen and the world applauded, others were not as lucky.
For Stella Nyanzi, standing up for change attracted harsh criticism, and in some cases, jail time.
Nyanzi, 45, a university lecturer, author and mother of three, has for years earned a huge following for her attacks on Uganda President Yoweri Museveni, often via Facebook posts, over his decades-old grip on power and crackdowns on dissent.
In August last year, a magistrate's court convicted her on charges of cyber-harassment and sentenced her to 18 months in jail, which she subsequently appealed.
The push for change spread south of the continent, where South African Tunzi emerged one of five black women who now hold the top pageant titles for the first time in history.
They are Miss Teen USA Kaliegh Garris, Miss America Nia Franklin, Miss USA Cheslie Kryst, Miss Universe Tunzi and Toni-Ann Singh, Miss World.
Tunzi stunned the world when she hit the runway in her natural hair.
Her tapered natural cut shone the light on modern beauty.
Tunzi, also a woman of colour, together with the four others, also stirred a discussion on beauty being associated with fairer skin.
Tunzi is quoted saying "We can't be what we can't see". She was referring to the younger women of colour, who will believe they are capable of breaking the glass ceiling by simply seeing other women of colour take such international stages and come out victorious.
But pushing for change will only improve lives if it affects citizens directly, and nobody understands that more than
Justice Mumbi Ngugi
.
She has been at the forefront in fighting corruption, especially at a time when the Judiciary has come under criticism for being a toothless dog.
Last December, she ruled that governors with active corruption cases should stay away from office.
Her ruling caused ripples, with the Council of Governors threatening to appeal to the Supreme Court if it needed to.
The 57-year-old judge ruled that Section 62 (6) of the Anti- Corruption and the Economic Crimes Act is unconstitutional since governors use it to shield themselves.
Cabinet Secretaries and others are required to step aside if charged with corruption, but governors are exempted because they could be removed from office through impeachment as they are elected officials.
When she's not leading the pack in the corridors of justice, she is speaking about albinism, a condition she is living with.
She co-founded the Albinism Foundation of East Africa in 2008, comprised of people with albinism, parents of children with albinism and professional friends with an interest in the rights of persons living with albinism.