End the deliberate confusion facing our Roads sector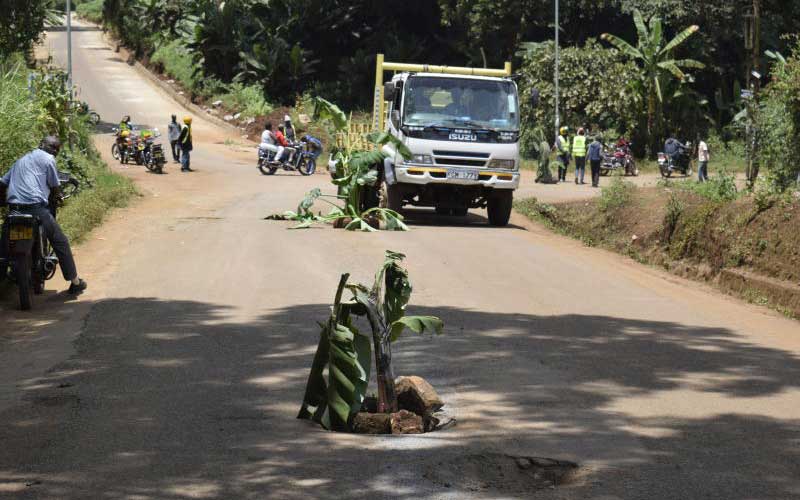 What is honestly happening in our roads sector? Over the past couple of months, due to the heavy rains, the state of our poor roads has once again been revealed. From the city roads to the near forgotten village ones, the cries of our people show that they are hopelessly desperate. Yet in its near infinite wisdom, power continues to be ingenious at providing excuses for these social lapses – at our acceptance, of course.
The most impudent is the constant blame game, or so it may look, due to the deliberately created confusion of who is in charge of what road. I say deliberate because distress is an opportunistic business play. The quick mobilisation to site we see when riots occur due to poor roads cannot be a coincidence, especially in our beloved country.
Not unless the supposedly in charge are blind or perhaps strangers in Jerusalem who don't understand the intimacy between rainy seasons and our roads. One question though continues to linger alike in the minds of many; who is in charge of our roads?
We have complicated simple matters. Obviously, there should have been a thorough revision of our road network strategy after promulgation of the 2010 Constitution.We should have done away with certain road authorities.
The creation of county governments meant no business as usual. Instead, I posit, the terminally subordinate in their obstinacy to continue in a predictable course opted to stick to their old ways. We have divided roads into segments that are nonsensical. There is the Kenya National Highways Authority (KeNHA) whose functions are explicit and self-explanatory. Then comes Kenya Urban Roads Authority (Kura) and Kenya Rural Roads Authority (KeRRA) and confusion begins considering that we now have county roads and roads under MCAs. Forget about MPs for now.
Take for instance Nairobi County that is largely urban, why should we have two authorities, Kura and the county, managing different roads. Isn't a recipe for nothing other than chaos and blame games? Think about it, all urban centres in this country are under a county government, so do we still need Kura when we can simply assign all these roads under county government. Simple. And why do we still have KeRRA running village roads parallel to county governments and MCAs? Do away with the body or don't allocate roads to counties.
This palpable confusion is unnecessary and not delivering services to our people. In 2018, I witnessed this first hand in my village where the area MCA graded a road section and accurately stopped at a junction touching what he considered a county road. What nonsense is this?
Road networks
Take South Africa for instance; their roads are segmented into three lucid parts. There is the South Africa National Roads Agency Limited who are in charge of the national road networks. Then you have provisional roads that are under the provinces responsible for regional roads and enforcement of codes of national roads. Lastly, metro and local authority roads that are under local authorities who are in charge of design, construction and maintenance of road networks.
We should end the ongoing confusion. Let's be fearless and confront the outdated obvious. Some of these bodies have served us well in the past but times have changed and so must we. As a staunch devolution believer, let us devolve most of the roads and maintain a lean road network under KeNHA. In the unlikely event that isn't possible then, forget about allocating roads to Counties, MPs or MCAs. Let KeNHA, KURA and KeRRA be solely responsible for our roads.
- The writer is chairman of Association of Construction Managers of Kenya. [email protected]