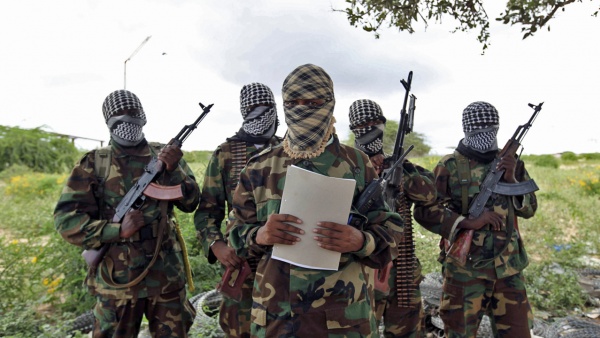 Placing national security agencies on high alert to robustly tackle increased Al-Shabaab terror attacks has helped assure North Eastern residents that their safety and protection is getting serious attention. That is as it should be.
Interior Cabinet Secretary Fred Matiang'i, noting that the recent spate of terror activities are of great concern to the government, says all security organs have been mobilised to secure the region from the deadly and destructive militia.
At a recent meeting attended by Garissa and Mandera governors Ali Korane and Ali Roba, the CS acknowledged that recurring terror activities after a lull in recent years was interfering with development programmes. Dr Matiang'i's admission of the deteriorating security situation in the region is a wake-up call to security agencies and administrators in the national and county governments to roll up their sleeves.
Swift cooperation will help counter radicalisation among the youth and counter terrorist propaganda. It will also expose Al-Shabaab supporters and donors and those abetting cross-border smuggling of counterfeit goods and weapons.
Governors in Garissa, Wajir and Mandera have come up with proposals they will share with the national government on how to fight terror in the region. Security officers need to take advantage of the goodwill and use the intelligence given to them to neutralise terror attacks. The governors attribute the prevailing security situation to 'a tactical disconnect', with security officers operating more actively during daytime while Al-Shabaab operates at night.
Stock-taking
Concerns will always be on how to expect success when there is near zero chance of contact between the locals and security agents. As locals pass intelligence reports, it should be matched with adequate and timely security response.
Last month in Garissa, current and former political leaders and top senior security officials attended a consultative conference for peace and security to counter violent extremism and reinforce measures to fight terrorism. Such engagements should be encouraged towards stock-taking and information-sharing, The meeting was prompted by the recent terror attacks in Kamuthe and Saretho primary schools in Dadaab and Fafi sub-counties, where suspected Al-Shabaab militia killed three teachers and four pupils. As locals and leaders welcomed the recent presidential directive for the posting of more specialised forces to the region, more resources should be devolved to the village level so that anti-terror security agents are empowered with better weapons and better remuneration. Security agents should closely cooperate with residents, community and religious leaders to curb radicalisation and extremism.
Also, volunteers of information should be treated with utmost secrecy to avoid victimisation and allegations of extrajudicial killings and forced disappearances. Faith-based organisations and leaders of religious institutions have a prominent role to play in combating terrorism. Since the state of infrastructure in the region makes it easier for terrorists to launch attacks, roads need to be upgraded to bitumen standard to prevent terrorists from planting improvised explosive devices (IEDs) that have claimed the lives of 653 officers in three years. Locals have to fully engage themselves in the fight against terrorism and protect themselves from criminals, since development cannot be achieved without proper security.
Trust between the security apparatus and the community, fairness and justice are imperative in tackling the threat posed by terrorism. Security agents must quickly act on any useful information provided by informants/locals.
Equally, the morale of security agents requires a boost for them to effectively deal with insecurity in the region. The local economy has to be uplifted and the youth pro-actively engaged to avoid the trappings of the terrorists' false promises of wealth and spiritual satisfaction.
The Administration Police have proved effective in preventing terror activities in the region and should be deployed to continue with their efforts. Community policing, notably the Nyumba Kumi initiative and intelligence-gathering will help suppress terrorist incursions. Some recommendations were made after the attack at Garissa University on April 2, 2015 that left 147 people dead, and the region had slowly started witnessing calm, but not all were implemented. These and the Garissa conference recommendations must be fully implemented and cascaded to the grassroots to deter recurrence of such attacks.
Community members should be motivated to willingly share information and genuine informers protected and rewarded. Peace committees in the seven sub-counties should be formed, funded and mandated to conduct civic education.
Trust between the locals and security agencies will enable sharing of crucial information on suspicious characters. Security agencies should keep such information in strict confidence.
- The writer is Garissa County Director of Communication. The views are personal.