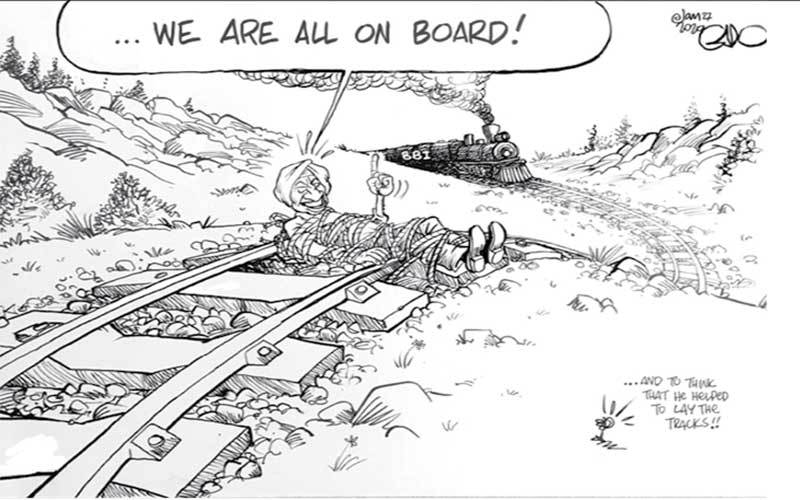 The position of vice president is often tenuous, with the occupant on perpetual tenterhooks. It is modelled after that of the US, which first US Vice President John Adams said 'was obscure'. Despite its obscurity, it is a critical office and the occupant, therefore, has to be carefully chosen, just in case. When New York Republicans pushed Governor Theodore Roosevelt to the vice presidency in 1900, Ohio Senator Mark Hanna reminded the Republicans that there was only one life between the presidency and "damn cowboy" Roosevelt. The "damn cowboy" became president, propelling Americans into imperialism. The relationship between presidents and vice presidents vary from cordial to mutual tolerance. Ronald Reagan had a cordial relation with George HW Bush and actually helped Bush to become president. Dwight D. Eisenhower had problems remembering any positive thing that Nixon did and Nixon lost to Kennedy. Al Gore lost the 2000 election partly because he rejected campaign help from sexually scandalised President Bill Clinton.
SEE ALSO: MCAs condemn colleagues who met Ruto
Vice presidents have three legacy slots; successful, obscure and inglorious. In South Africa, Thabo Mbeki dismissed Vice President Jacob Zuma only to have Zuma turn tables on "Comrade Mbeki". Zuma, accused of different improprieties as vice president and president, was inglorious.
Transition period
In the US, the inglorious included Andrew Johnson who succeed Abraham Lincoln only to be impeached, Lyndon Johnson who succeeded John F. Kennedy only to be mired in Vietnam, Spiro Agnew who resigned due to corruption allegations, and his boss, Richard Nixon, who resigned because he lied about the Watergate break-in. Kenyans followed the Watergate saga closely, sometimes drawing parallels on vice presidents fates. In the transition period, the 1960s, Kenya had three vice presidents serving one president. One of them, Jaramogi Oginga Odinga, left office due to ideological acrimony with President Jomo Kenyatta over the direction the country should take. Odinga slid into prolonged political oblivion and emerged in the agitation for multi-party politics. His successor was Joseph Murumbi who barely lasted a year. The third vice-president, Daniel arap Moi, was smarter and displayed political survival dexterity that few.
SEE ALSO: Oparanya denies fallout claims with deputy
Moi survived from 1967 to 1978 as vice-president, with Jomo Kenyatta's backing, to become president. He watched palace intrigues, participated in some of them including constitutional changes, and emerged unscathed to rule Kenya for 24 years.
Presidential campaign
Moi was largely responsible for the agitation for constitutional changes. It was in reaction to Moi that constitutional tinkering produced the 2010 Constitution that is now under serious attack for its supposed governance defects. It seemingly personalised constitutional provisions, created commission fiefdoms and weakened the presidency. To rectify the habit of dismissing vice presidents at will, the Constitution made the deputy president elective, along with the president, as if to create a "core-presidency". Subsequently, the President cannot fire a deputy president, even if the two develop gross unattraction to each other. The first occupants of the Presidency under the new constitutional dispensation are Uhuru Kenyatta and William Ruto. The two had been together in the 2002 presidential campaign and through the 2005 Orange/Banana referendum. They suffered at The Hague through ICC international chicanery. Kenyan voters, however, identified with both as imperialist victims and voted for them in 2013. They appeared to work closely in the first term, but to disintegrate after 2018.
SEE ALSO: DP Ruto: Stop the endless politicking
The reality of that unattraction puts DP Ruto in a dilemma on how to respond to the increasing display of friction. Ruto claims to have been Moi's student, but he seemingly missed a few critical lessons or nuances in the Moi school of politics. One of them is calculated Coolidge-like invisibility. Ruto's choices are obscurity, inglorious, or success. Time will tell.
Prof Munene teaches History and International Relations at USIU