We survive in the power of hope and here are my dreams of 2020's Kenya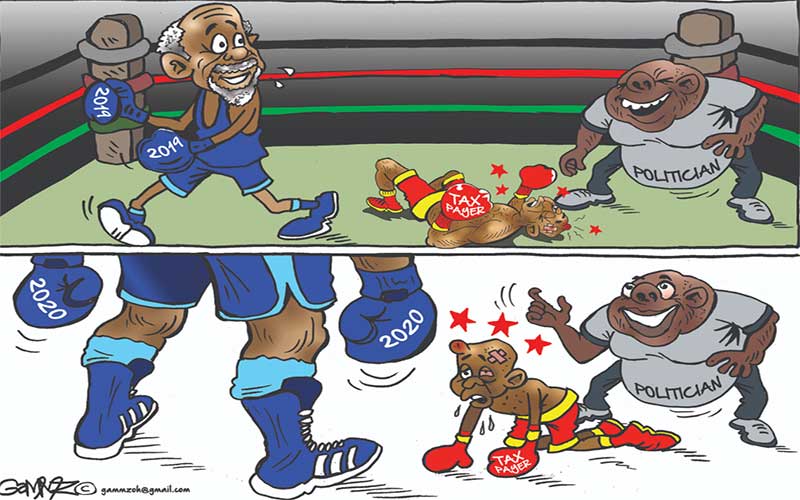 The forecasts of 2020 are not good. When the Central Bank Governor promises some hard times, and the Treasury Czar admits we face tough headwinds, the rest of us can just pray that some miracle will occur that delivers a better Kenya. That said, we survive in the power of hope, and I must therefore share my dreams of 2020's Kenya. The first relates to BBI. While the political side of this initiative will continue on a predictable path, with proxy politicians going bare knuckle while their bosses exchange fake smiles, BBI has numerous administrative proposals that government can implement immediately. Some have commenced; we now have December 26 as Utamaduni day.
Interestingly, on reform of taxation to support small business, while the President has asked the Treasury and the KRA to prepare a small business taxation friendly framework, one notes that the 3 per cent turnover tax, with all its pains on small businesses, is back! What I hope government will do is create an implementation framework that isolates administrative proposals and provides clear deliverables with a time-based rapid results schedule. That way we can ignore the politicians as the people focused portion of BBI assists in Kenya's transformation.
Secondly, I pray there will be more support for county governments than has been there in the last 5 years. Between 2013 and 2019 the financial allocations for county governments have gone down as a proportion of our revenue from a high of 23 per cent to the current 16 per cent. In 2019, the allocation was even below inflation, meaning county governments could not deliver services at the same level as they did last year. To make matters worse, exchequer releases to county governments were not made on time. By mid June last year, only about 65 per cent of the allocations due to counties had been released crippling many of their development activities. While one appreciates that many county government administrators have been engaging in pilferage of public funds, the solution for this malaise is a vibrant investigation and prosecution of culprits, not crippling of institutions which were intended for equitable empowerment of the citizenry. We must remember that we devolved after 50 years of failed centralised government. Let us not kill this last bastion of people's hope.
Thirdly, I pray there will be a reawakening of Kenya's non-State Actor community which can drive pro-people agendas and genuinely hold government to account. The saddest consequence of Kenya's second liberation, defined most acutely by the Narc victory in 2002, is that it vanquished civil society. The most vibrant of its actors joined government and many became and remain unrecognisable. The final death knell of this community was brought by the 2010 Constitution which submerged the remaining coterie of activists into governmental oversight institutions. The result is that informed and principled opposition to government is dead and what exists now is politicians, many in the ruling party, purporting to be the new activists against government. While this is not wrong in itself, the challenge is that this opposition is not principle based but is dishonest, tumbo-charged and informed by pure partisan politics. This is the opposition that blasts Uhuru Kenyatta for failure to reform the economy but then holds the flag for his Deputy William Ruto as a most worthy successor! What balderdash!
Related to the above is my wish that this year the Chapter 15 institutions that were mandated with oversight of government will rise up to their mandate. It is unfortunate that most of the constitutional Commissions have been so immersed in boardroom intrigues and executive-pleasing that they are a pale shadow of what the Constitution intended. Most are no longer fit for purpose and may end up as victims of the next constitutional change when they will be axed off. That would be unfortunate as they are still necessary; it is the individuals leading them that are a disappointment. Finally, I pray that we will be a responsible, kinder and caring people that look out for the weakest in our mix. Blessed 2020 folks!
- The writer is an Advocate of the High of Kenya